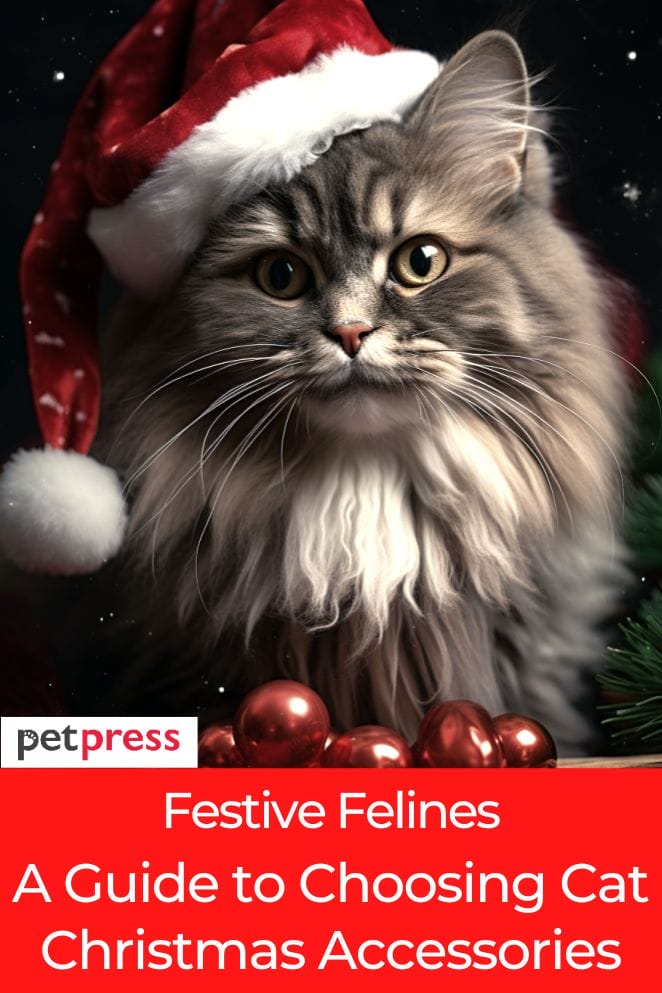 Welcome to a festive feline celebration!
In this blog post, we'll explore the delightful world of cat Christmas accessories that will not only make your holiday season merrier but also keep your kitty in the spirit.
From playful ornaments to cozy beds, let's dive into the purr-fect accessories that will make this Christmas unforgettable for you and your furry friend.
Types of Cat Christmas Accessories
Here are 10 types of cat Christmas accessories to add a festive flair to your feline friend's holiday season:
Santa Paws Hat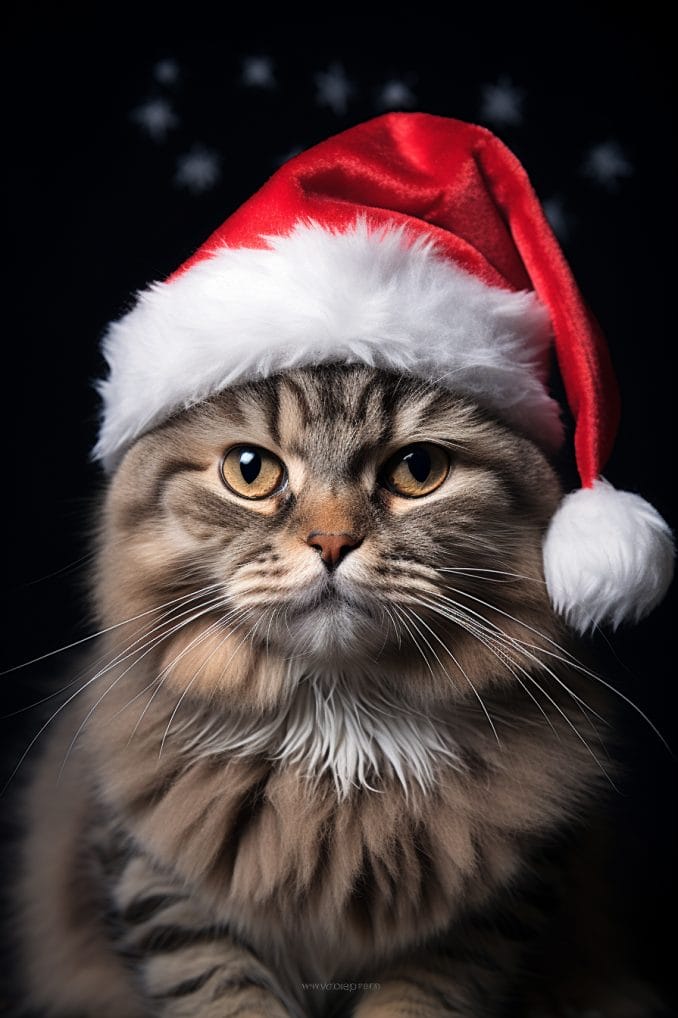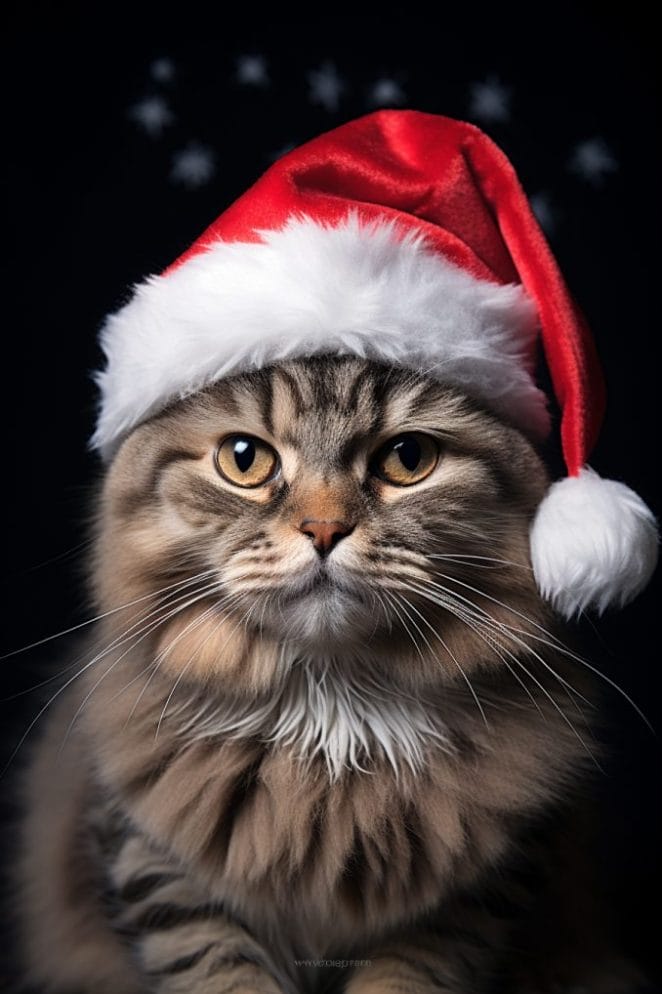 Imagine your feline friend donning a whimsical Santa Paws Hat, a pint-sized masterpiece designed to infuse your cat's holiday season with a playful and festive touch.
Crafted with care, this miniature hat brings the magic of Santa Claus straight to your pet, turning every purr into a cheerful jingle that spreads joy throughout your home.
Christmas Collar with Bells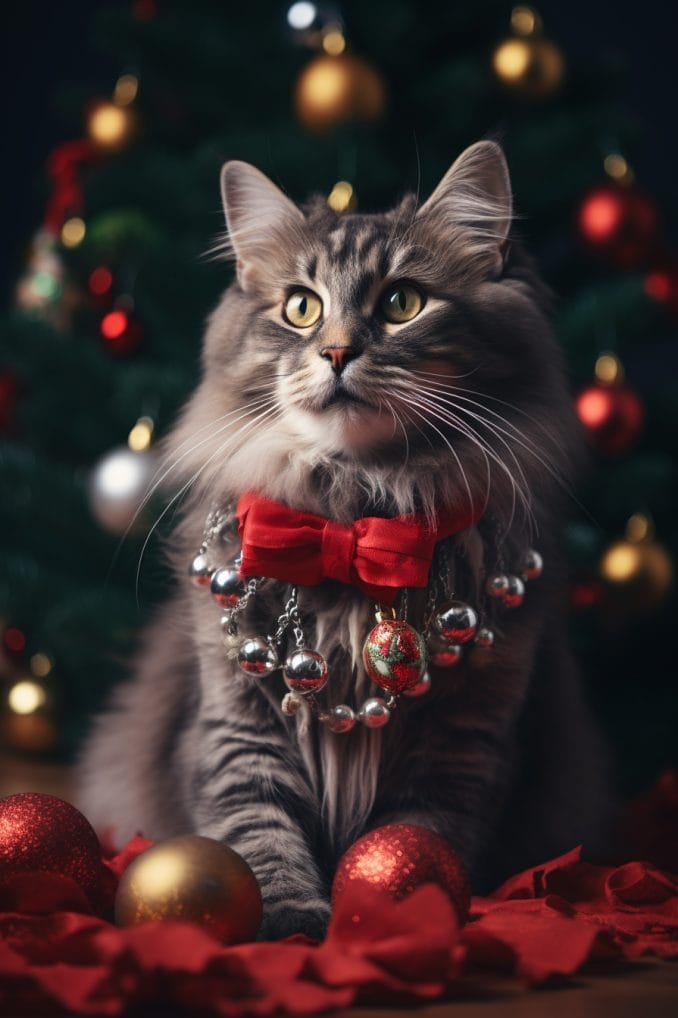 Elevate your cat's holiday attire with a Christmas Collar adorned with delightful jingle bells.
This charming accessory not only adds a touch of festive flair but also turns your cat into a walking holiday melody.
The gentle sound of bells accompanies every graceful movement, creating a festive atmosphere as your furry friend explores the seasonal wonders around your home.
Holiday-themed Bow Tie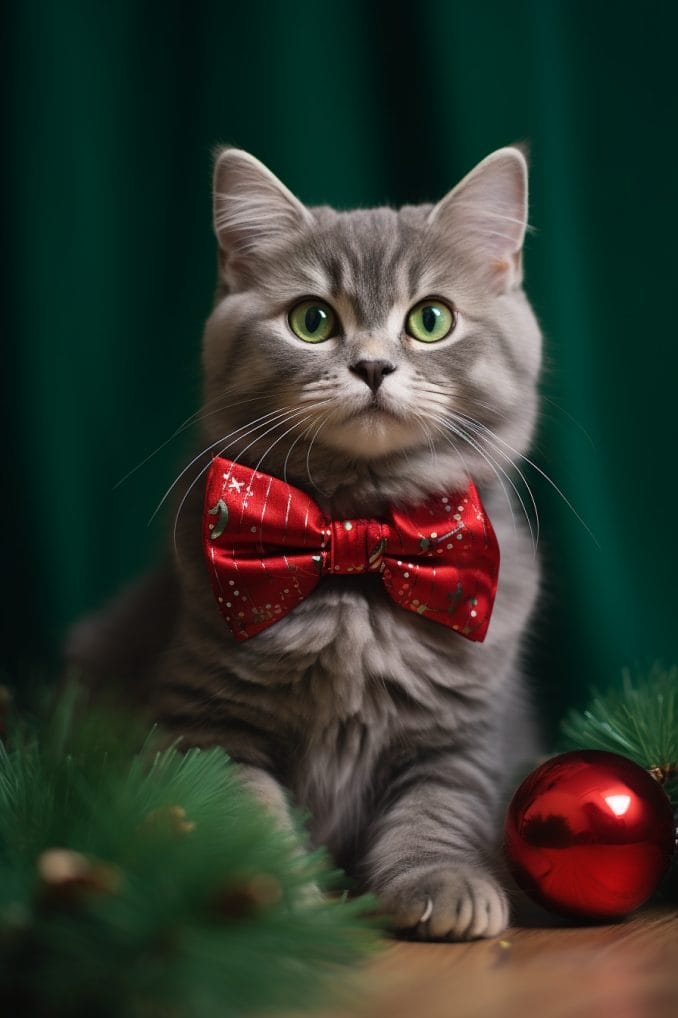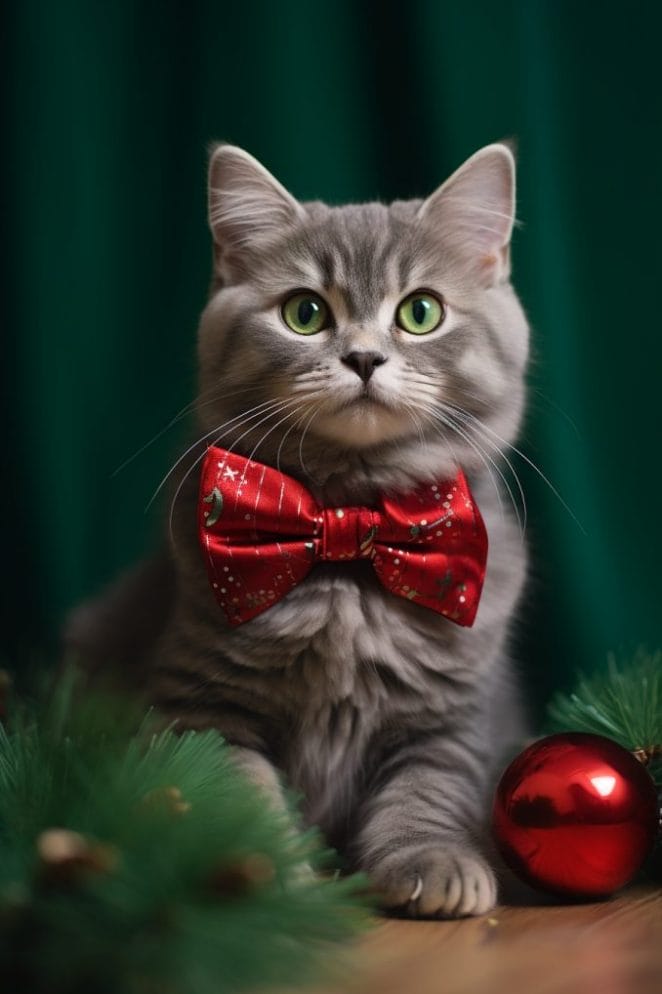 For those special occasions, dress your cat in a dapper Holiday-themed Bow Tie.
This adorable accessory features Christmas patterns or motifs, ensuring your feline companion looks stylish and ready for any festive gathering.
Whether it's a family photo or a holiday party, your cat will steal the show with this cute and charming addition to their wardrobe.
Christmas Sweater for Cats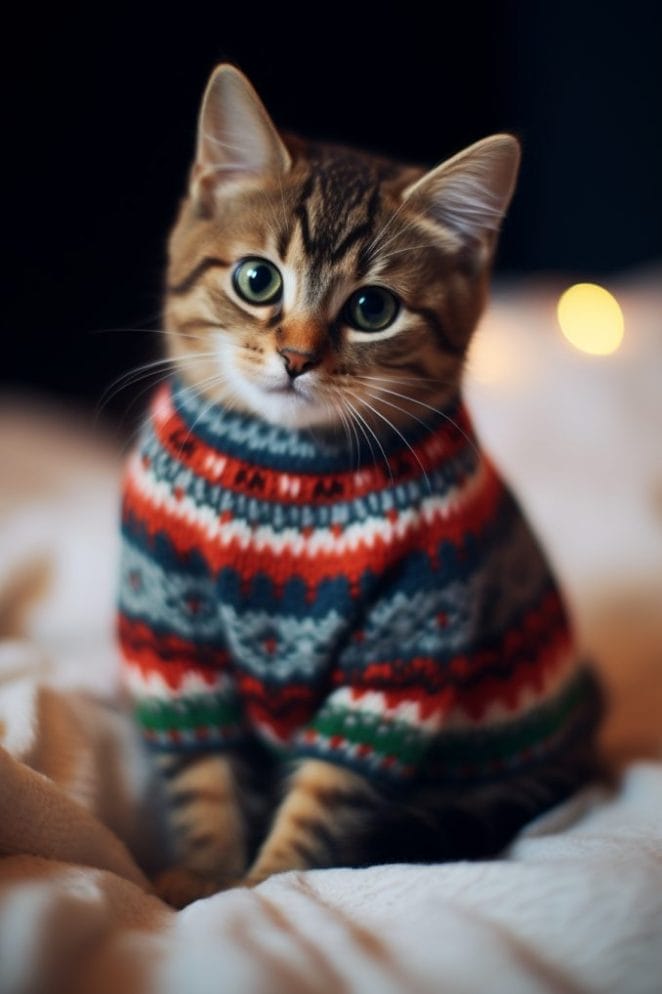 Keep your cat warm and stylish during the chilly holiday season with a Tiny Christmas Sweater.
These snug and festive garments feature holiday-inspired patterns, turning your cat into a furry fashionista.
Perfect for cozy nights by the fireplace or adorable holiday photo sessions, these sweaters add an extra layer of cuteness to your cat's winter wardrobe.
Festive Cat Bandana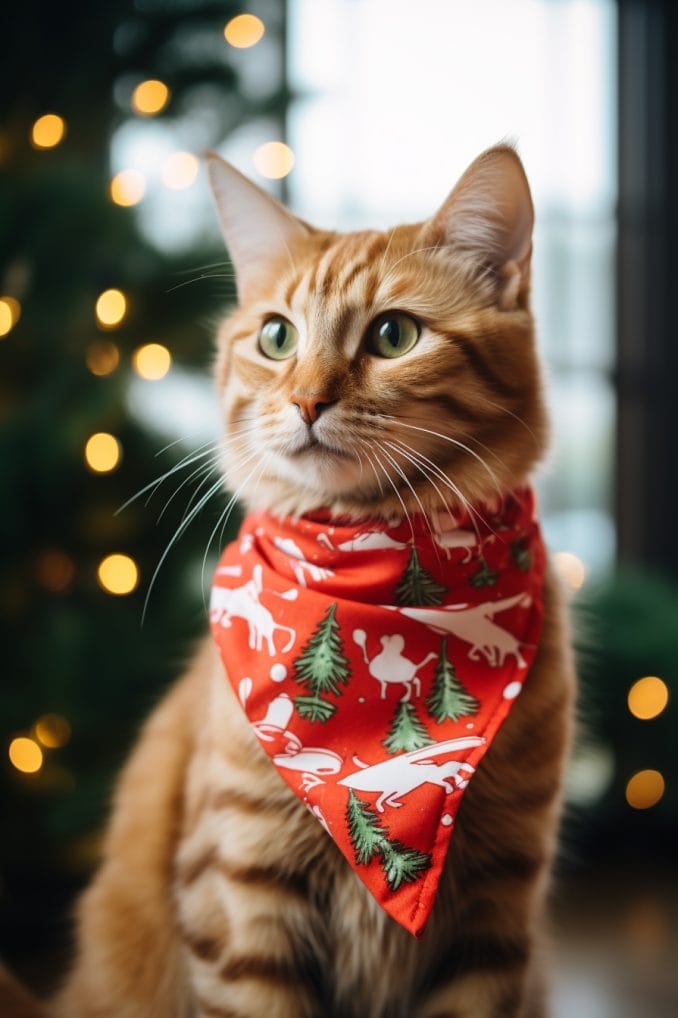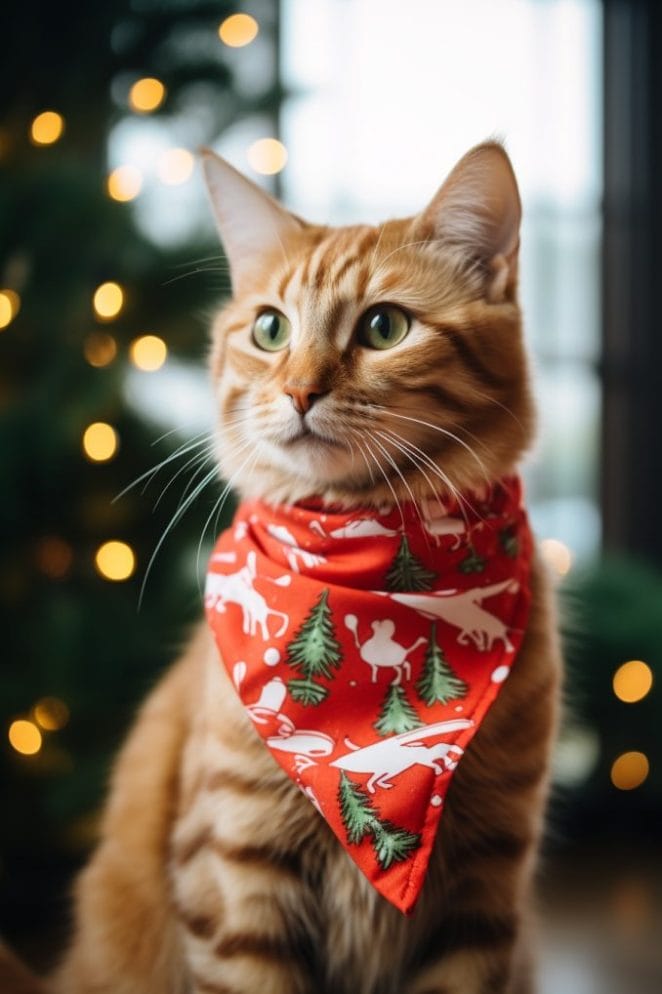 Add a touch of Christmas spirit effortlessly with a Festive Cat Bandana.
This holiday-themed accessory easily ties around your cat's neck, creating a charming and comfortable look.
Whether your cat is lounging by the tree or mingling with guests, the bandana adds a delightful touch of festive flair to their ensemble.
Santa Claws Catnip Toy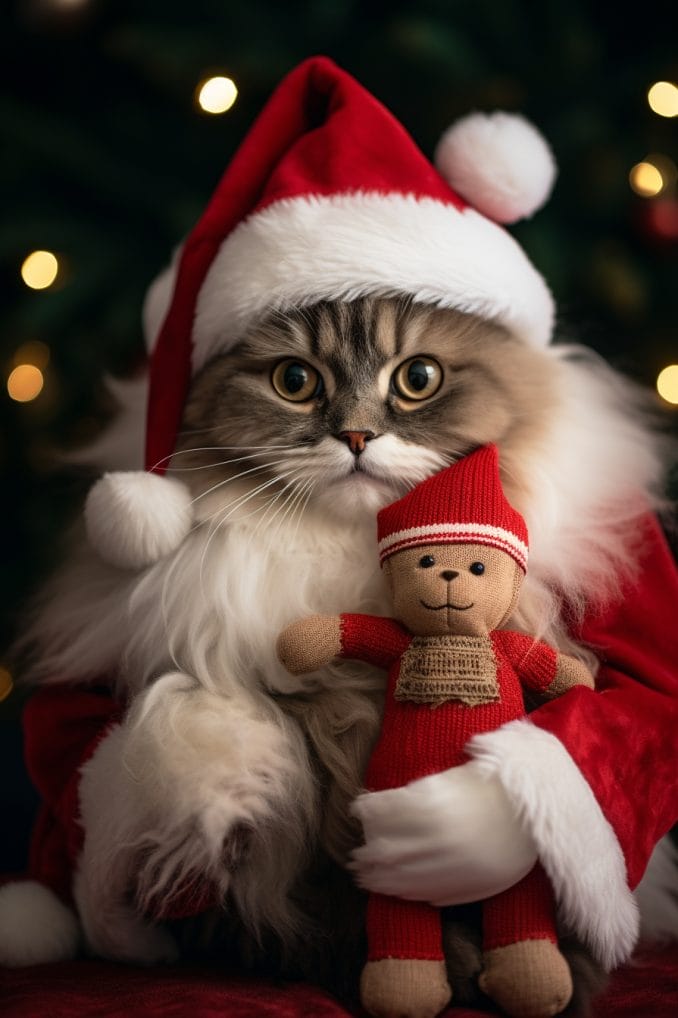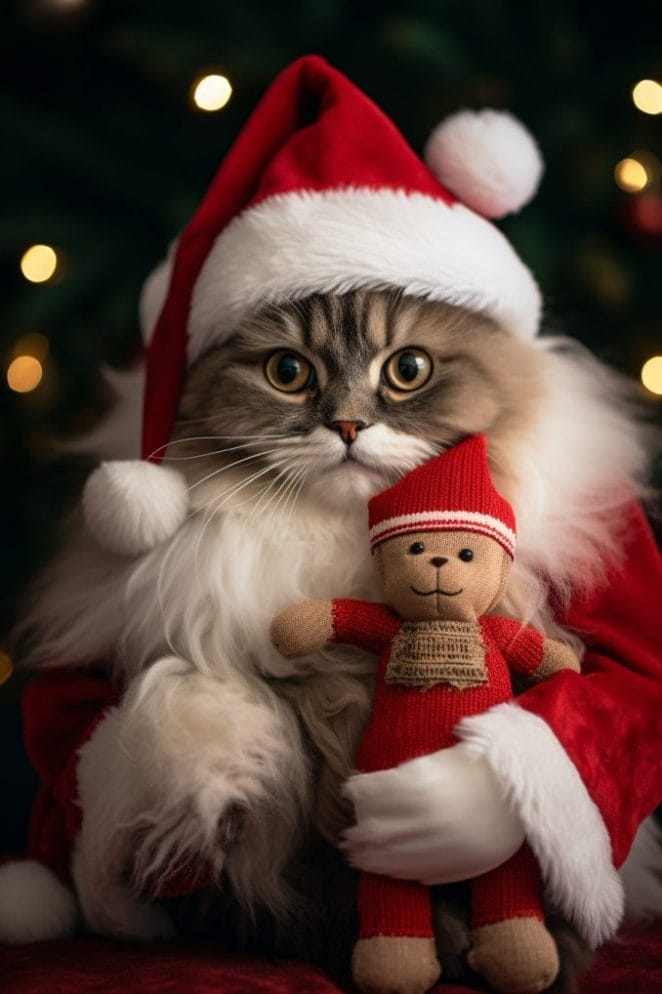 Treat your furry friend to the enchantment of the holidays with a Santa Claws Catnip Toy.
Shaped like the jolly old man himself, this festive toy is filled with premium catnip, ensuring hours of entertainment for your cat.
Watch as your feline companion pounces, bats, and indulges in the joy of the season with their new favorite playmate.
Christmas Stocking for Cats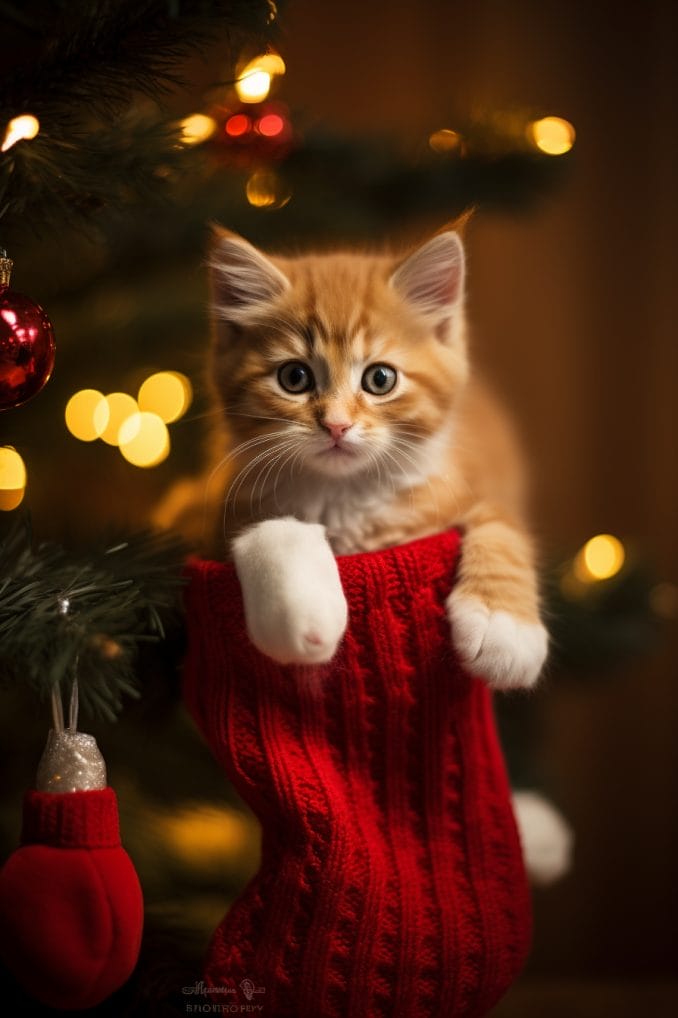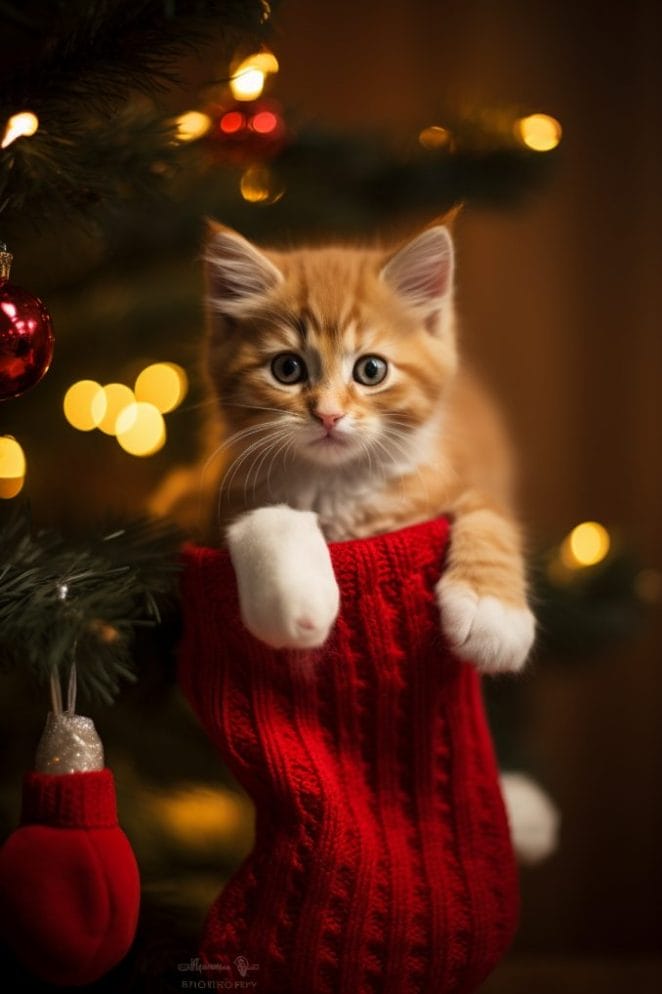 Bring the magic of Christmas to your cat with a specially curated Christmas Stocking.
This mini stocking is filled with a delightful assortment of cat treats and toys, creating a personalized gift for your feline friend.
Hung with care on the mantel, it provides an opportunity for your cat to partake in the holiday excitement and discover surprises just for them.
Snowflake Print Cat Bed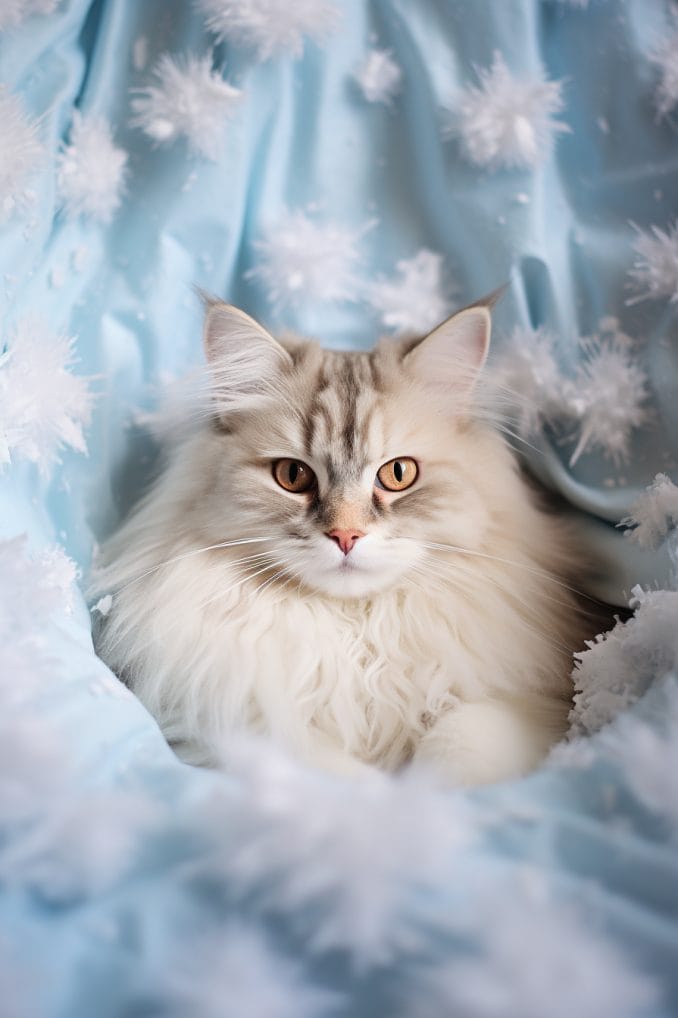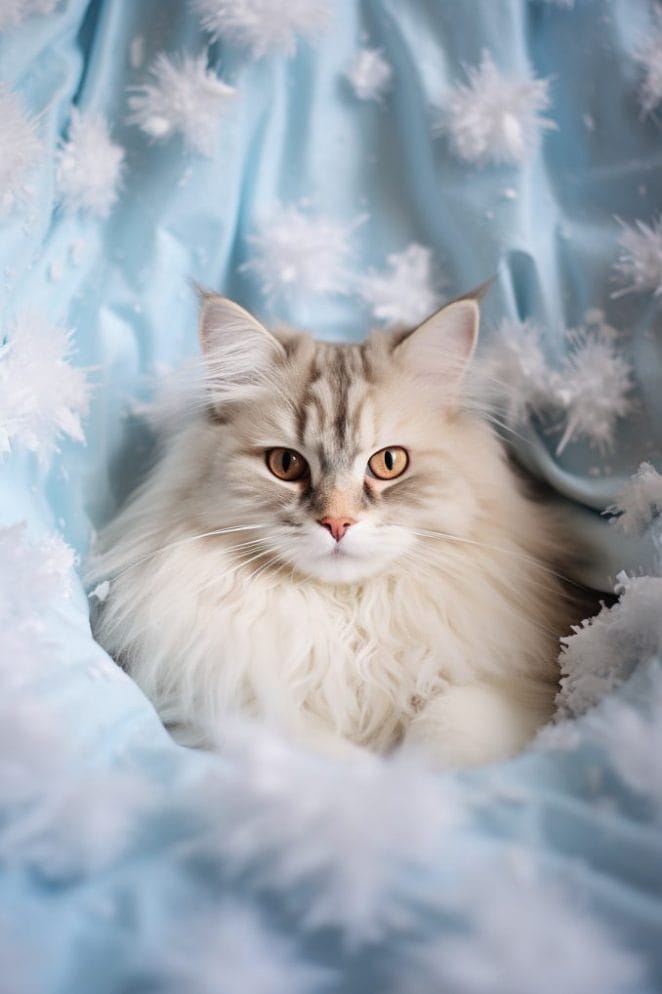 Create a cozy and festive haven for your cat with a Snowflake Print Cat Bed.
This specially designed bed not only offers comfort but also boasts a charming snowflake pattern,
seamlessly blending holiday cheer with functionality. It's the perfect retreat for your cat to snuggle up in style during the winter months.
Catnip-infused Christmas Ornaments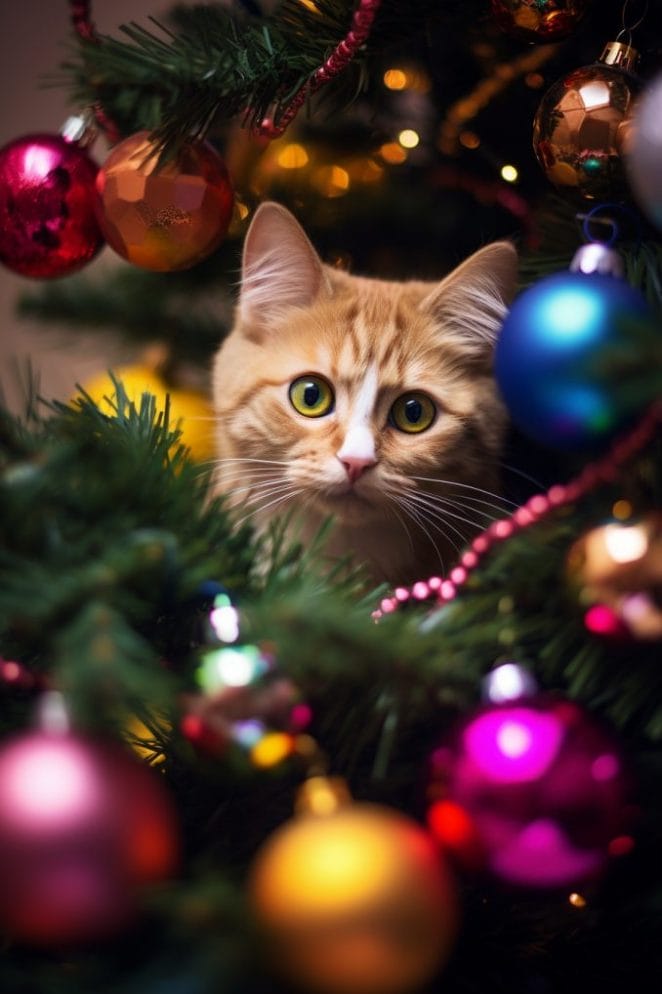 Add a playful and aromatic touch to your holiday decor with Catnip-infused Christmas Ornaments.
These charming ornaments, filled with catnip, serve as both festive decorations and entertaining toys for your cat.
Hang them on your tree to combine the joy of the season with your cat's natural curiosity and playful antics.
Festive Cat Scratcher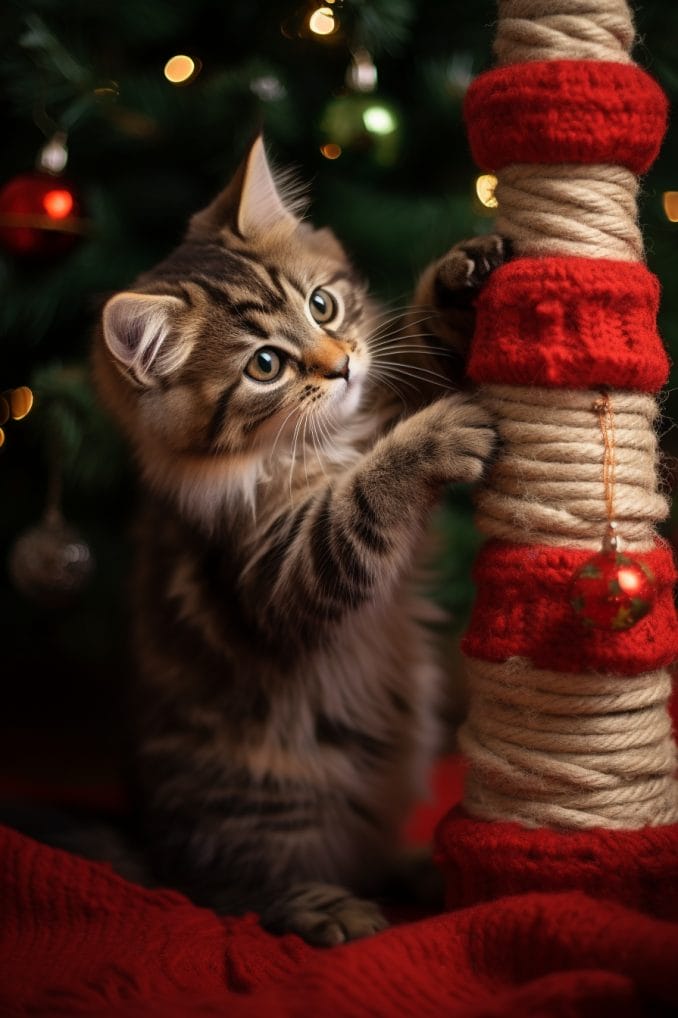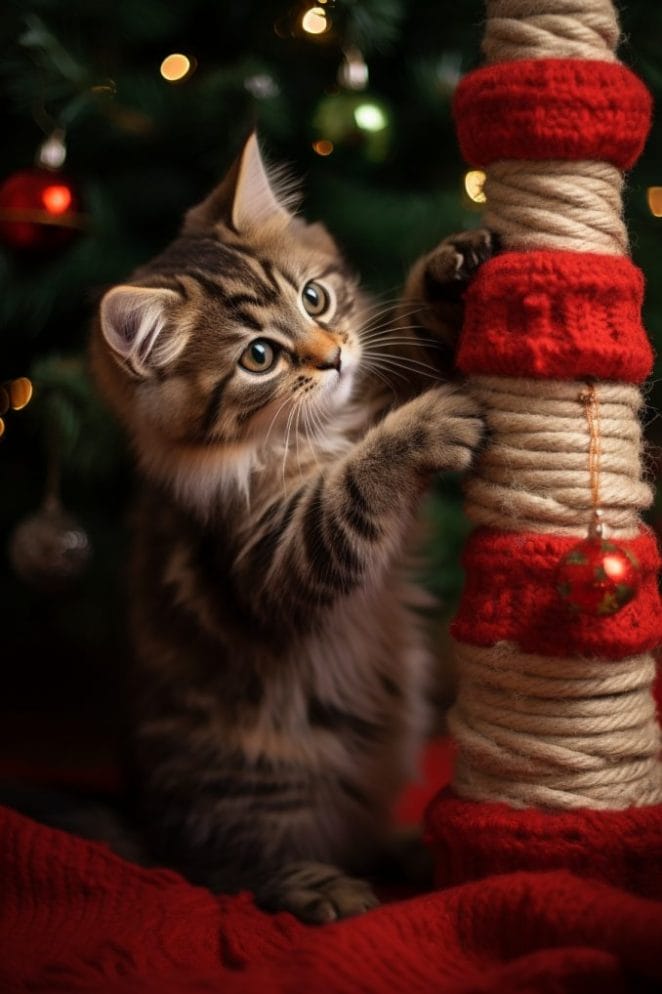 Combine function with holiday spirit by introducing a Festive Cat Scratcher to your feline's play area.
Shaped and adorned with Christmas-themed elements, this scratching post or pad not only satisfies your cat's scratching instincts but also adds a decorative touch to your home during the holidays.
Watch as your cat indulges in festive play while keeping their claws in check.
Choosing the Right Cat Christmas Accessories
The first step to a meow-gical holiday is selecting the right accessories for your feline companion.
We'll guide you through the must-haves, from jingling collars to Santa-themed scratching posts.
Discover the accessories that will make your cat feel like the Christmas royalty they are.
Jingle all the way
Enhance your cat's holiday attire with collars adorned with festive bells.
Opting for collars that jingle not only adds a cheerful sound to your home but also serves a practical purpose.
The gentle jingle allows you to keep tabs on your mischievous explorer, providing an audible clue to their whereabouts.
Embrace the holiday spirit with these delightful accessories that bring joy to both you and your furry friend.
Snuggle in style
Transform your cat's lounging experience with cozy Christmas-themed beds and blankets.
Creating a warm and inviting space for your cat to curl up enhances their comfort and enjoyment of the holiday vibes.
These specially designed beds and blankets not only add a festive touch to your home but also provide your cat with a snug and stylish retreat during the winter festivities.
Ornament playtime
Elevate your holiday decor with interactive Christmas tree ornaments designed for your feline friend.
These ornaments serve a dual purpose—adding an extra layer of joy to your festive decorations while keeping your kitty entertained.
Featuring playful elements and textures, these ornaments become a source of festive playtime for your cat, contributing to the overall holiday spirit in your home.
Tips for Decorating with Cat Christmas Accessories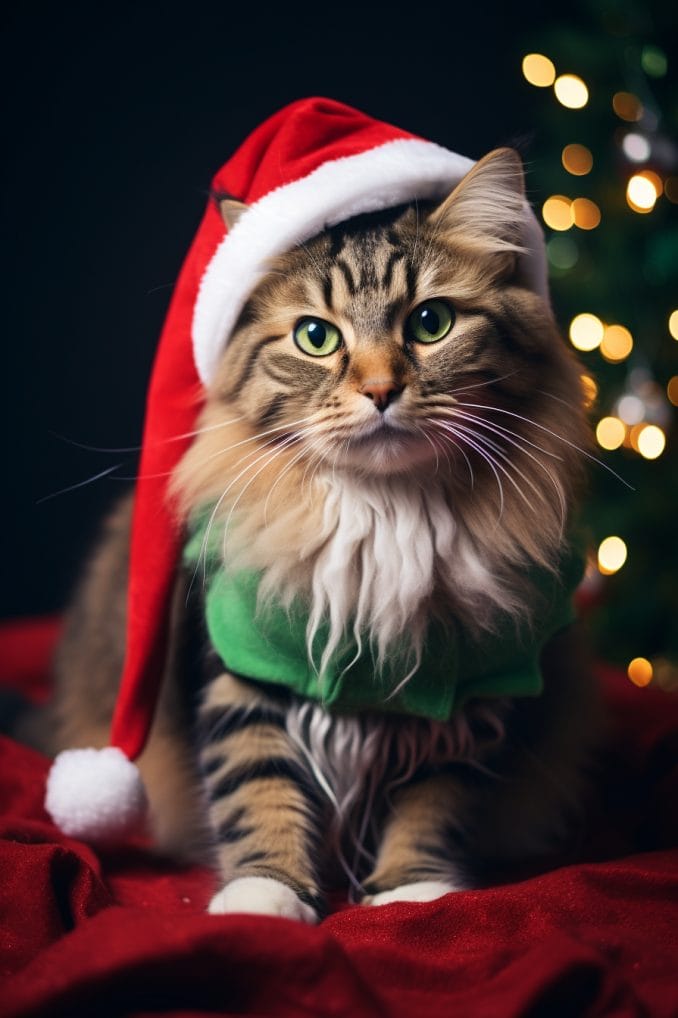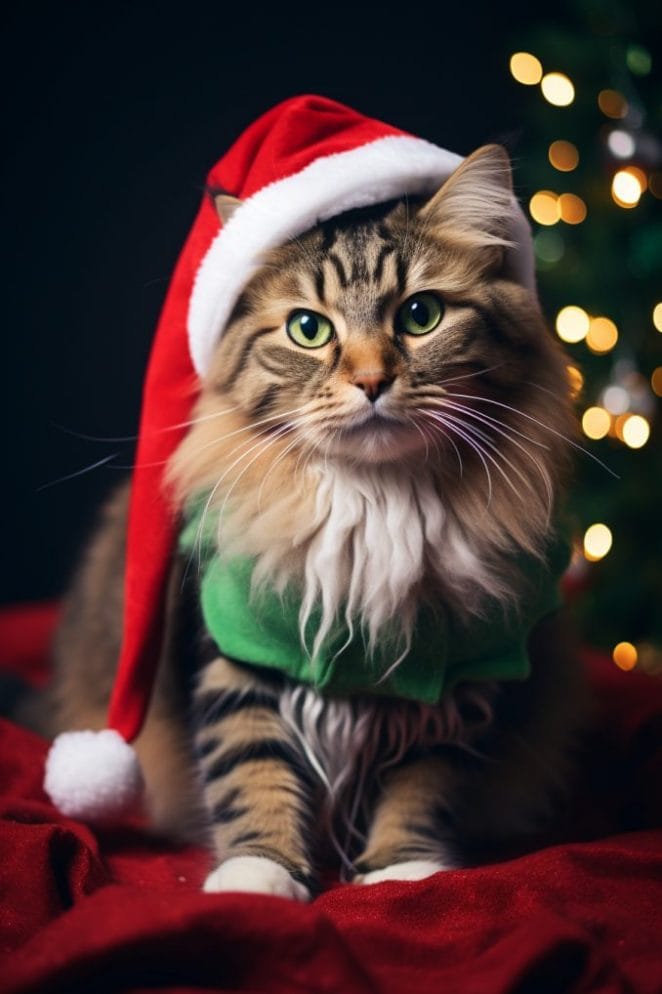 Now that you've selected the paw-some accessories, it's time to deck the halls without compromising your cat's comfort or safety.
Follow these tips to create a festive atmosphere that both you and your feline friend will adore.
Safe and sound
Ensure a secure and cat-friendly holiday environment by carefully selecting decorations.
Opt for ornaments and decor that are free from small, ingestible parts.
Choose sturdy ornaments that can withstand curious paws and playful swats.
Additionally, secure your Christmas tree to prevent any potential climbing adventures.
By making these thoughtful choices, you create a festive atmosphere that is not only beautiful but also safe for your feline friend.
Create a kitty haven
Designate a cozy corner in your home as a special haven for your cat during the holiday season.
Arrange their bed, favorite toys, and a few festive accessories in this designated space.
This allows your cat to enjoy the holiday spirit without feeling overwhelmed by the hustle and bustle.
Providing a quiet retreat ensures your cat has a comfortable and stress-free place to relax amidst the holiday festivities.
Interactive decor
Blend holiday cheer with entertainment by incorporating cat-friendly decor.
Choose toys that seamlessly fit into your holiday theme, creating a win-win situation – festive and entertaining!
From interactive ornaments to playful decorations, these additions not only enhance your decor but also engage your cat in festive play.
This approach ensures that your holiday decorations contribute to the overall joy in your home while keeping your cat entertained and happy.
Conclusion
As you embark on this festive journey with your cat, remember that creating a cat-friendly Christmas is all about balance.
With the right accessories and a touch of creativity, you can celebrate the season in a way that delights both you and your feline friend.
May your holidays be filled with joy, laughter, and the comforting purrs of a content kitty.
In the spirit of a paw-some Christmas, explore our curated collection of cat Christmas accessories and make this holiday season unforgettable for your beloved furball.
After all, the joy of the season is even sweeter when shared with our feline companions!