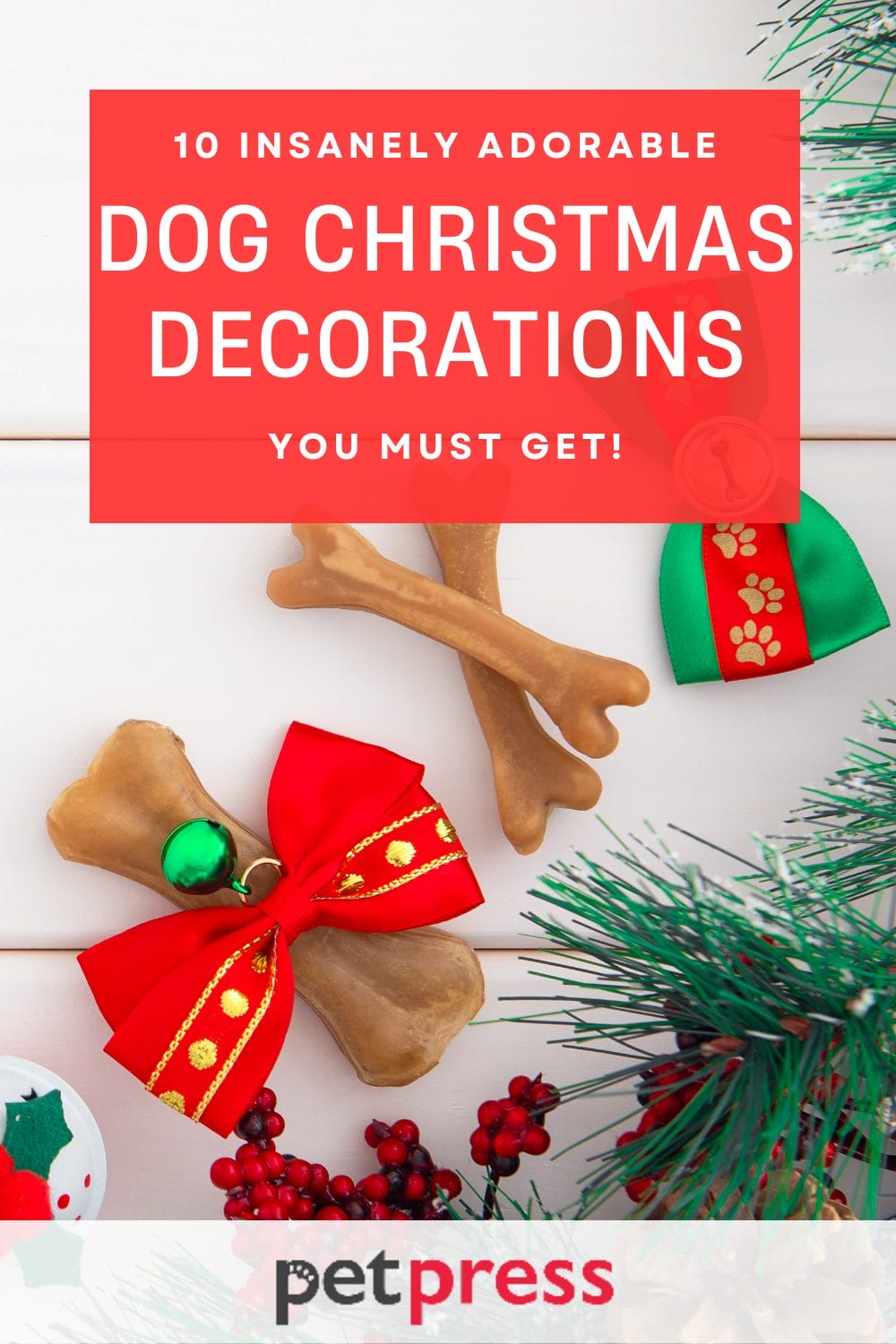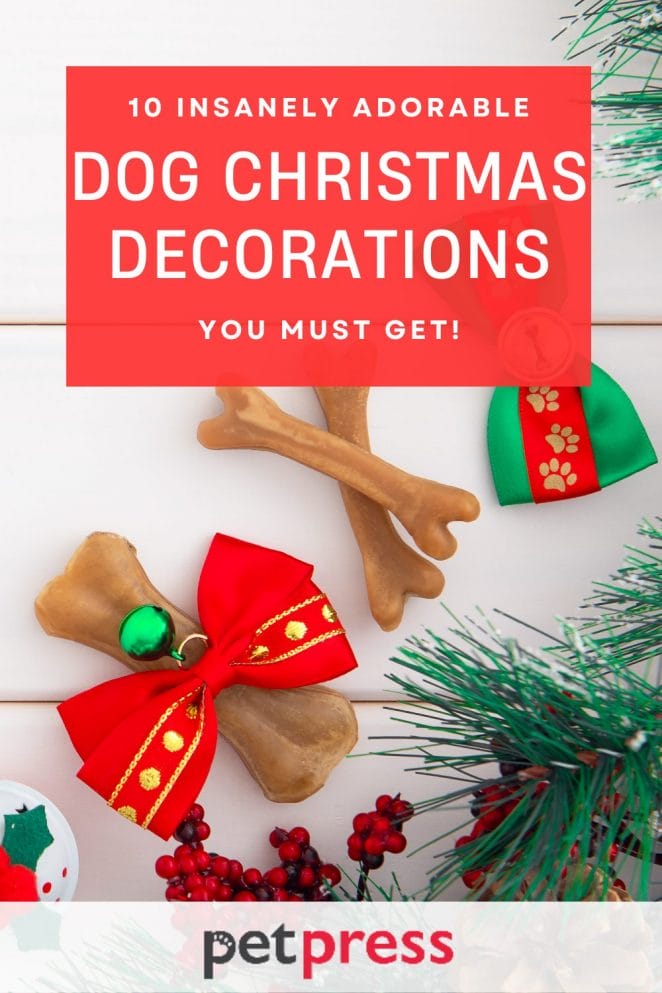 Decking the halls for the holiday season brings joy to homes worldwide. It's about the lights, the tree, the wreaths, and, of course, the ornaments. But for pet lovers like us, celebrating our furry friends as a part of our festive décor is an absolute must. That's why we've compiled a list of insanely adorable dog Christmas decorations that are guaranteed to add that extra sparkle to your celebration!
Why dog Christmas decorations?
Decorations reflect the spirit of the home during the festive season. So why not reflect on the joy, comfort, and companionship that our loving dogs bring into our lives?
Dog-themed Christmas decorations help us express our love for our pets, and they add a heartwarming charm to the holiday vibe. Plus, they're an absolute conversation starter at all your holiday gatherings!
What could be more delightful than sharing your adoration for your four-legged friends with like-minded individuals? Go ahead and share your thoughts on social media using #DogChristmasDecor!
Top 10 Dog Christmas Decorations
Experience the joy of the holiday season with a canine twist this year! Here are the top 10 insanely adorable dog Christmas decorations that will make your festivities even more memorable and fill your home with paws-itive vibes.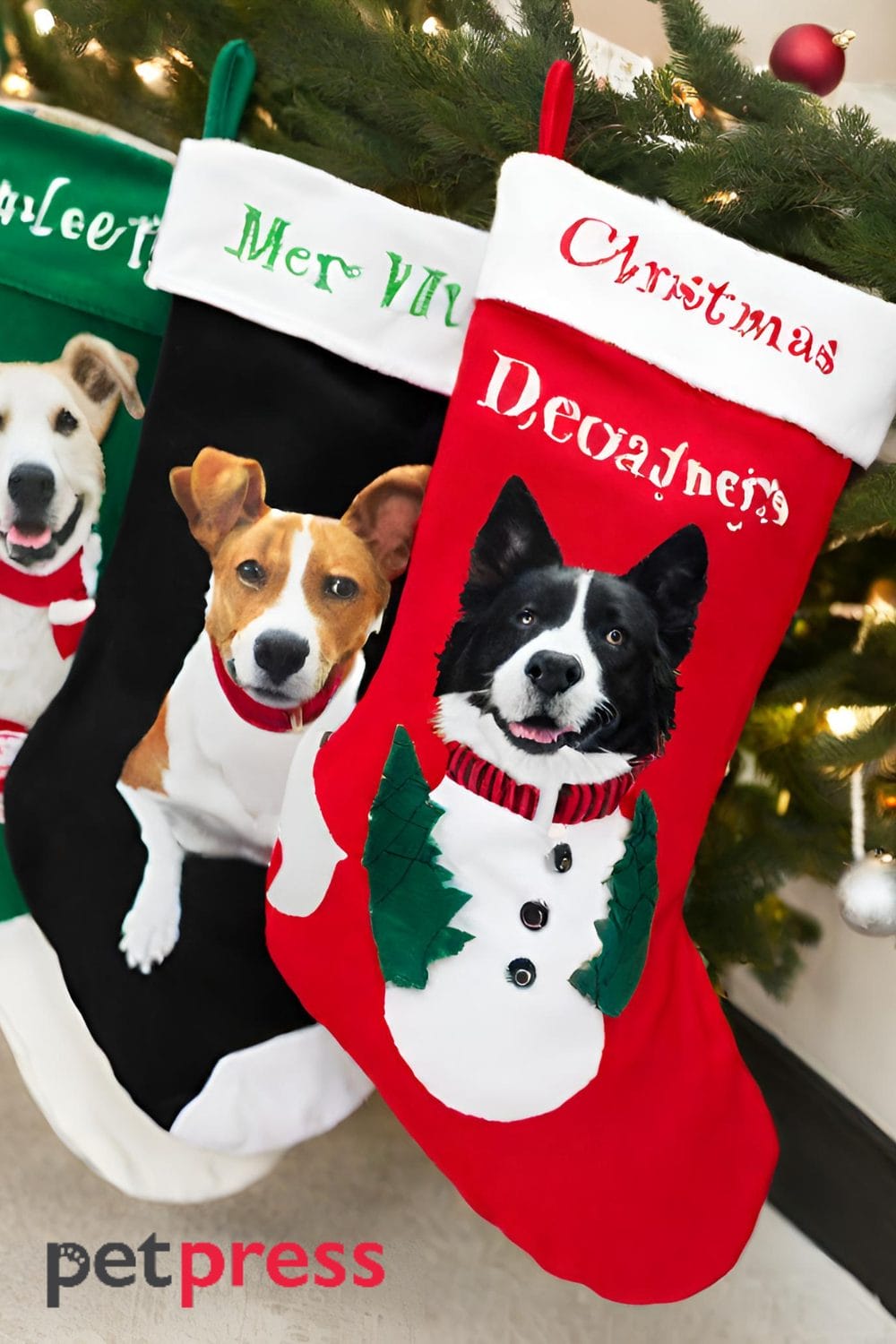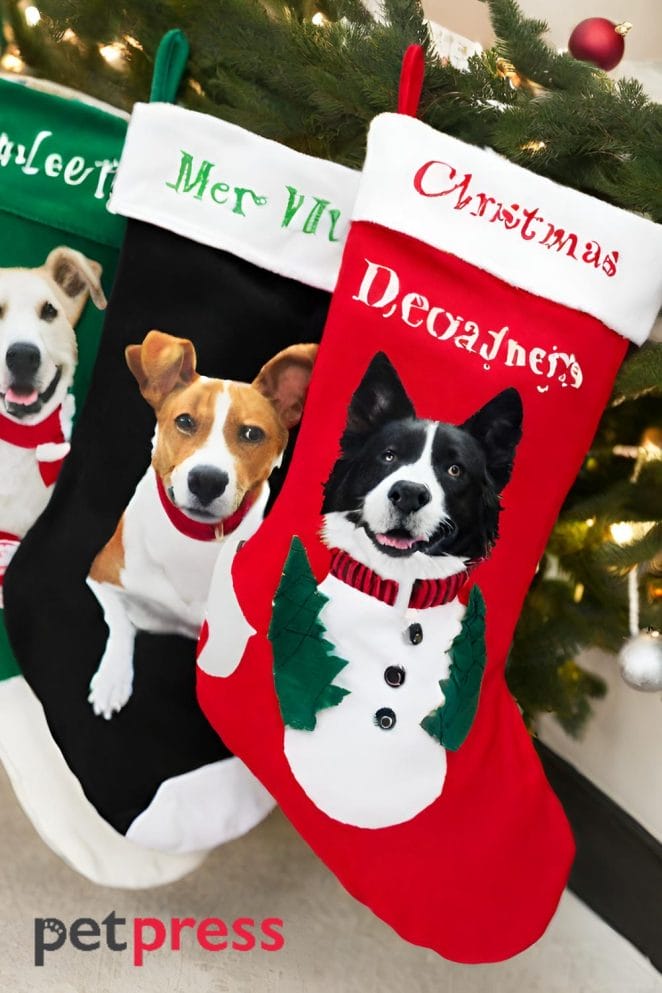 Personalized Dog Christmas Stockings
There's nothing quite as festive as a row of Christmas stockings hanging by the fireplace. Personalized dog Christmas stockings offer a unique twist to this traditional decor. They can feature your pet's name, likeness, or paw prints!
Imagine a cute plush stocking with an embroidered doggy face design or a classic woolen one with a fancy nameplate. It's not just the visual appeal but also the sentiment behind personalized stockings that makes them a must-have.
After all, your furry friend deserves to partake in the joy of unwrapping Christmas treats! You can even make it a family event to stuff the stocking with pet-friendly toys and treats.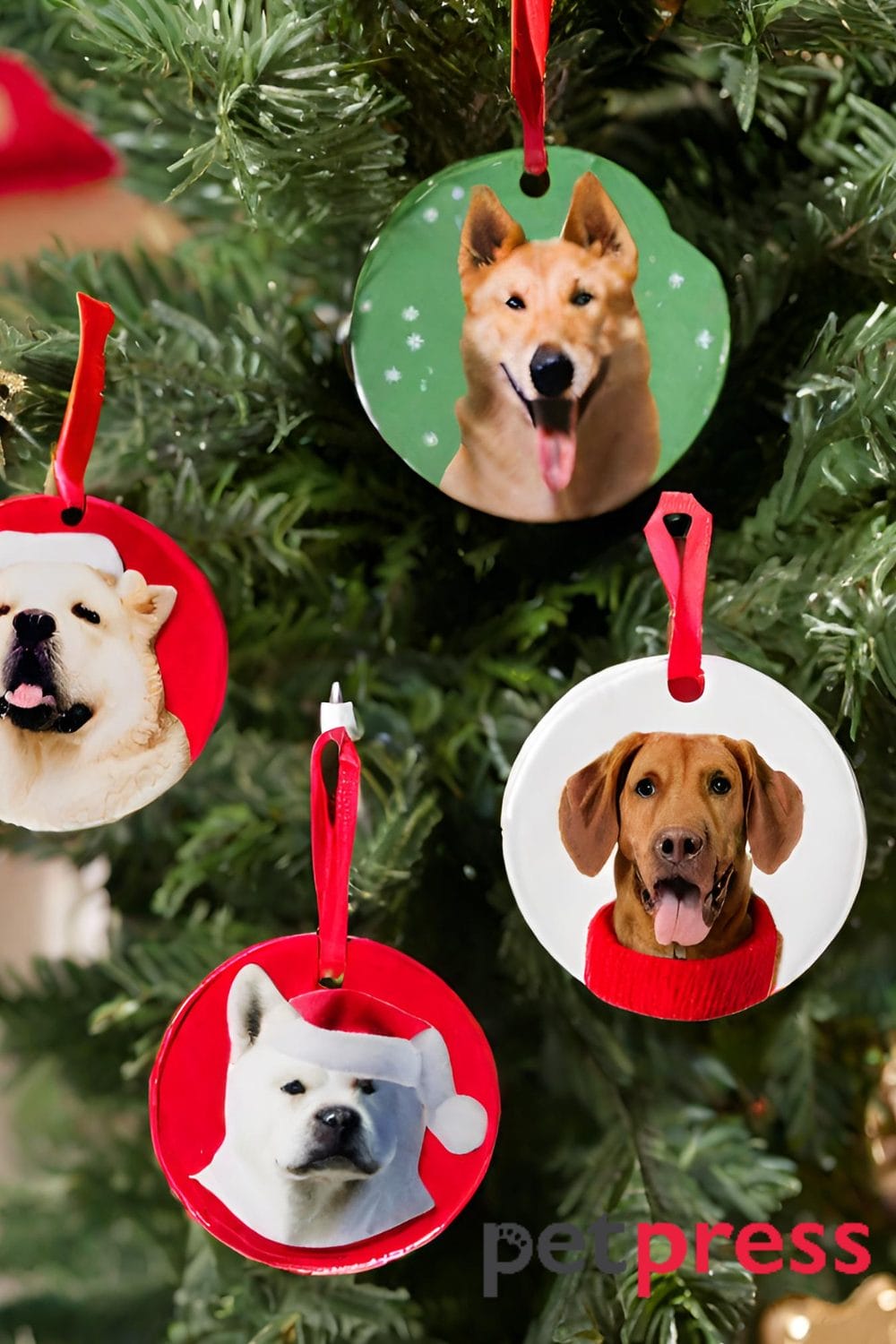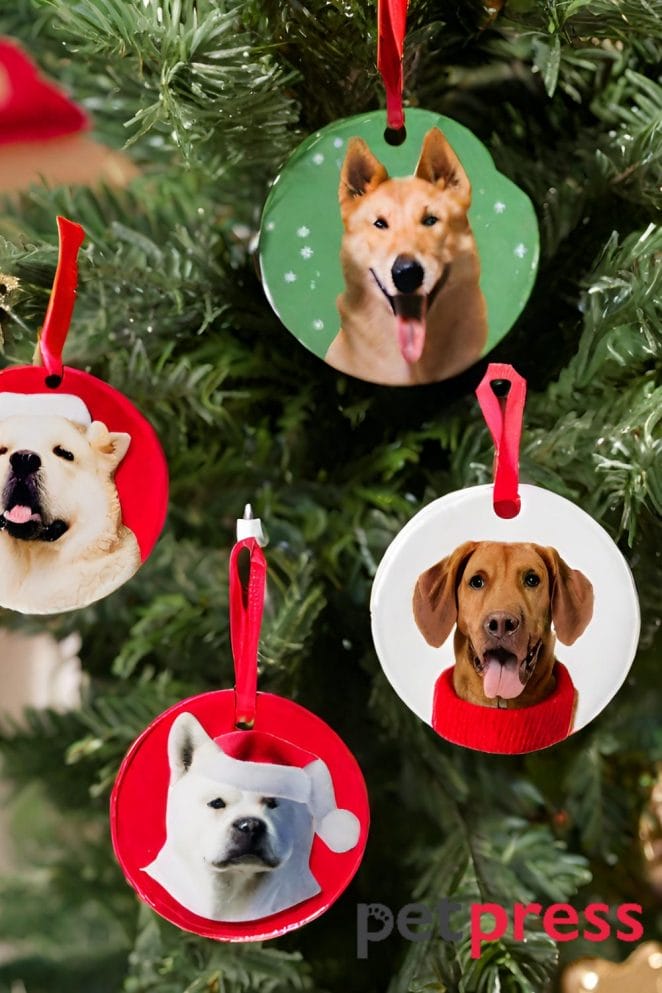 Dog-themed Christmas Tree Ornaments
What's a Christmas tree without some unique ornaments? Dog-themed Christmas tree ornaments are a delightful way to make your tree truly represent everyone in your family. Ornament styles can range from glass baubles with delicate, painted portraits of various dog breeds to delightful cartoon representations of puppies wearing Santa hats.
You may even choose personalized ornaments with your pet's picture or name. These adorable additions to your tree will surely make it a focal point of the holiday season. It's also a wonderful way to honor the memory of a pet that's crossed the rainbow bridge.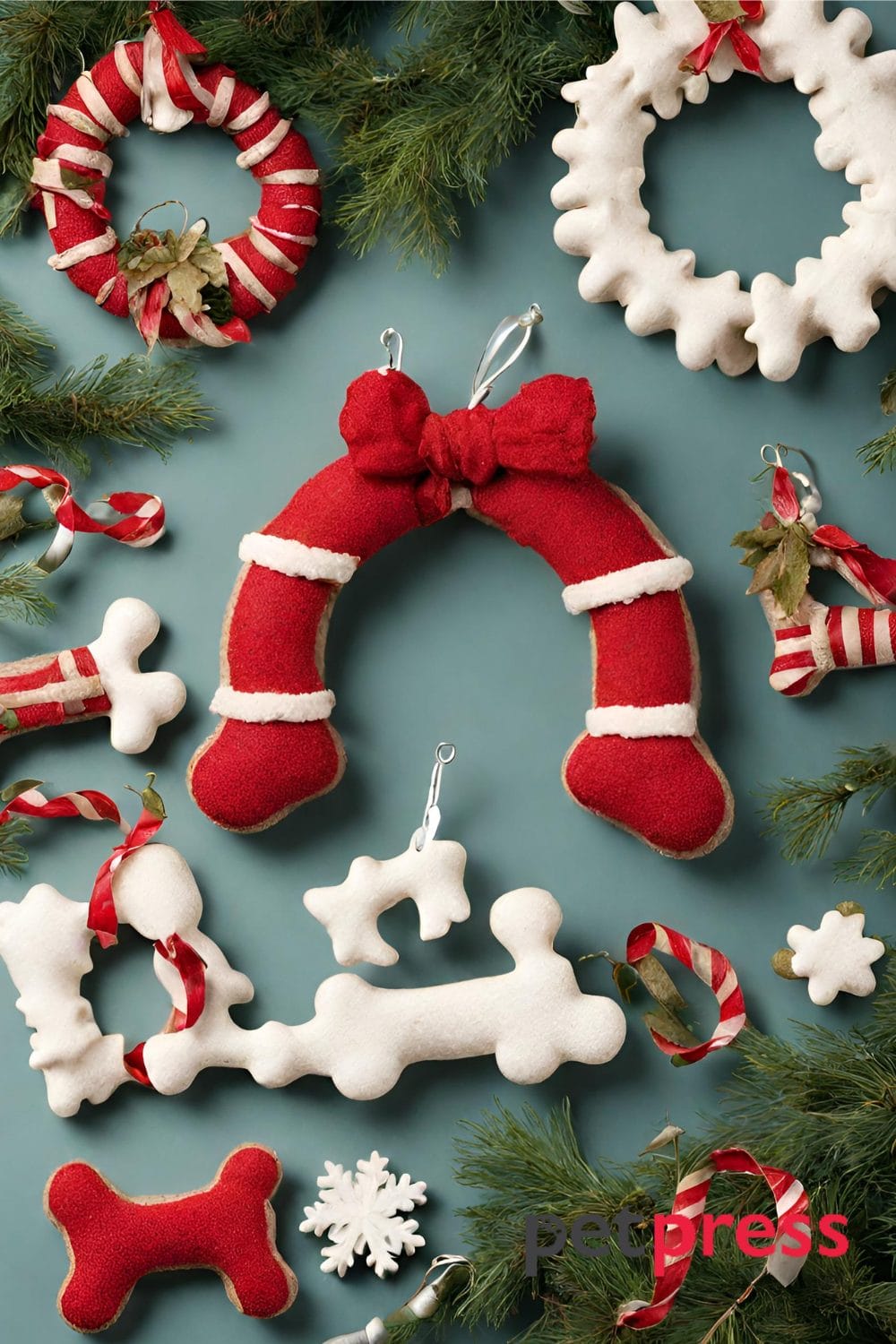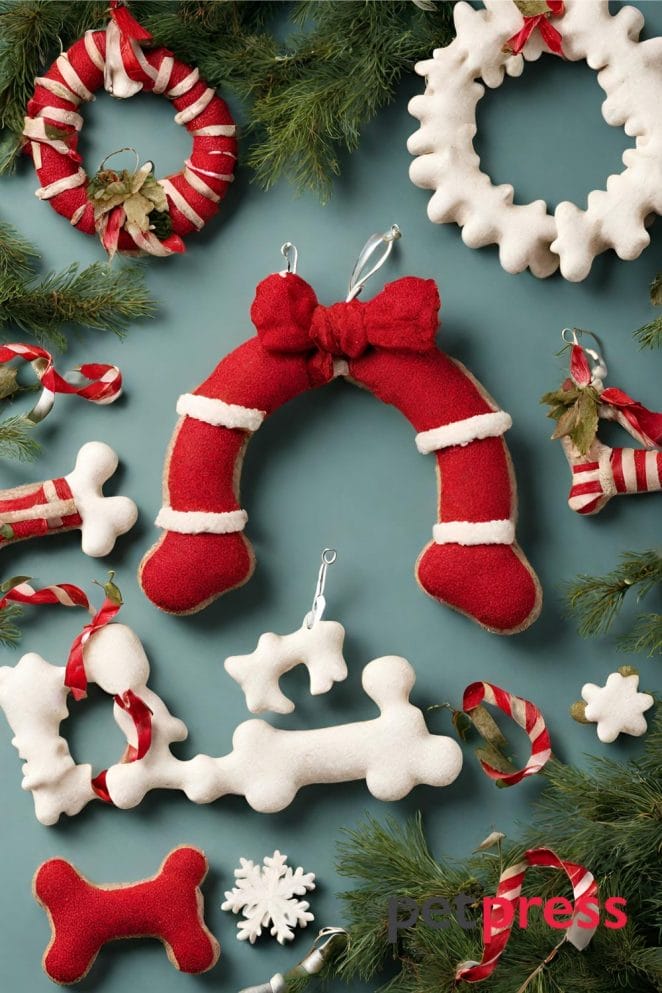 Dog-inspired Christmas Wreaths
Dog-inspired Christmas wreaths can put a fun and unique spin on the traditional holiday decoration. Whimsical designs, such as wreaths decorated with small, plush dog toys or classic styles with subtle paw print ribbons or dog bone ornaments, can suit any aesthetic.
Whether you want a lifelike representation of your dog's breed or a more abstract design using dog toys and treats, there is a wreath out there that will match your vision. Not only will a dog-inspired wreath bring holiday cheer to your front door, but it will also showcase your love for your furry companion to everyone who passes by.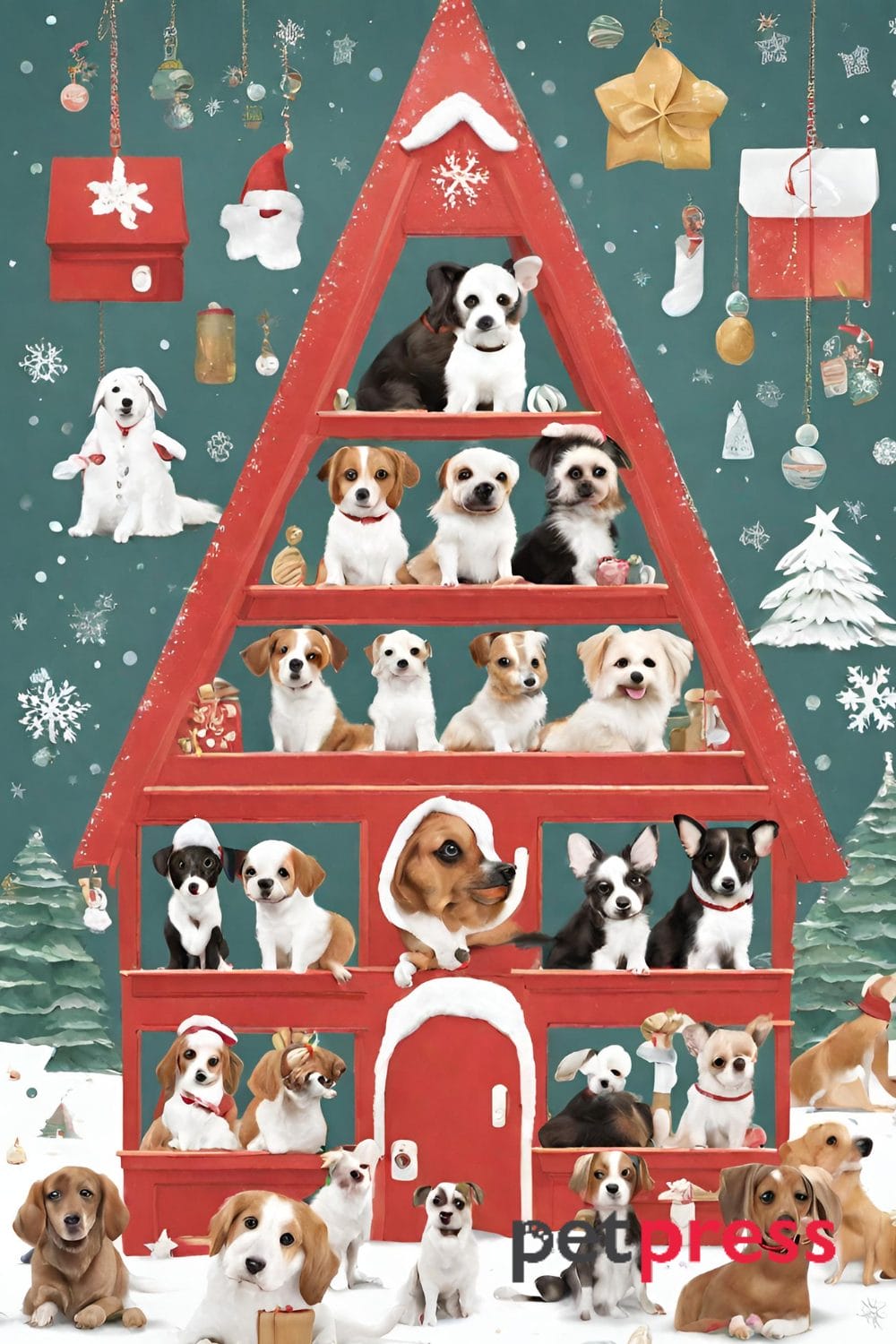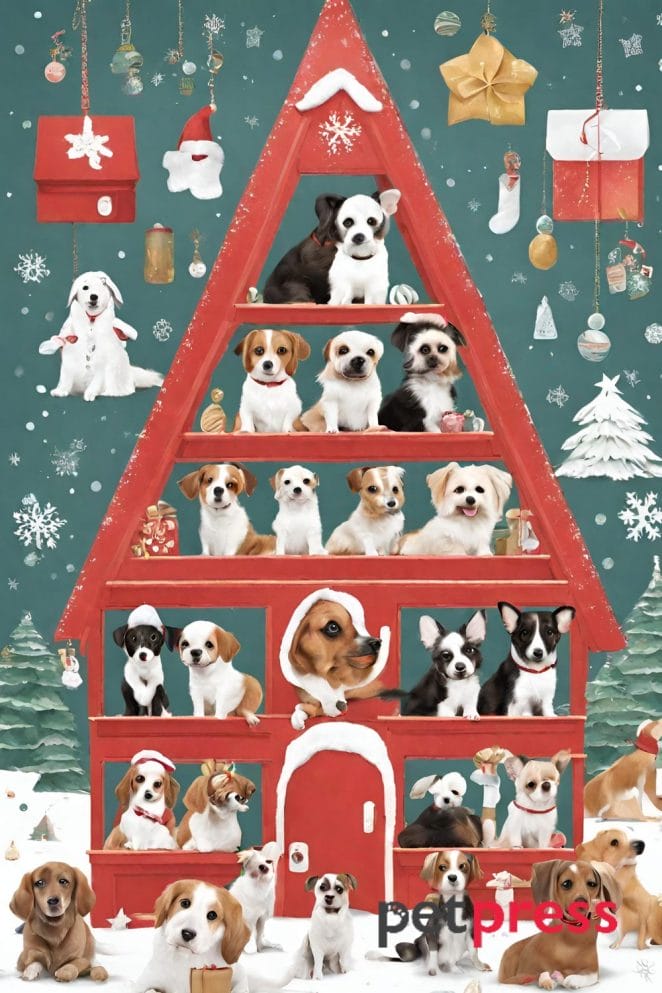 Cute Doggie Advent Calendars
Bring the exciting countdown to Christmas to your four-legged friend with a cute doggie Advent calendar. A doggie Advent calendar features a new dog treat or toy behind each day's door. It's a delightful way for your pet to join in the holiday spirit.
You'll find your furry friend wagging their tail in excitement every day as you open a new surprise for them. And nothing beats the joy in their eyes as they receive their daily bounty. Doggie Advent calendars also make for a wonderful pre-Christmas gift for any pet parent you know.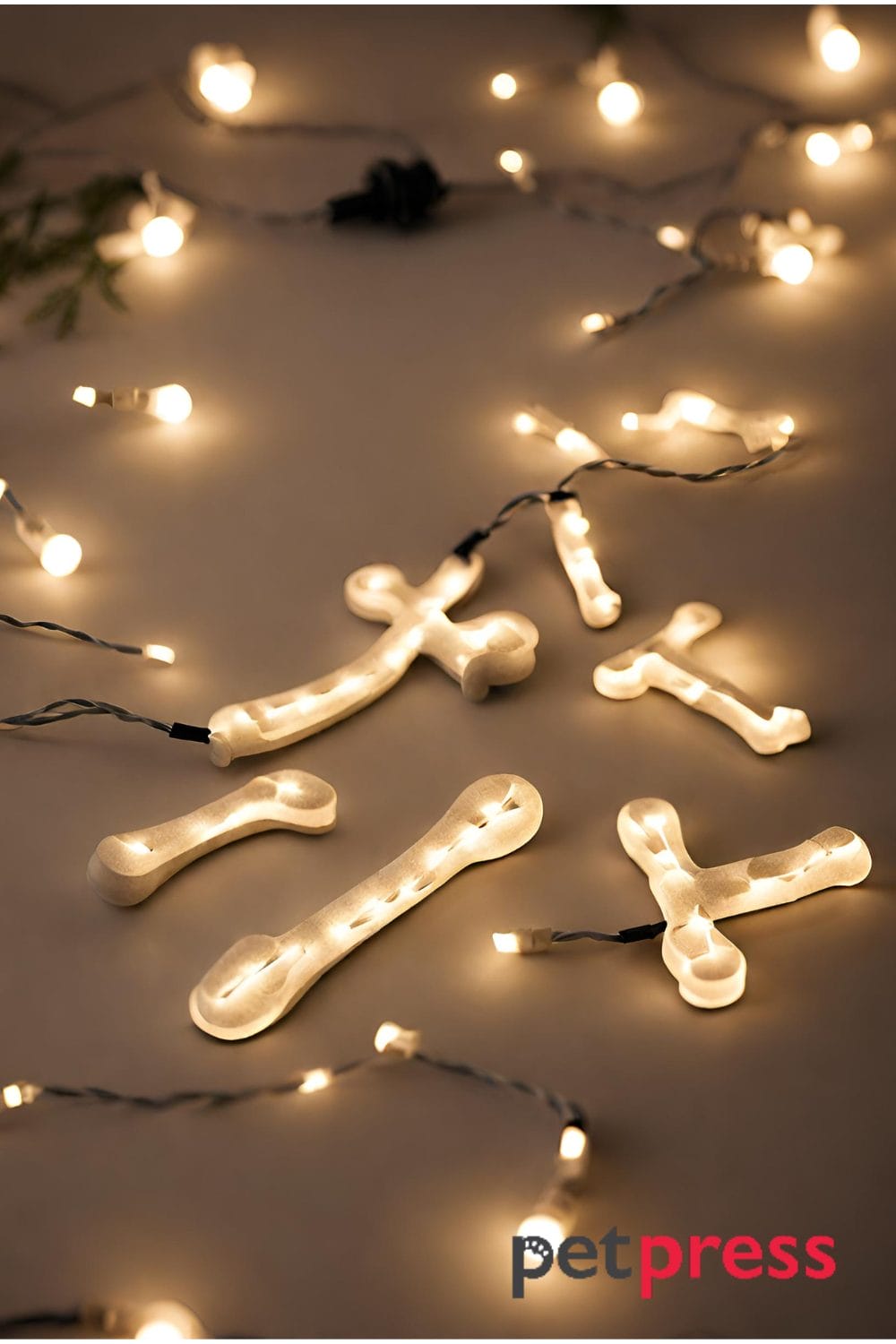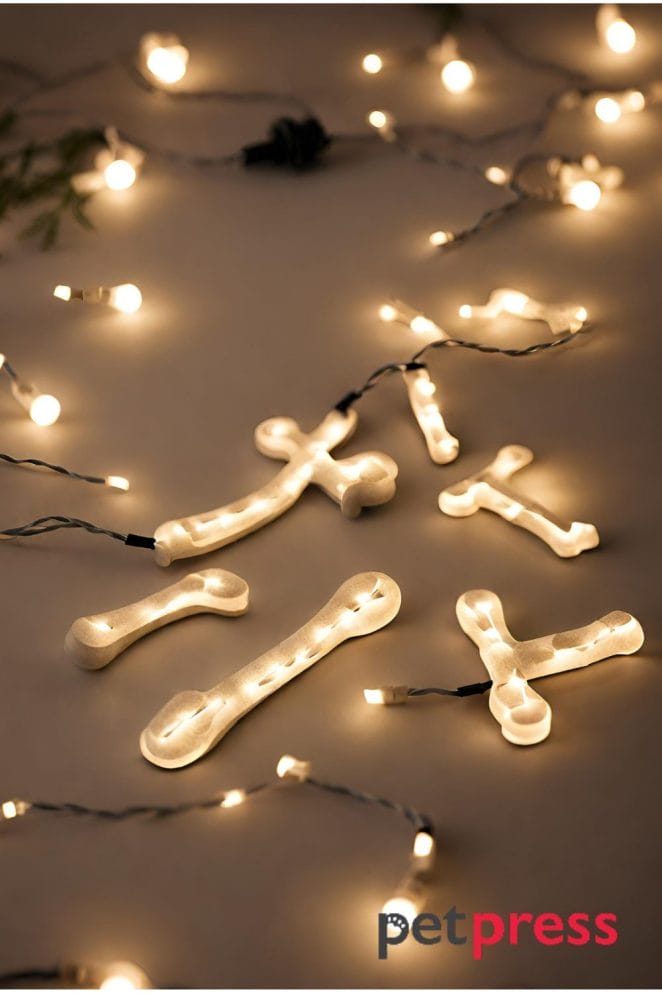 Dog Bone Christmas Lights
Wish to give your Christmas lighting a dog-lovers touch? Dog-bone Christmas lights are just the thing for you. These fun, quirky lights add a twist to your traditional Christmas light decorations. A string of glowing dog bones can add a special touch, whether it's adorning your Christmas tree, lighting up your windows, or decorating your porch.
These unique lights will catch every visitor's eye, prompting smiles and conversations. Their warm, soft glow will bring a festive and inviting ambiance to your home, making it the perfect place for holiday gatherings.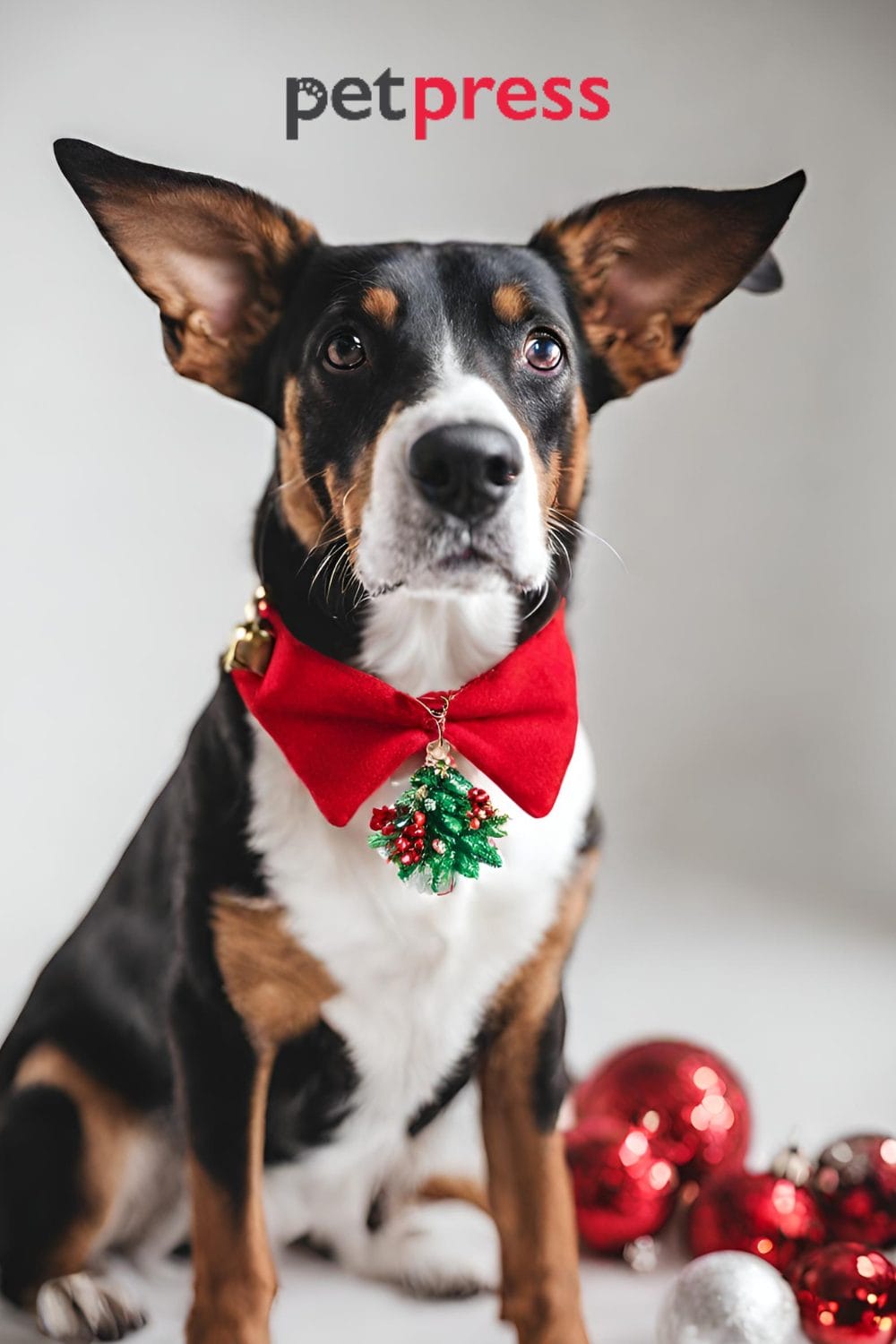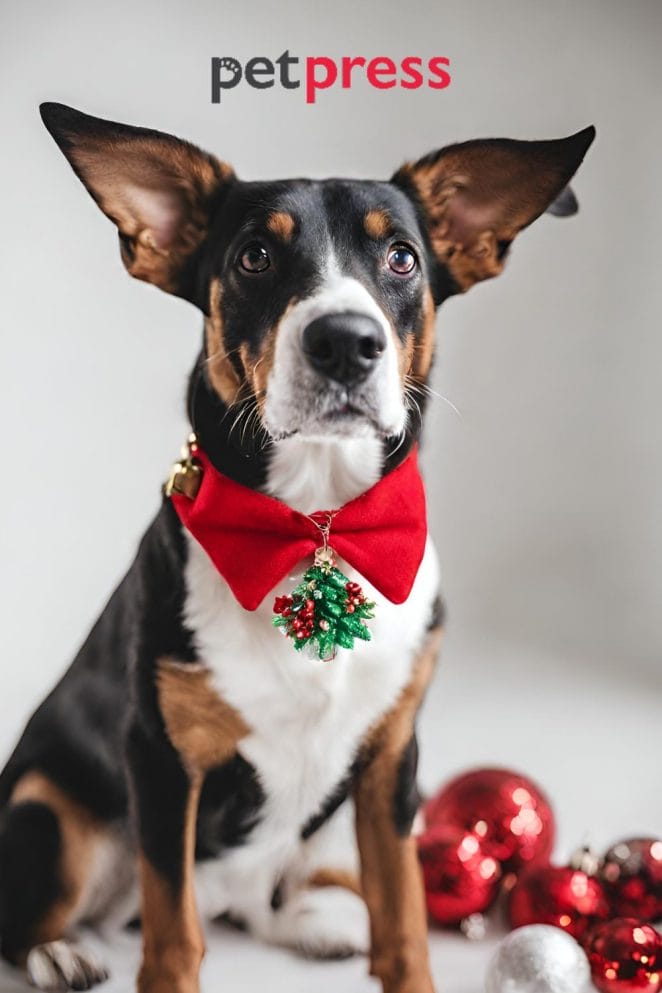 Christmas Dog Collar Decorations
Who said only homes should get all the festive attire? Christmas dog collar decorations are an adorable way to dress up your furry friend for the season. These festive collars can feature jingle bells, LED lights, or holiday-themed patterns.
Not only do they make your pet look festive, but they also ensure your dog is part of the Christmas celebration. Plus, imagine the adorable photos you can take with your festively-adorned pet for your holiday cards!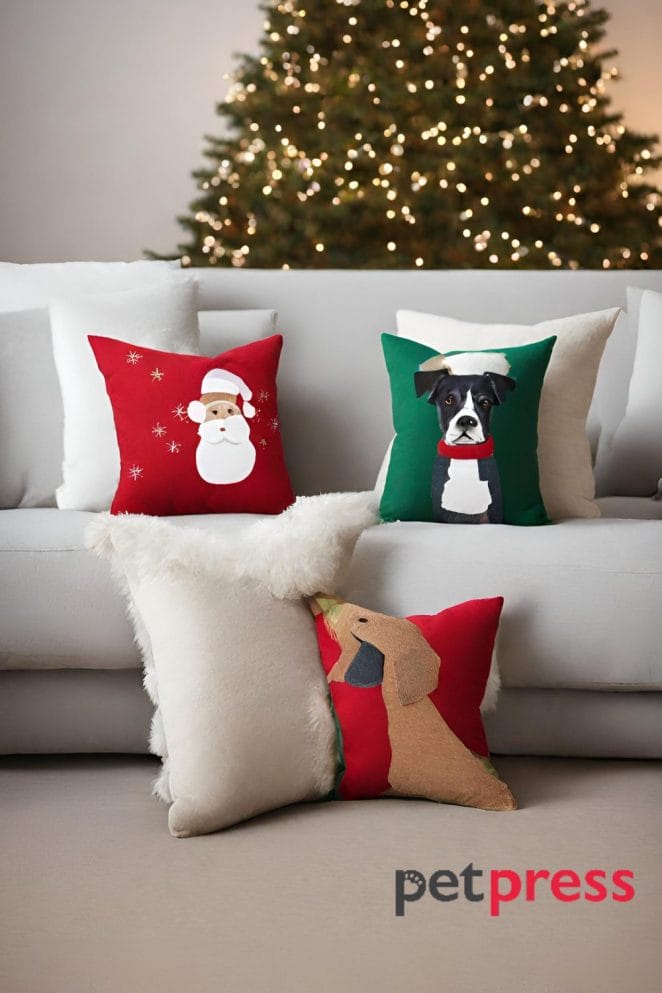 Santa Paws Christmas Pillows
Santa Paws Christmas pillows can bring a touch of comfort and charm to your holiday decor. These pillows, featuring festive dog-inspired designs, can instantly elevate the holiday spirit of any room.
Soft, cozy, and perfect for snuggling during those chilly winter movie nights, these pillows can feature anything from cute holiday phrases like "Santa Paws is coming to town" to adorable depictions of dogs in festive attire. They're not just for decor; they're perfect for cozying up with your pet for a warm Christmas nap!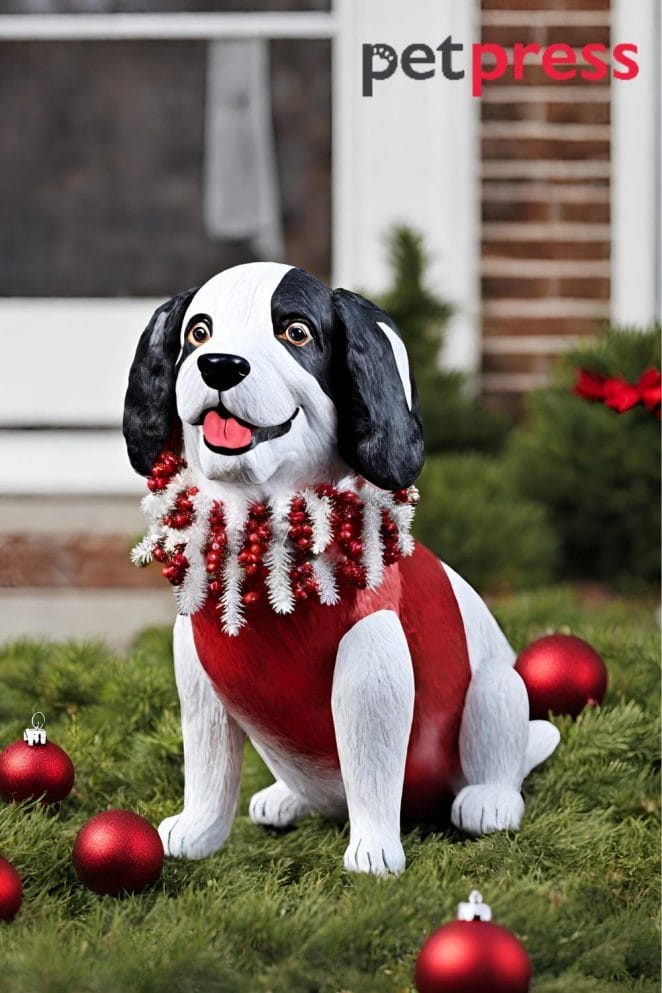 Dog Christmas Yard Decorations
If you like to go all out with Christmas decorations, dog Christmas yard decorations can't be missed. From inflatable dogs wearing Santa hats to light-up dog-themed holiday signs, these decorations will make your yard the talk of the neighborhood.
They're festive, fun, and an absolute declaration of your love for your loyal companion. They're a delightful sight for everyone passing by, spreading the holiday cheer far and wide.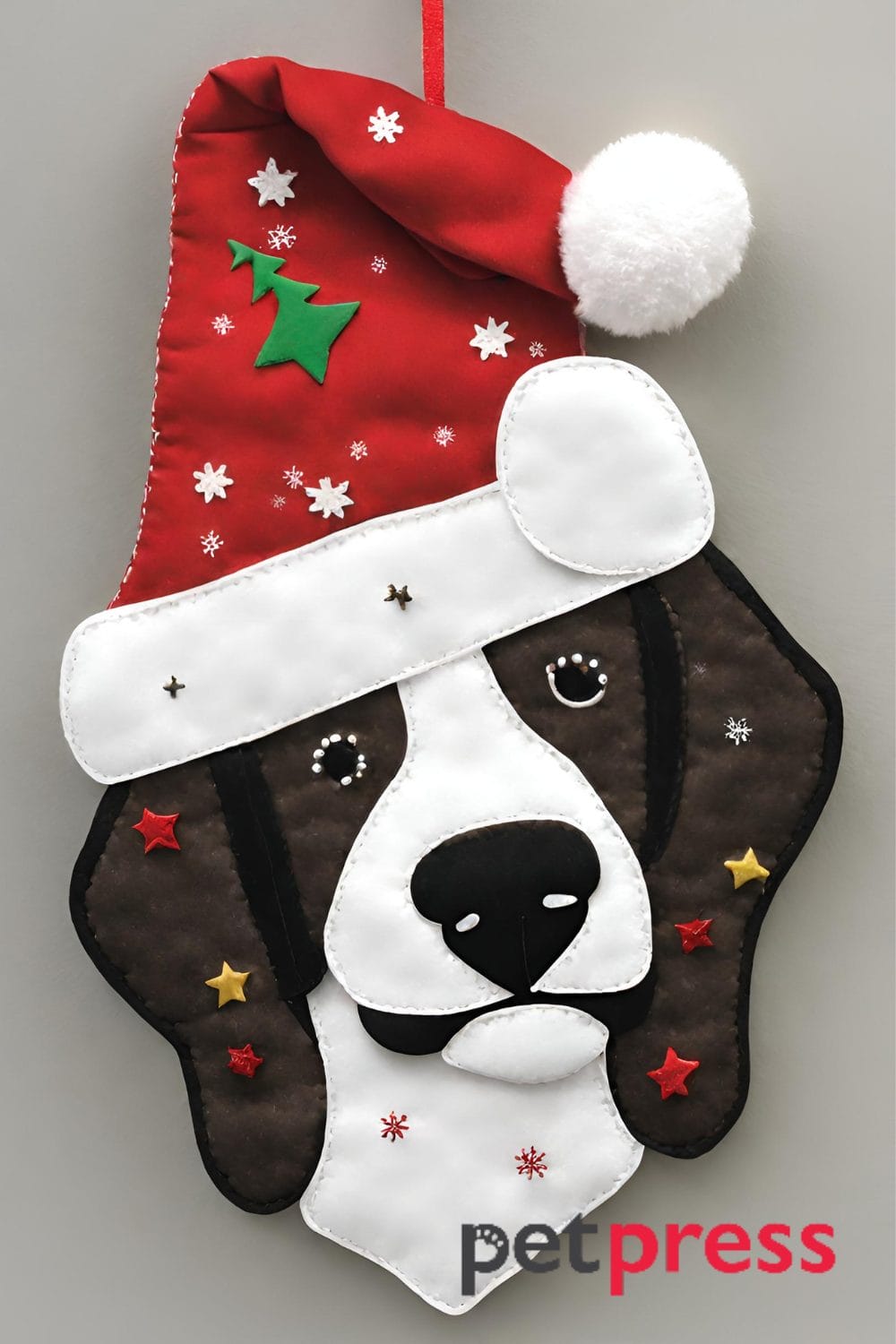 Canine Christmas Wall Hangings
Canine Christmas wall hangings are perfect for the pet lover who appreciates art and decor. They could be festive-themed wall decals to brighten up a kid's room or elegant canvas paintings for a more sophisticated look in your living room.
These wall hangings can showcase festive scenes, like a pack of dogs building a snowman or a single dog with a Santa hat sitting by a Christmas tree. They add a warm and personal touch and are an excellent way to incorporate your love for dogs into your Christmas decor.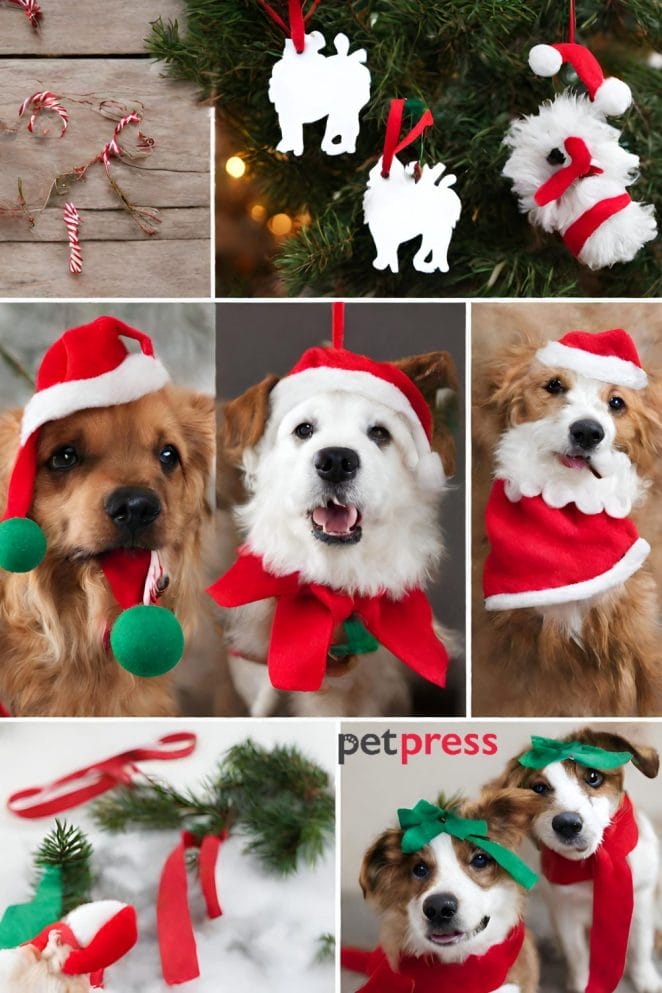 DIY Dog Christmas Decorations
If you're a craft lover, DIY dog Christmas decorations can be a rewarding and fun project. Handmade decorations can range from paw print ornaments made from non-toxic clay to dog treat garlands. You could paint a Christmas scene featuring your dog on a bauble or create a picture frame ornament to house your favorite photo of your pet.
The possibilities are endless! This personal touch to your Christmas decoration will not just enhance the festive spirit but also create lasting memories of a fun holiday project.
How to Buy Dog-Friendly Christmas Decorations
When it comes to incorporating our furry friends into our holiday celebrations, safety should be a primary consideration. Here is a helpful guide on how to buy dog-friendly Christmas decorations:
Material:
Choose decorations made from non-toxic and pet-friendly materials. Avoid decorations that may shatter easily, like glass ornaments, which could pose a danger if broken. Consider more durable materials like plastic, fabric, or unbreakable synthetics.
Size:
Opt for decorations that are not small enough to become a choking hazard. If you have a vigorous chewer pet, it's better to go for larger decorations that can't be swallowed easily.
Avoid tinsel and ribbons:
These are highly attractive to pets but can be dangerous if ingested. Stick to pet-friendly alternatives like paper streamers or fabric flags.
Edible Decorations:
If you're looking at edible decorations like advent calendars for dogs, make sure they are made from dog-safe ingredients. Avoid anything containing chocolate, which is toxic to dogs.
Placement:
It's not just about what you buy but also where you place it. Ensure decorations are placed out of reach to avoid unnecessary accidents. You might consider hanging delicate ornaments higher up on the tree.
Shop from reputable stores:
Make sure you buy from trusted pet-friendly stores. Companies like PetSmart, Chewy, and even general online marketplaces like Amazon and Etsy offer dog-friendly decoration options. Always check reviews and utilize the 'question and answer' section if available.
Remember, the holidays are about enjoying time with all of your loved ones, furry friends included. With these tips, you can ensure a safe and festive environment for everyone in your home.
Conclusion
Dog Christmas decorations not only bring holiday cheer to your home but also celebrate the love and companionship of our furry friends. So get those stockings, lights, and ornaments, and let's bring in the festive season with a bark!
Don't forget to share this blog post on your social media so other dog lovers can spruce up their holiday decorations too!
FAQs about the Dog Christmas Decorations
Are dog Christmas decorations safe for my pet?
While many dog Christmas decorations are safe, you should always consider factors like material, size, and placement to ensure they don't pose a risk to your pet.

Can I make my own dog Christmas decorations?
Absolutely! Making your own dog Christmas decorations can be a fun and rewarding project. Use dog-safe materials, and you can create anything from paw print ornaments to dog treat garlands.
What are some popular dog Christmas decorations?
Popular choices include personalized dog Christmas stockings, dog-themed Christmas tree ornaments, dog-inspired wreaths, and more. Check out our list of top 10 adorable dog Christmas decorations for inspiration!
Can dog Christmas decorations be used outdoors?
Yes, many dog Christmas decorations, like inflatable dogs or light-up dog-themed holiday signs, are designed specifically for outdoor use. They can add a festive, pet-friendly touch to your yard.
Can I involve my dog in the decorating process?
While it might be a challenge to have your dog help hang ornaments on the tree, they can certainly be included in the fun! Let your dog investigate the new decorations (under supervision) and be present during the decorating process. Just another way to make the holiday season special for your furry friend!
Discover more festive canine content!
Don't stop here! Keep the festive spirit alive and continue exploring our treasure trove of articles designed for passionate pet owners like you.
Dog Christmas Ornaments: Make Your Tree Bark With Joy
Dog Christmas Pajamas: Get Ready for Festive Fido Holidays
A Festive Collection of the Cutest Dog Christmas Sweaters