Looking for a unique name for your chicken? Look no further! In this blog post, we will provide you with a list of over 140 Mexican names for chickens.
These names are perfect for anyone looking to give their bird a bit of a Mexican flair.
Whether you are raising chickens for eggs or you just have one as a pet, these names will help set your flock apart from the rest!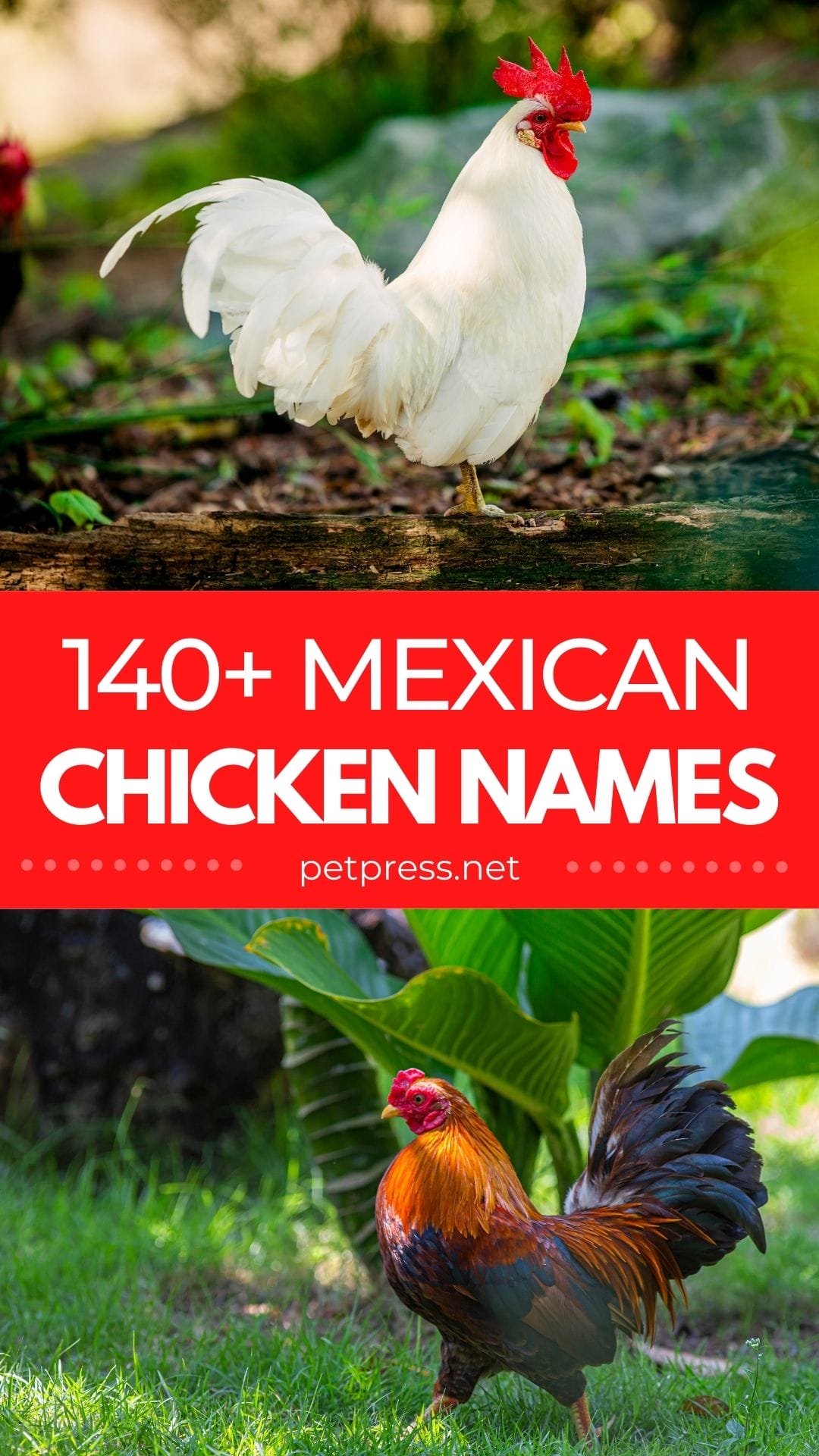 Here are the best Mexican names for a chicken which include names for roosters and hens too!
Mexican Names For Roosters
Diablo
Luigi
Silas
Gabriel
Chico
Fernando
Marco
Federico
Raul
Cordero
Santiago
Rafael
Enzo
Carlo
Oso
Flavio
Henry
Andrea
Abejundio
Jalisco
Rico
Gordito
Romeo
Santo
Geronimo
Blanco
Amigo
Hidalgo
Thiago
Mexicali
Ángel
Lorenzo
Zorro
Leonardo
Valentín
Eduardo
Giovanni
Felipe
Luciano
Lobo
Juan
Ariel
Dante
Alexander
Pan
Mexican Names For Hens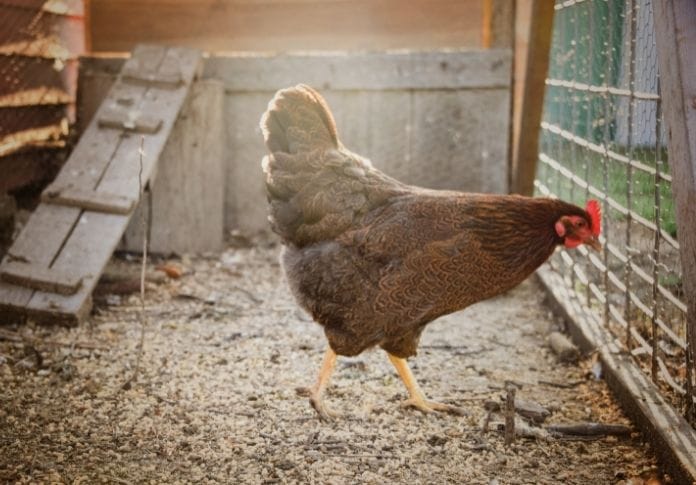 Taca
Renata
Julieta
Yamileth
Daniela
Mía
Valentina
Paloma
Elizabeth
Cemita
Sonora
Elisa
Natalia
Ivana
Aitana
Luciana
Camila
Sofía
Victoria
Ximena
Fernanda
Fátima
Samantha
Mariana
Emilia
Regina
Andrea
Fresca
Vida
Guadalupe
Jicama
Melissa
Lucía
Romina
Isabella
Valeria
Sara
Vida
Chicken-Related Mexican Words and Their Meanings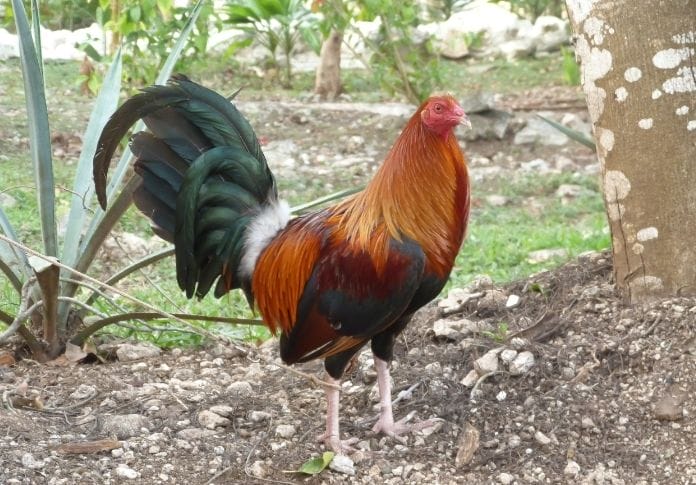 | | |
| --- | --- |
| Gallo | Means "rooster" |
| Polluela | Feminine for "chick" |
| Polluelo | Masculine for "chick" |
| Huevo | Means "egg" |
| Pollo | Means "chicken" |
| Gallina | Means "hen" |
Chicken Names in Spanish
| | |
| --- | --- |
| Carlos | A fireman of Spanish origin |
| Alejandro | Classic name meaning " Defending men" |
| Mora | BlackBerry |
| Leon | Lion in the Spanish language |
| Oso | Bear |
| Diamante | Diamond in Spanish |
| Dahlia | Beautiful flower |
| Carlitos | Freeman |
| Chorizo | Name from sausage |
| Paella | A famous sea fish and rice Spanish dish |
| Rebelde | Rebel |
| Estrella | Star |
| Blanco | White in Spanish |
| Pepita | Nugget |
Chicken Names in Latin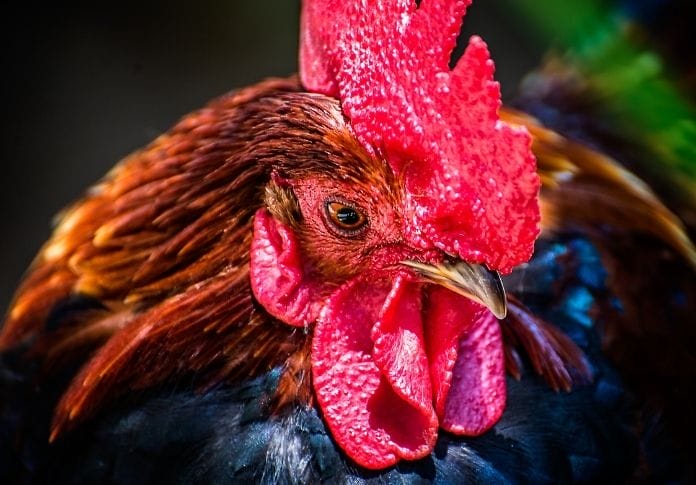 Julia
Mabel
Ace
Portia
Cecil
Alta
Celeste
Ursula
Carmine
Drusilla
Faustus
Lena
Octavia
Leandra
Fidel
Theodore
Horatius
Clarence
Basil
Kadence
Marcia
Imogene
Donata
Aloysius
Marcel
Terence
Vera
Annabel
Gillian
Deanna
Una
Fidella
Flavia
Horace
Adoria
Camilla
Nerva
Florentius
Reva
Dominic
Victor
So there you have it, our meaningful list of Mexican chicken names. We hope you've found a few that you like and will consider using for your own flock of feathered friends.
If not, feel free to mix and match or make up your own—after all, it is YOUR chicken! Otherwise, we also have a list of famous chicken names if you need more ideas. You can also check our other post about Polish chicken names if you'd like a chicken name in another language.
What's in a name? Quite a lot when it comes to chickens. Give your feathered friend the perfect name. Adios amigos!