Looking for the best white chicken names? Look no further! This list has over 150 names for white chickens.
White chicken breeds include the Leghorn, Plymouth Rock, Rhode Island White, and Sussex.
Whether you are looking for a name for your pet white chicken or just want to get ideas, this list is sure to have the perfect name for your bird.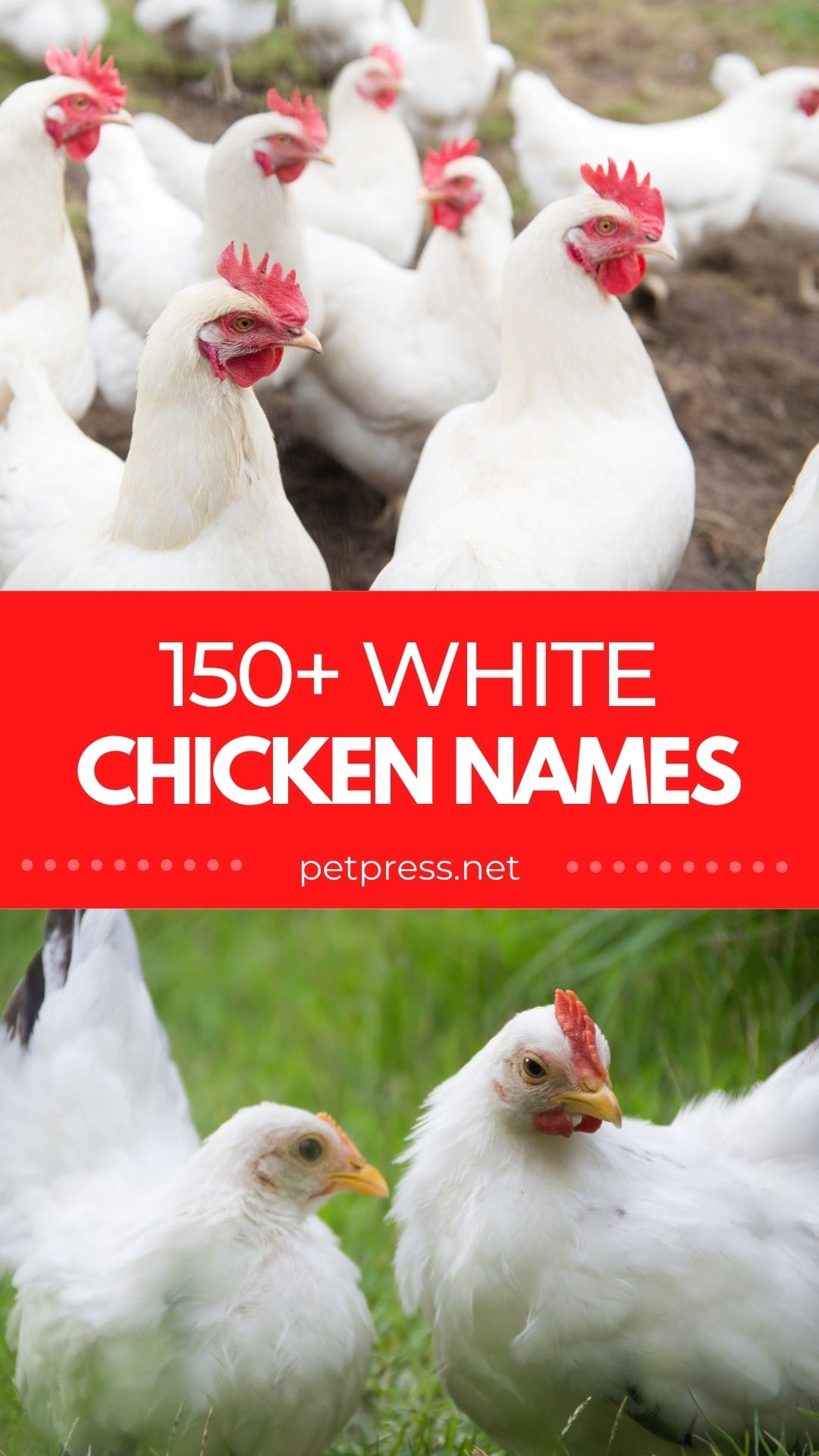 Here are the best white chicken names which also include name ideas for male and female chickens.
Male White Chicken Names
Ice
January
Chowder
Snowstorm
Cottonball
Snow
Marshmallow
Eggnog
Casper
Powder
Opal
Twinkle
Frosty
Starstruck
Yeti
Blizzard
Eskimo
Female White Chicken Names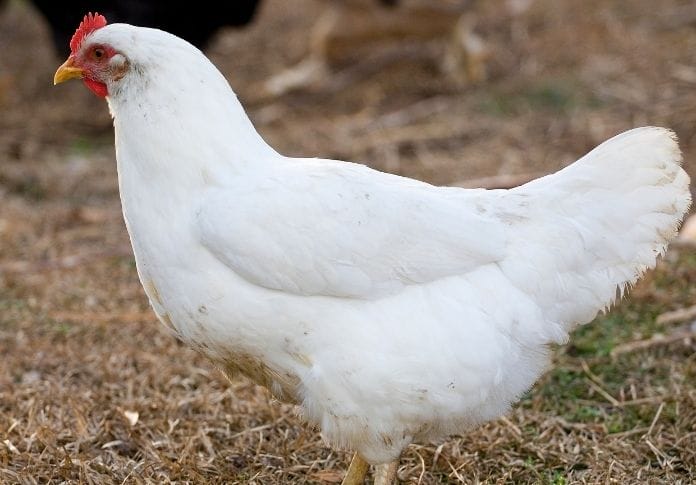 Snowy
Ivory
Snowflake
Calla lily
Pearl
Vanilla
Crystal
Sugar
Coconut
Milky
Icee
Snowball
Porcelain
Yuki
Dove
Angel
Snow White
Cute and Unique Names for White Chickens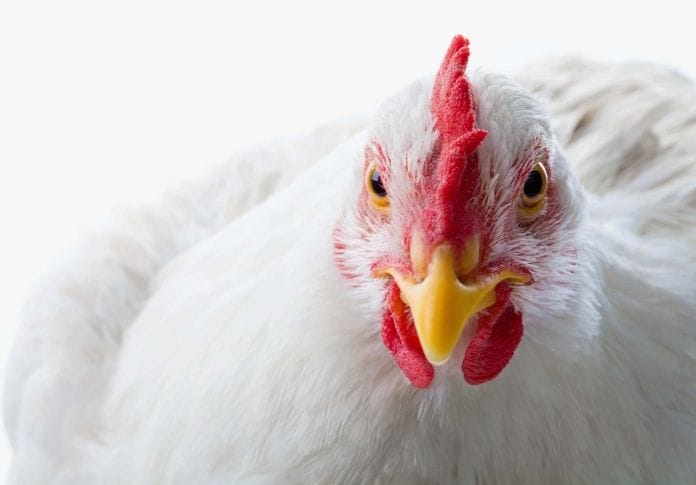 Icicle
Starry
Freya
Neve
Charmin
Sky
Tofu
Coco
Moonlight
Fairy
Avalanche
Flower
Love
Peppermint Patty
Rumi
Khaleesi
Bluebell
Blanca
Clara
Storm
Iceland
Paris
Chardonnay
Kenzie
Sprinkles
Glory
Tapioca
Talcum
Lace
Riesling
Fluffer
Rose
China
Coral
Star
Starlight
Flurry
Snuggles
Cottontail
Igloo
Gwen
Daisy
Savvy
Dandelion
Alaska
Alba
Aspen
Olaf
Sapphire
Bunny
Snowmobile
Luna
Halo
Blanche
Fluffy
Holly
Icing
Flour
Everest
Lily
Grace
White Claw
Snow Cap
Persia
Powder Puff
Targaryen
Lotus
Ice Ice Baby
Elsa
Chilly
Names for White Roosters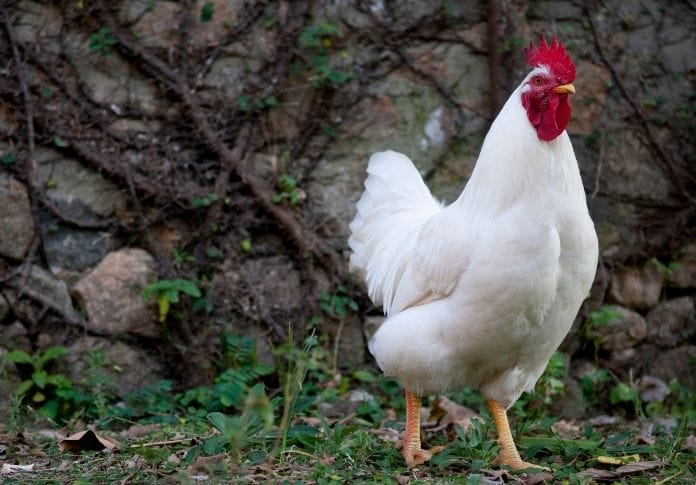 Tofu
Milky Way
Whisper
Chilly T
Whitey
Sailor
Carnation
Q-Tip
Mr White
Razor
Nimbus
Birch
White Chocolate
Fresh
Clear
Ice Cube
Iceman
Fog
Bear
Blanco
Cringle
Al Bino
Poof
Mr. Snow
Snoopy
Crest
Jaws
Pingu
Tic Tac
Noodles
Latte
King
Shiro
Finn
Bones
Sirius
Moscato
Nova
Bolt
Knight
White Chicken Names from other Languages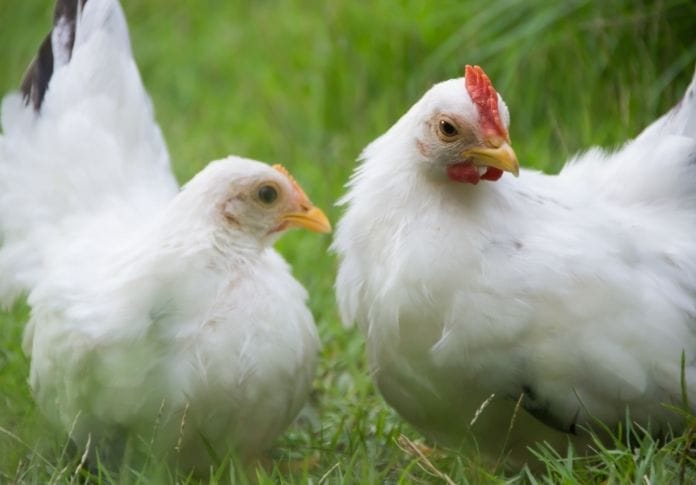 | | |
| --- | --- |
| Bianca | White in the Italian Language |
| Ban | White in Spanish |
| Bela | White in Solvenia language |
| Baltan | White in Lithuanian Language |
| Pamuk | Cotton in the Serbian Language |
| Blanc | |
| Suf | |
| Bianco | White in Italian |
So there you have it – over 150 names for your white chicken.
Whether you go with something traditional like Snow or Pearl, or get a little more creative with Blanca or Frosty, we hope this list gives you some inspiration for naming your newest addition to the family.
Otherwise, you can also check our list of black chicken names if you have one.
Have fun and happy naming!