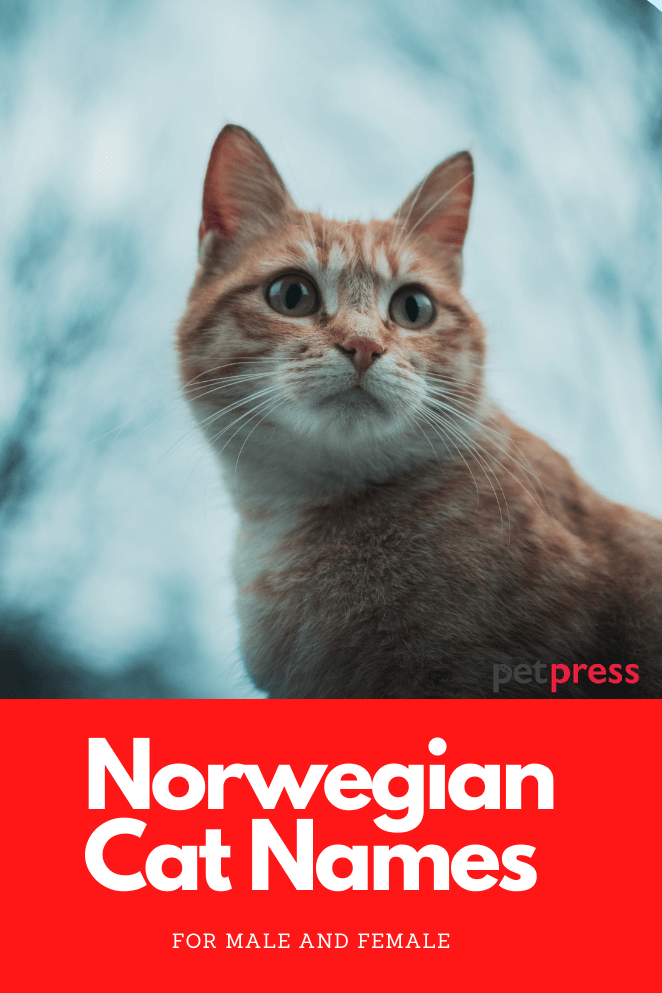 Norway is an exotic and beautiful country that provides beautiful landscapes, traditions, cultures and of course, mythologies like Norse god. Norwegian cultures provide inspirations and name ideas that are unique and probably would be perfect for your cute little kitten. If you are interested in Norwegian names, here we've compiled the best Norwegian cat names for you. 
Male Norwegian Cat Names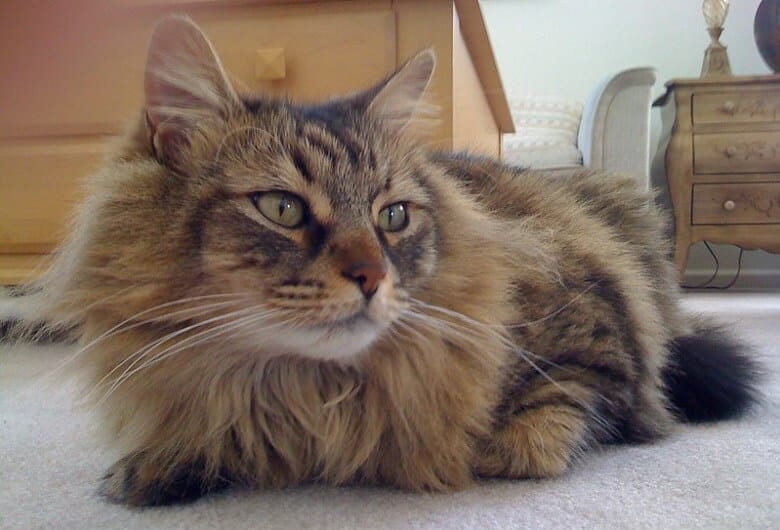 Ivar (archer; a Norse God)
Helge (holy; blessed)
Sköll (a wolf that chased the sun)
Halvor (rock defender; protector)
Fritjof (one who steals peace)
Aricin (son of the eternal king)
Svart (black)
Búri (the first God)
Fiske (fish)
Albrikt (all-wise)
Brynjar (warrior in armor)
Máni (God of moon)
Einar (warrior; leader)
Arvid (tree of the eagle)
Vegard (protection)
Colby (town of darkness)
Kleng (claw; has claws)
Forseti (God of justice, peace and truth)
Jens (variant of John)
Tollak (play; game)
Sven (boy)
Vidar (fighter in the woods)
Mikkel (God-like)
Asger (spear of God)
Finn (wanderer)
Skirnir (the shining one)
Modi (God of rage)
Colden (coal town)
Agnar (sharp)
Flosi (saga name of a Chieftain)
Bausi (proud)
Frey (lord)
Vali (God of revenge)
Sindri (a dwarf)
Welch (foreign person or stranger)
Thiazi (a giant)
Baldur (Norse God of Light and Love)
Aslak (saga name of a supporter of Thorgest)
Bodolf (wolf leader)
Dag (day)
Gunnar (fighter)
Eirik (forever strong)
Floki (saga name of a heroic Viking)
Bassi (big man/animal)
Hrolleif (old wolf)
Destin (determined)
Burnaby (estate of the warrior)
Steinn (stone)
Magnus (fighter)
Frode (enlightened or wise)
Amund (bridal gift)
Hrolf (wolf)
Egil (inspires fright; the edge or point)
Olaf (relic; ancestor's descendent)
Ander (manly)
Arkin (the eternal king's son)
Floskubak (flashback)
Jarle (nobleman)
Breidr (broad or fat)
Bjarke (bear)
Bodil (mighty ruler)
Brokk (myth name of a Dwarf)
Astolf (love)
Odin (God of wisdom and war)
Bjorn (bear)
Colborn (burning log)
Asmund (divine protection)
Terje (spear of Thor)
Varg (wolf)
Aksel (the father of peace)
Tyr (ancient God of War)
Canute (knot)
Bialfi (fur/pelt)
Bragi (God of poetry)
Oluf (descendant)
Gunnolf (fighting wolf)
Magni(God of might and strength)
Freki (myth name of Odin's wolf)
Carr (from the marsh)
Loki (Trickster & God of Mischief and Fire)
Halstein (stony rock)
Hakon (high son)
Kare (curvy)
Get more ideas on Norwegian male cat names
Female Norwegian Cat Names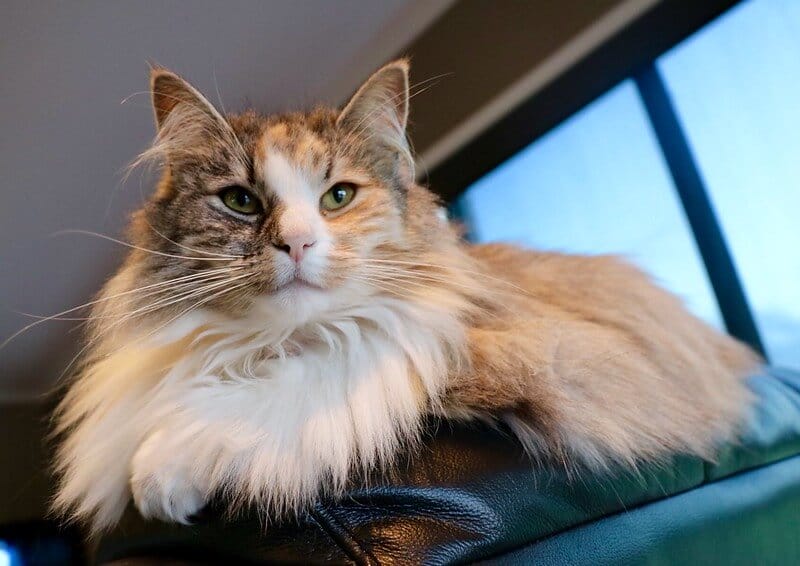 Skadi (Goddess of Winter and of the Hunt)
Freja (like a lady)
Alva (feminine form of Alf)
Gull (goddess)
Dagny (brightness/joy)
Lene (illustrious)
Beyla (an elf)
Rana (slender)
Runa (secret love)
Oili (divine woman)
Alfhild (from the Old Norse name Alfhildr)
Eira (merciful)
Tove (gorgeous)
Sif (wife of Thor; had beautiful hair)
Asta (divine beauty)
Sassa (divine beauty)
Linnea (lime tree, national flower of Sweden)
Borgny (help/new)
Benedikte (blessed)
Hillevi (happy in war)
Rane (queen; pure)
Reidun (nest; lovely)
Kari (chaste, pure)
Else (my god/perfection)
Astrid (divine beauty)
Fricka (mother of all; protectress of children)
Tregul (tree gold; amber)
Bryn (hill)
Bestla (an ancient Frost Giantess)
Finn (wanderer)
Anja (grace of God)
Ase (god-like)
Kolr (black/coal)
Are (precious one)
Lovise(renowned warrior)
Eilina (splendour)
Karita (charity; generous love)
Saga (seeing one)
Nava (beautiful)
Siri (marvelous victory)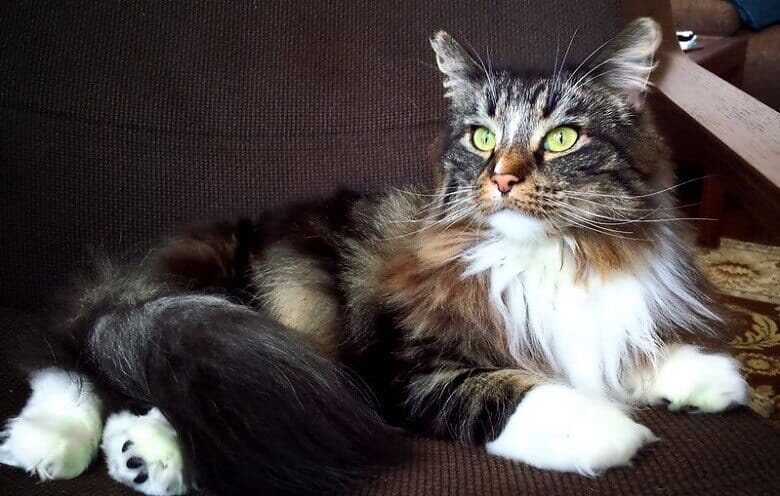 Unn (the beloved one)
Manumina (sweet little fur under chin)
Verdani (in the making; that which is happening)
Amba (wakeful)
Aundy (new prosperity)
Aleksia (the defender, or helper of mankind)
Annbjørg (variant of Arnbjørg)
Hertha (powerful woman)
Blancheflor (white flower)
Ylva (female wolf)
Eva (living, animal)
Turid (good-looking)
Amr (dark, black)
Embla (elm tree)
Theresia (to hunt, harvest)
Sigfrid (marvelous victory)
Anniken (Norwegian pet form of Anna)
Disa (active spirit)
Birget (protecting; strength; power)
Mina/Minna (love)
Andras (breath)
Kari (pure; personification of wind)
Selby (from the farm of willows)
Aldis (knowing)
Alba (white)
Freya (noble woman; Goddess of Love and Seduction)
Natuk (lovely, sweet)
Pihka (to be in love with someone)
Ineko (sweet/cute)
Tordis (Goddess of Thor)
Nanna (courageous)
Elli (challenged Thor)
Vor (Goddess of Wisdom)
Eerika (ruling forever)
Duri (to sleep)
Trigve (meaning unknown)
Liv (life)
Sienna (orange, red)
Eydis (goddess of good luck)
Thora (like a thunder)
Get more ideas on Norwegian female cat names
Best Norwegian Forest Cat Names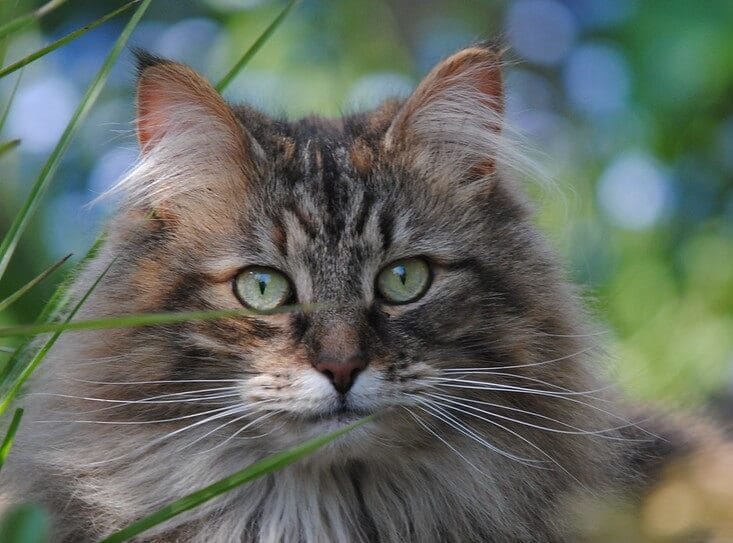 Lilly
Max
Autumn
Copper
Hugo
Aaron
Storm
Baldur
Blade
Jasper
Albin
Pepsi
Olaf
Odin
Russet
Ulf
Alba
Frey
Siri
Amber
Eirik
Emma
Asmund
Colden
Dapple
Frost
Ash
Maple
Snow
Freya
Grizelda
Magnus
Finn
Bjorn
Saga
Val
Angel
Lucky
Shade
Ember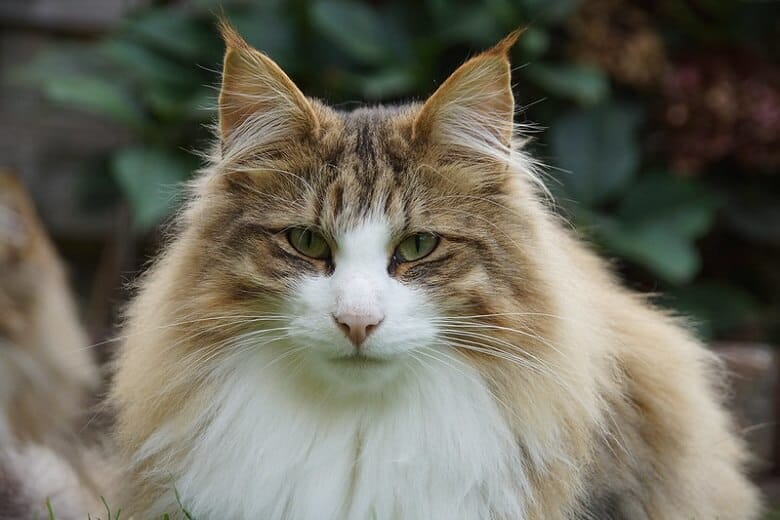 Jingles
Thor
Romeo
Coco
Tor
Lexi
Goblin
Flame
Flint
Sven
Aina
Banner
Valkyrie
Pumpkin
Molly
Sidle
Cobweb
Loki
Paprika
Ester
Elisabet
Elric
Roar
Astrid
Warrior
Crimson
Leaf
Tawny
Tyr
Raven
Serenity
Oak
Griffin
Tracker
Bruno
Astro
Symba
Zisa
Duncan
Toffee
Thora
Elf
River
Nutmeg
Poppy
Icicle
Sif
Keegan
Apple
Flax
Casper
Hedvig
Halle
Sunflower
Blaze
Anja
Heath
Bard
Cotton
Maya
Obsidian
Kaia
Ragnar
Viggo
Belle
Sig
Inga
Chalk
Owl
Chloe
Cassidy
Nanna
Dragon
Frigg
Sable
Zest
Winter
Destin
Colby
Magda
Otto
Magic
Hemming
Get full name ideas on Norwegian forest cat names
Norway might provide you with full of name inspirations, but it doesn't mean that any other place around the world doesn't. You can find many cat name ideas from any other place on our international cat names page.