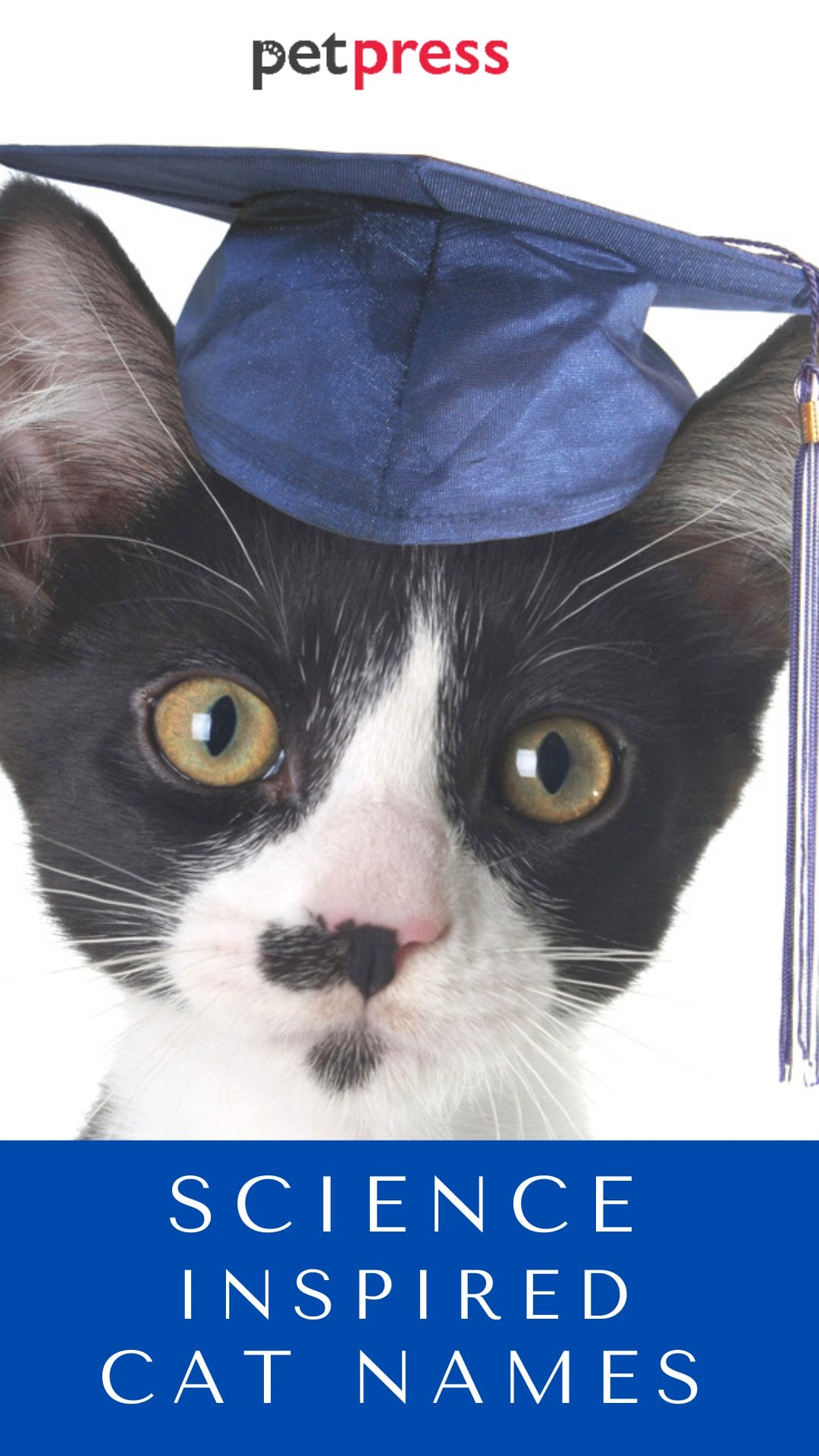 Do you have a science cat? Or do you know a science cat owner who wants to name his science cat after something science related?
Cats can be very fickle, that is why science cat names are a great way to let your cat know how much you love him or her. Here are a few science cat names that science cat owners use.
Science Cat Names Inspired By Scientist
Goddard (Robert Hutchings Goddard)
Jobs (Steve Jobs)
Hopper (Grace Hopper)
Edith Clarke
Aristotle
Gates (Bill Gates)
Tesla (or Nikola)
Khan (Bob Khan)
Higgs (perhaps for a shy, elusive cat?)
Cerf (Vincent Gray Cerf)
Galileo
Da Vinci
Hawking
Marie Curie
Freud (or Sigmund)
Tycho (Tycho Brahe)
Copernicus
Neil deGrasse Tyson
Hubble
Darwin (great for finches)
Bohr (Niels Bohr)
Pasteur (Louis Pasteur)
Billy Nye
Sagan
Edison
Laika
Kepler (Johannes Kepler)
Lovelace (Ada Lovelace)
Woz (Steve Wozniak)
Pavlov
Newton (or Sir Isaac)
Einstein (or Albert)
Rosalind (Rosalind Franklin)
Erwin (As in Schrödinger)
Pascal
Heisenberg (not Walter White!)
Pelton (Lester Allan Pelton)
Archimedes
Check the full list of Scientist cat names.
Cat Names For Science Geeks
Vector
Polar
Rocket (for superfast runners)
Mars
Astra
Dob (Dobsonian)
Star
Equinox
Zeta
Nebula
Volt
Flare
Micron
Luna
Zero
Venus
Chet
Iris
Nano
Doppler
Gibbous
Ruby
Data
Pi
Pixel
Asteroid
Laser
Widget
Cosmo
Neon
Delta
Cipher
Neptune
Eclipse
Galaxy
Apollo
Radar
Gram
Axis
Kilo (kilogram)
Hedron
Cyber
Solstice
Apache
Zinc
Gamma
Meteor
Nova
Zodiac
Argon
Comet
Nitro
Quark
Pipette
Beaker
Helix
Flurry
Kernal
Tetra
Byte
Jet
Quasar
Geo
Amp
Gravity
Mac
Halo
Isotope
Digit
Pluto
Jupiter
Sunny
Orbit
Carbon
Neutron
Aquarius
Twilight
Spark
Aurora
Ajax
Atom
Saturn
Beta
Titan
Boron
Chip
Glitch
Photon
Sonic
Moon
Linux
Mercury
We think this list of 130 science cat names has got you covered for any occasion!
You can use them as a jumping-off point to come up with your own, unique name. But, in case you need more cat names, we still have geeky cat names that are worth visiting.