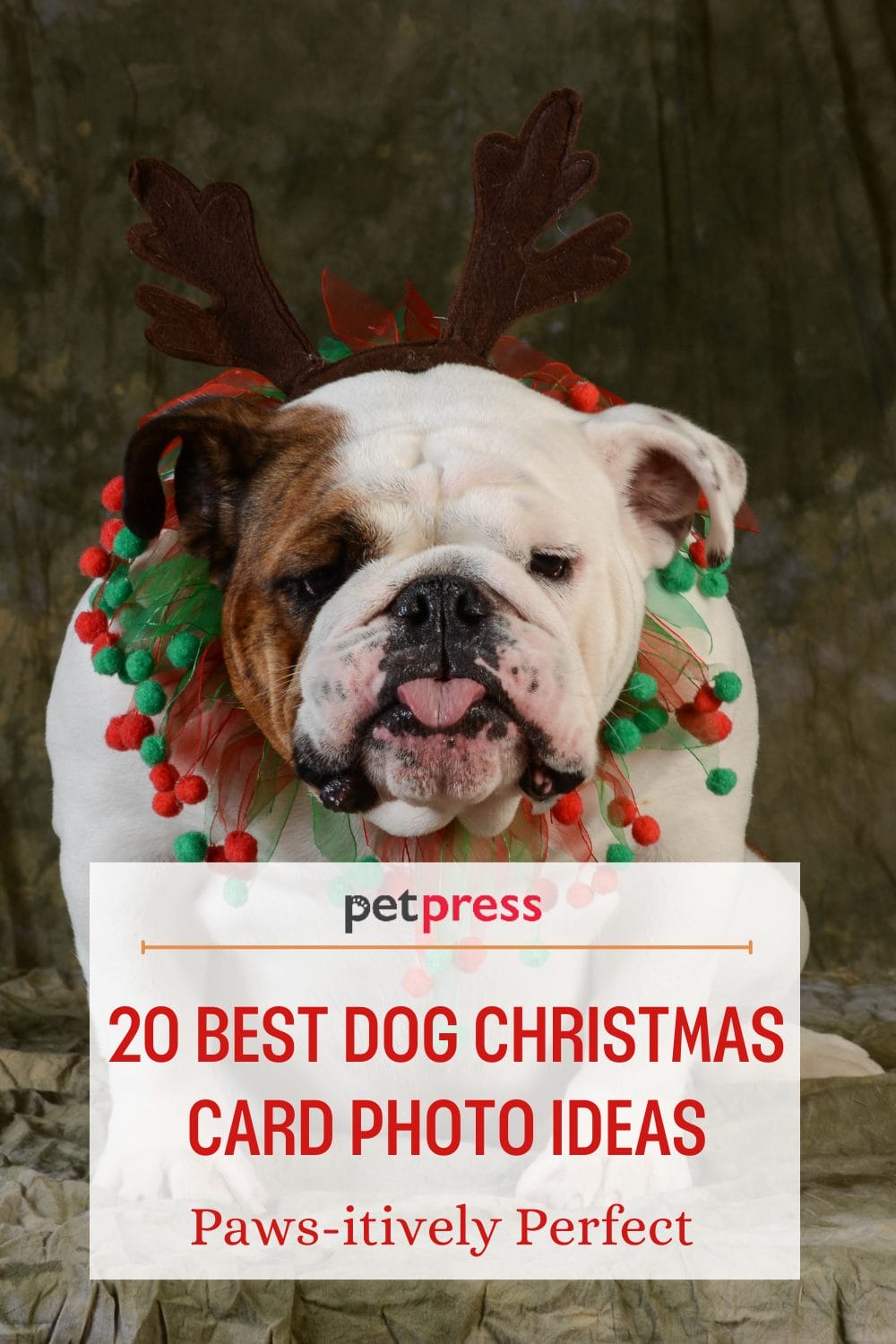 There's nothing quite like the holiday season. It's a time of joy, magic, and coming together with loved ones. And who says this joyous spirit is only limited to humans? This season, let your beloved dog star in your Christmas cards with unique and adorable dog Christmas card photo ideas.
Our beloved dogs are not just pets; they're family. It's time to appreciate their unconditional love. So, this Christmas, why not take the chance to celebrate them and spread the holiday cheer with our best dog Christmas card photo ideas?
In this blog post, we'll explore creative and heartwarming photo ideas that will help you capture your pup's personality and immortalize those special moments. These mementos not only add a personal touch to your Christmas greetings but are also sure to bring a smile to every recipient's face.
The Heart of Christmas
In our hearts, Christmas resonates as much more than a simple holiday. It's a season of unity, kindness, and love—a time where families, joy, giving, and sharing take center stage. It's all about bringing together those we care for, creating memories, and sharing in the warmth of the season.
Our pets, especially our beloved dogs, are an integral part of this family mosaic. They bring us joy with their unending loyalty, boundless energy, and unconditional love. They participate in our holiday traditions, from the excitement of unwrapping gifts to the quiet moments spent by the fireplace.
Incorporating our furry friends into our Christmas cards adds a unique charm that is both heartwarming and personal. These cards become more than just a traditional yuletide greeting—they become keepsakes, treasures that capture the essence of our families, including our playful four-legged members.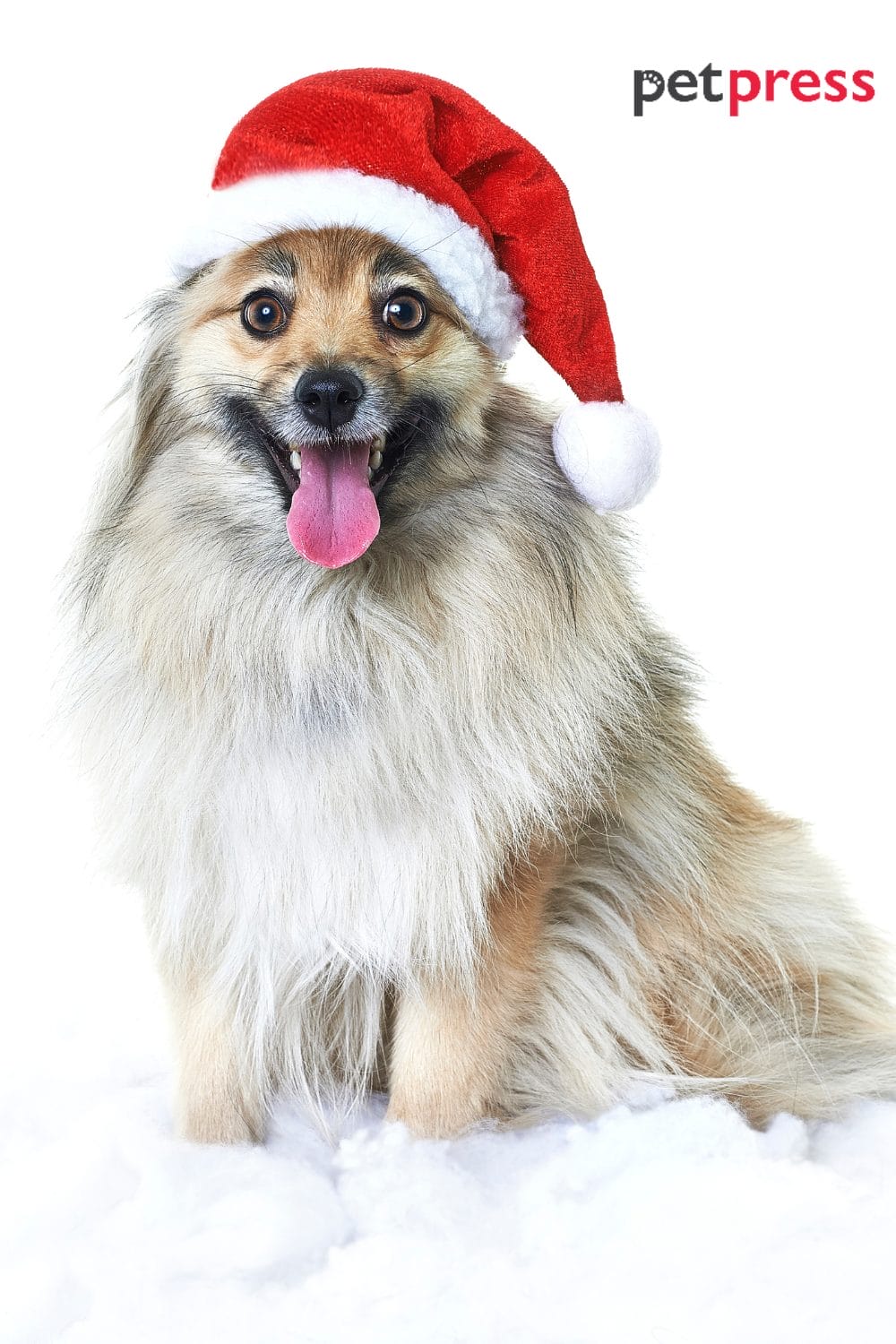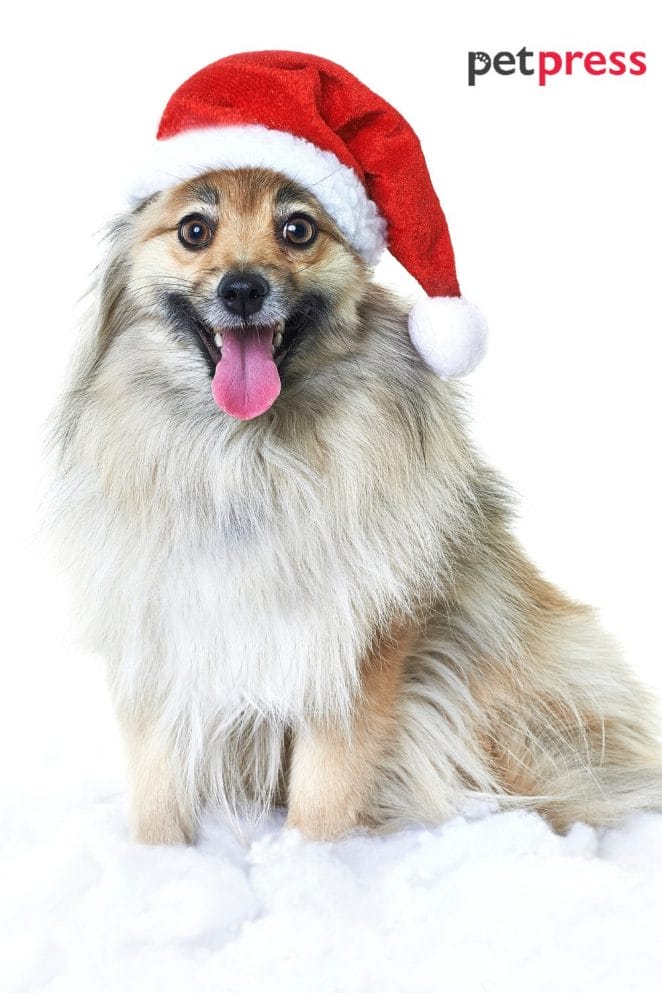 Preparing Your Dog for a Christmas Photoshoot
Immortalizing your pet on a Christmas card is a fantastic idea, but it requires a bit of prep work.
For starters, familiarize your dog with the camera. Using positive reinforcement, like treats and praises, can make this process easier. Practice taking normal pictures of your dog before the actual photoshoot to help them acclimate to the camera and flash.
Choosing the right time for the photo shoot is crucial. Dogs are typically more cooperative after a good exercise session and meal. You'll want them to be relaxed and at ease during the photo shoot.
When it comes to dressing them up, remember that comfort is key. Keep the outfits simple, and make sure they're not restricting your dog's movement or causing any discomfort.
Stay tuned as we dive into the top 20 dog Christmas card photo ideas.
Top 20 Dog Christmas Card Photo Ideas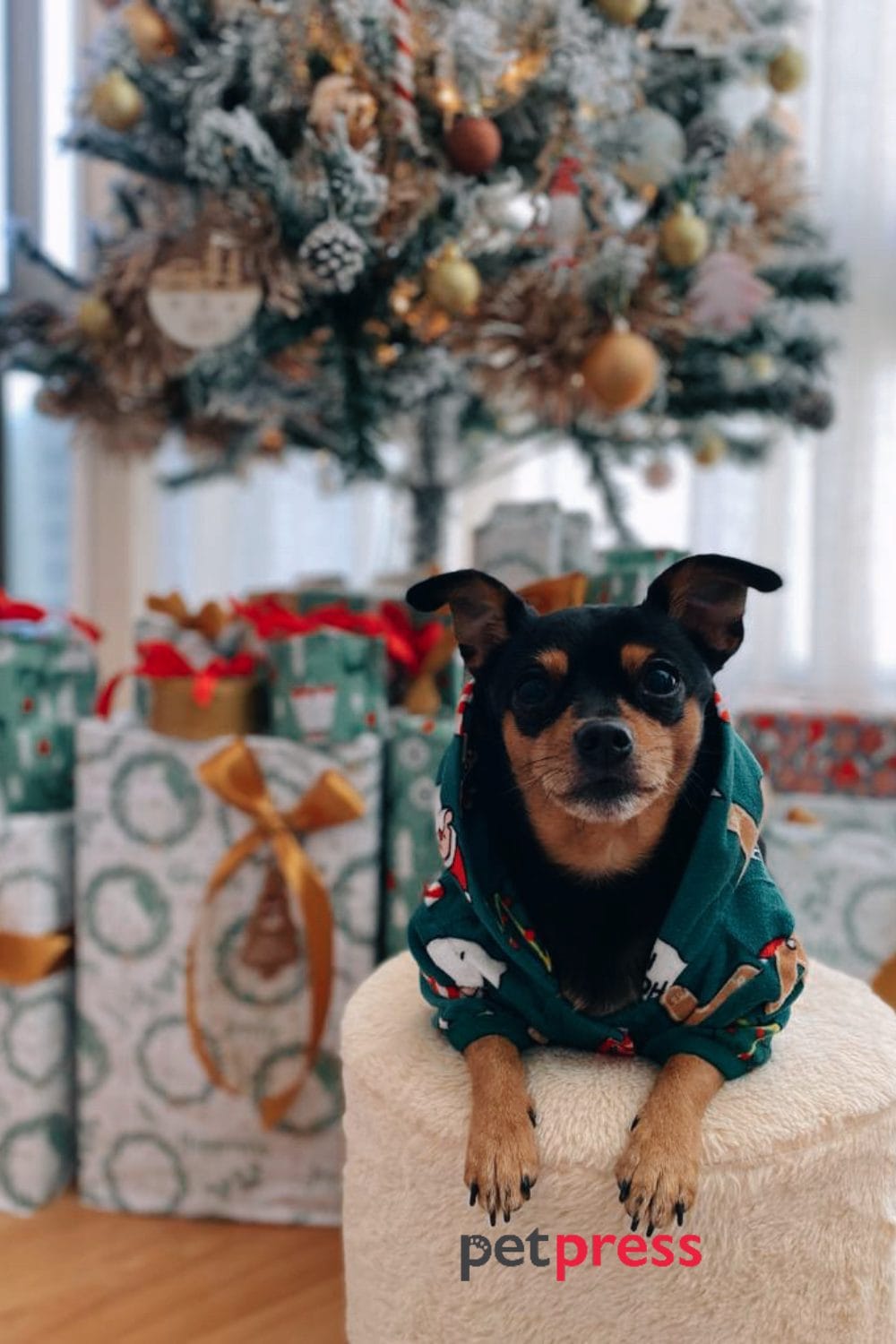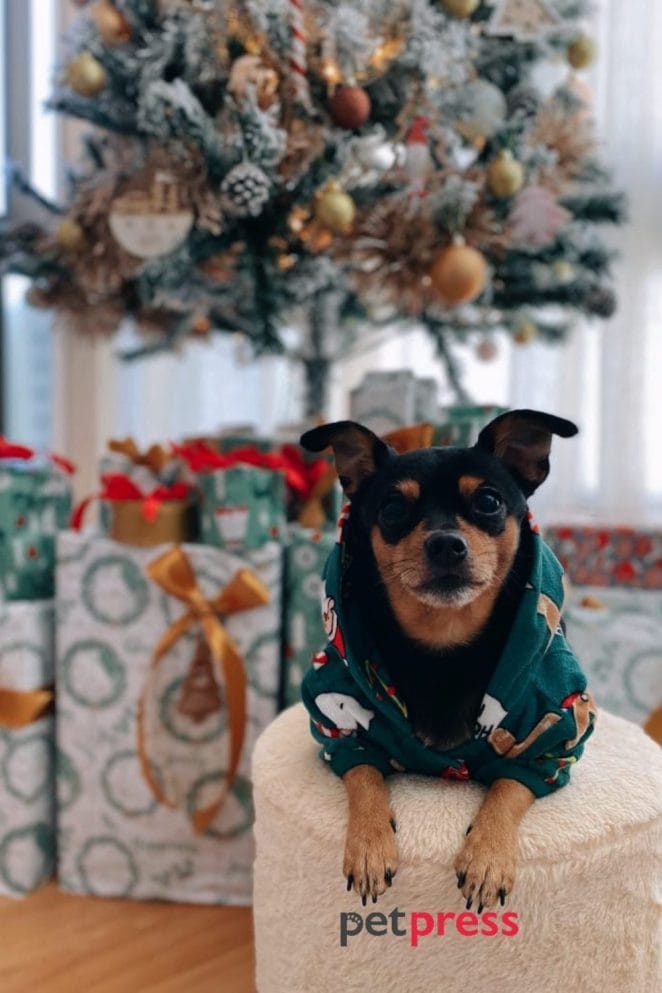 Santa's Little Helper:
Transform your pet into a mini Santa Claus with a festive red suit and hat. Capture them against a lively backdrop of Christmas decorations to fully embody the holiday spirit. The twinkle in their eyes will surely mirror the magic of the season.
Gift-wrapped Pup:
Wrap a big box with festive paper and a giant bow. Let your dog pop their head out for an adorable surprise! Ensure their comfort and safety by removing the bottom of the box so they can stand or sit naturally.
Christmas Morning Madness:
Capture the joy and excitement of Christmas morning with your dog amidst a sea of torn wrapping paper and scattered toys. The sheer joy in their eyes will make an unforgettable card.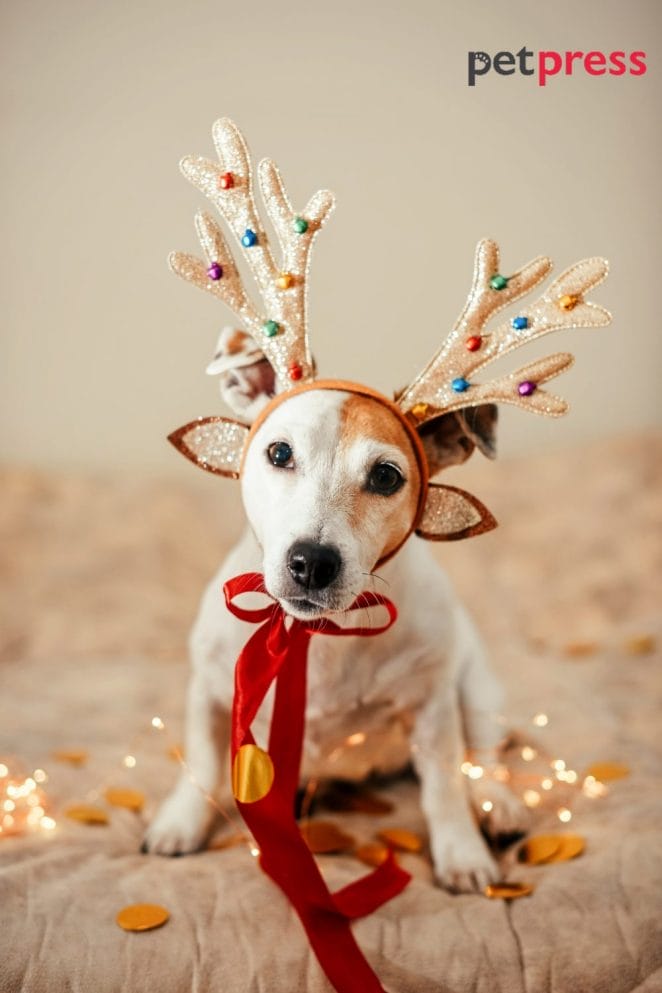 Candy Cane Cuteness:
Picture your dog with a jumbo, doggy-safe candy cane toy. A red and white themed background will enhance the festive mood.
Lights All Around:
For a touch of magic, gently drape your dog in a strand of LED lights. Make sure the lights are safe for pets and do not cause any discomfort.
Snowy Adventure:
If you're lucky to have a white Christmas, film your dog frolicking in the snow. Their paw prints and joyous leaps make for a charming winter scene.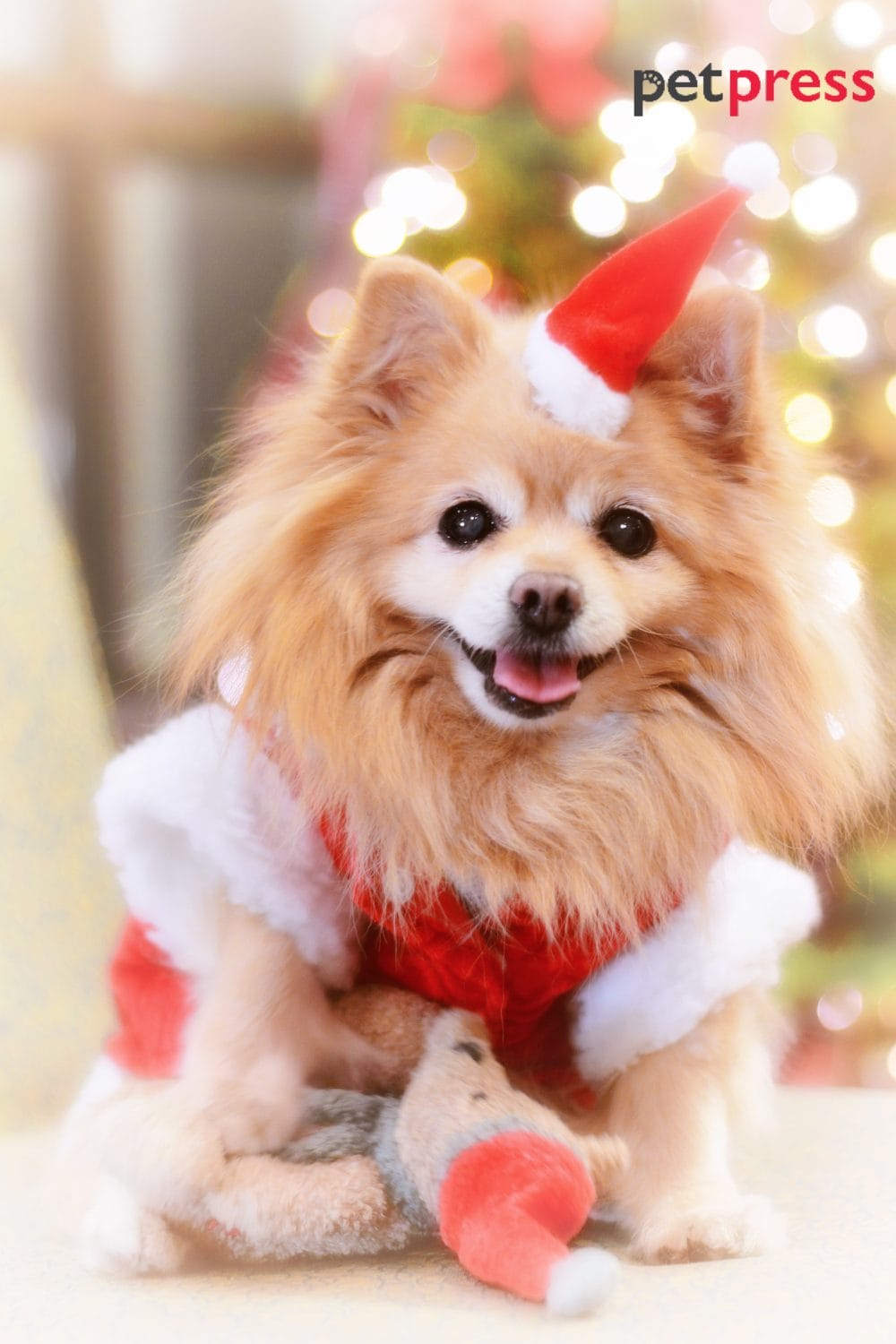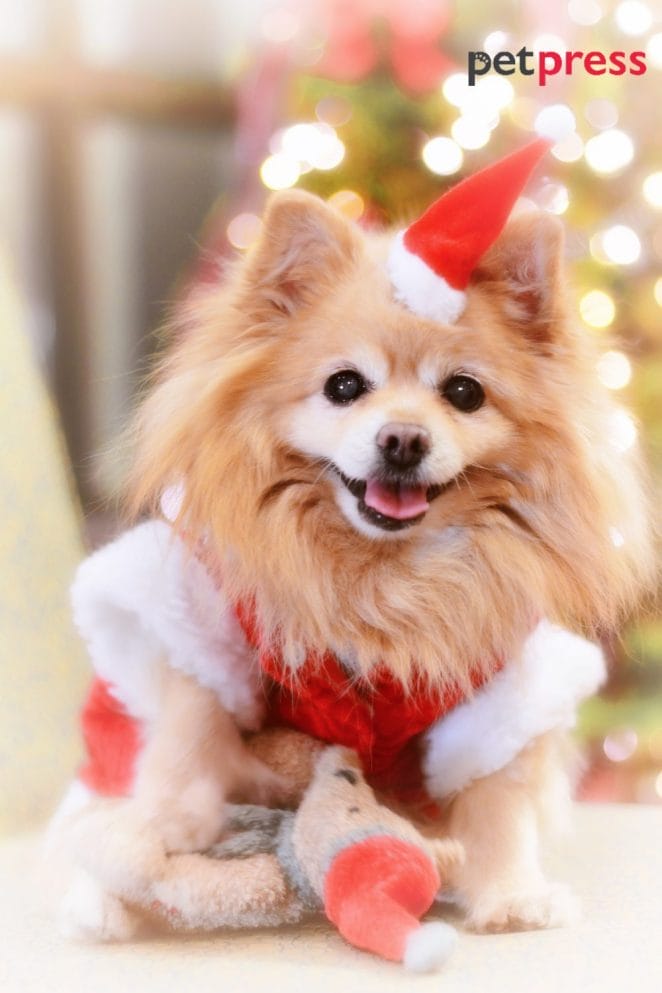 Christmas Eve Slumber:
A cozy snap of your dog curled up by the fireplace, 'waiting for Santa', makes a heartwarming photo.
Matching Family Pajamas:
Include the entire family in matching Christmas pajamas. Place your dog front and center, emanating warmth and unity.
Under the Mistletoe:
Get a sweet shot of your dog beneath a hanging mistletoe, ready to give holiday smooches.
Christmas Cookie Companion:
Capture your dog's innocent curiosity as they watch you bake Christmas cookies. Include cookies shaped like bones for a fun touch.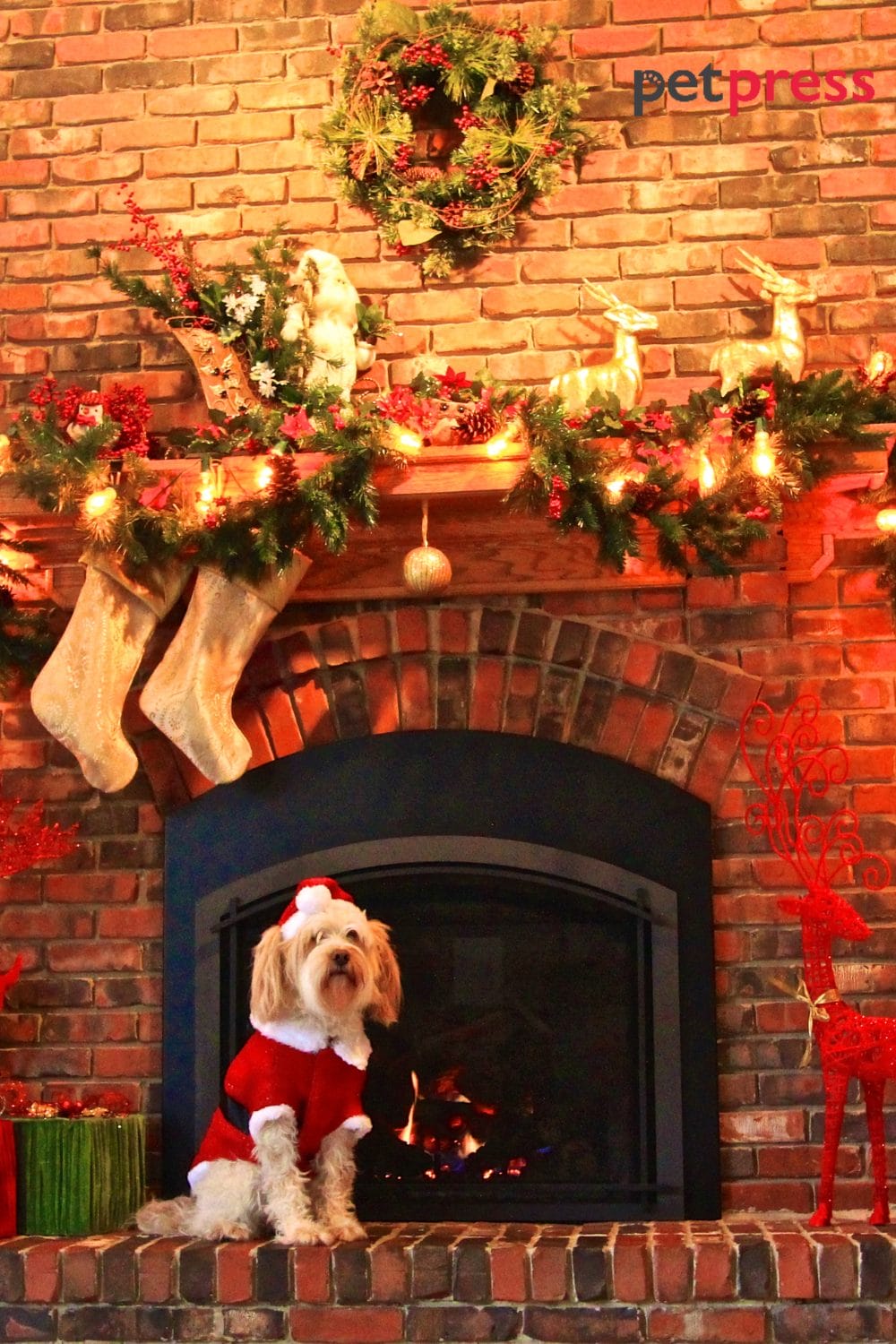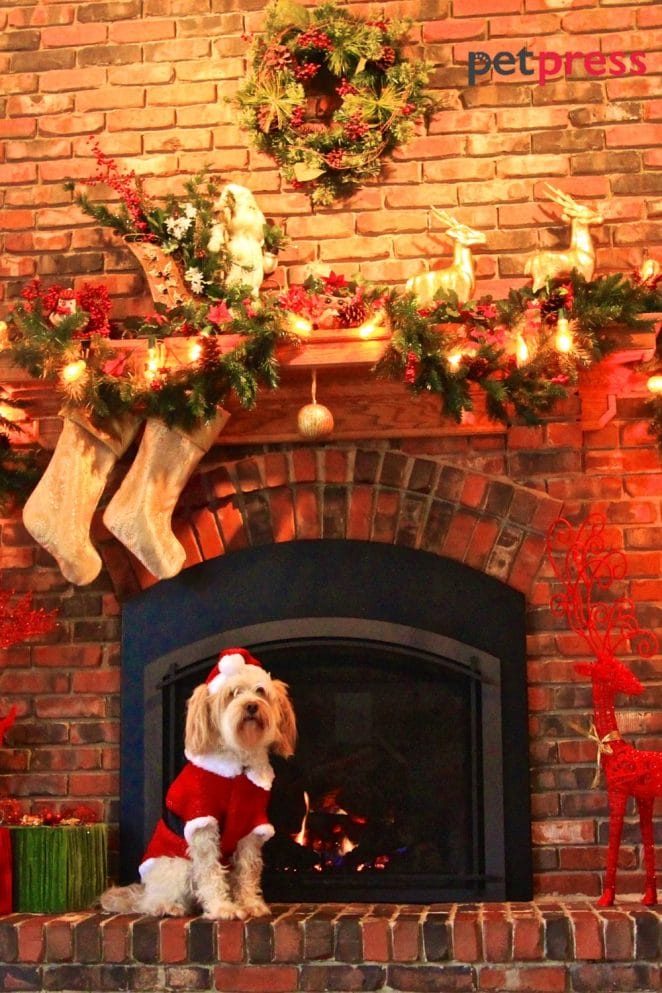 Decorating the Tree:
Take a snapshot of your dog 'helping' to hang ornaments on the Christmas tree, adding a humorous element to your Christmas card.
Santa's Reindeer:
Transform your dog into one of Santa's loyal reindeer with a cute antler headband and a jingling collar.
Paw Stocking:
Capture your dog's delight as they discover their very own Christmas stocking stuffed with dog-friendly treats and toys.
Letters to Santa:
Set up a scene where your dog appears to be 'writing' their wish list to Santa. Use large letter cards for a playful effect.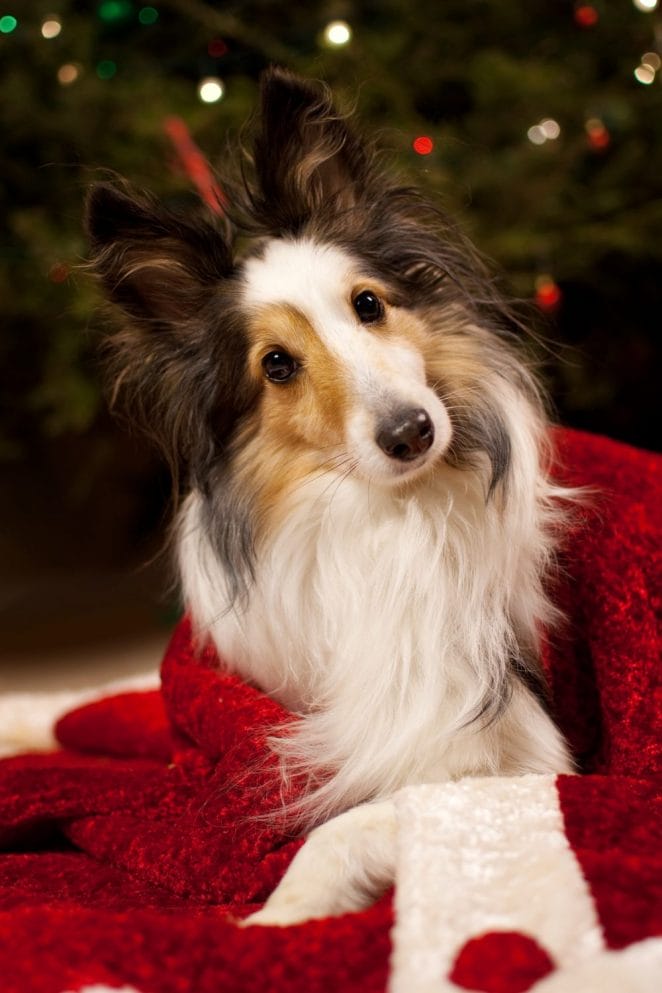 Ugly Christmas Sweater:
Celebrate the holiday tradition of 'ugly' Christmas sweaters by dressing your dog in a knit sweater with playful patterns.
Winter Window Gazing:
Capture a serene moment of your dog gazing out a frosty window, perhaps 'waiting for Santa.'
Elf on the Shelf:
Dress your dog as a cute elf, sitting near festive decorations. This adorable scene will surely bring smiles.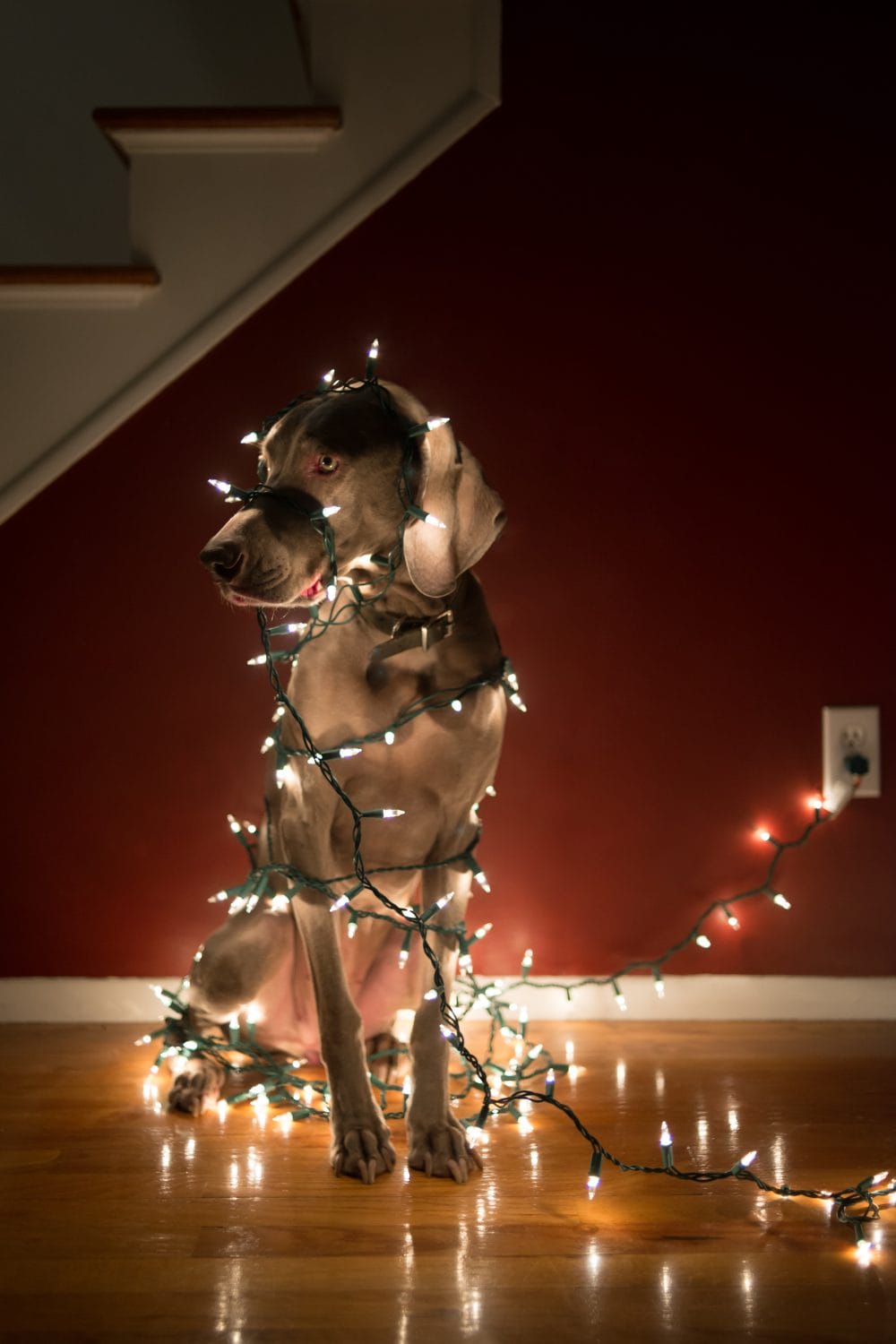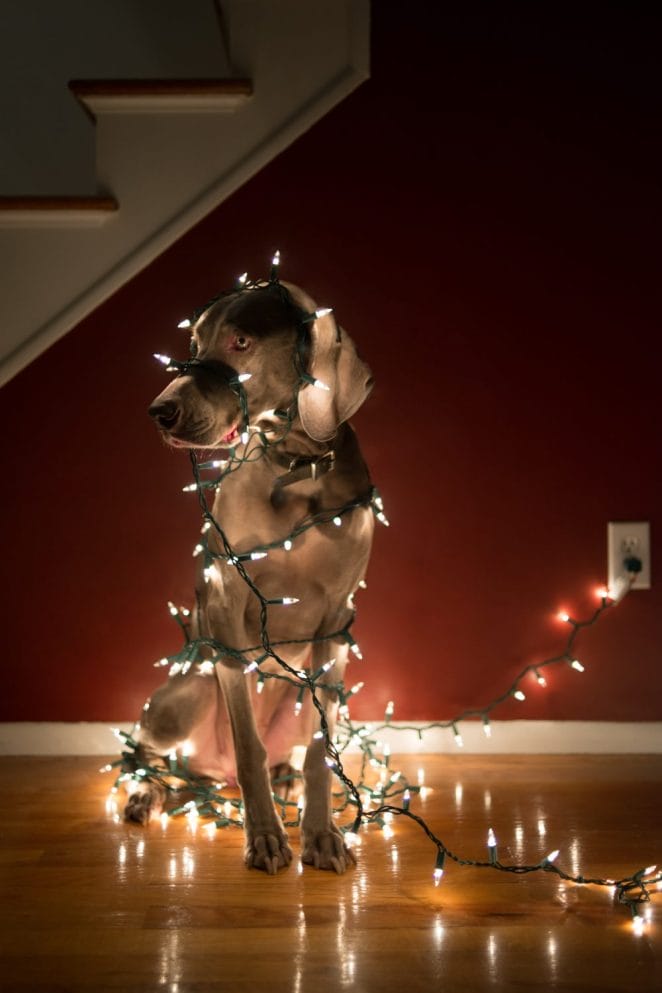 Sleigh Ride:
If you have a small sleigh, create a delightful winter scene with your dog onboard for a ride. Ensure their safety throughout the shoot.
Holiday Read:
Show your dog 'reading' their favorite holiday storybook. Use large books and add a pair of glasses for a funny, scholarly look.
Christmas Carolers:
If your dog has furry friends, arrange them as a group of Christmas carolers, complete with hats and scarves. This will be a memorable 'chorus line' shot.
The key to these ideas is to ensure your dog's comfort and safety throughout the shoot.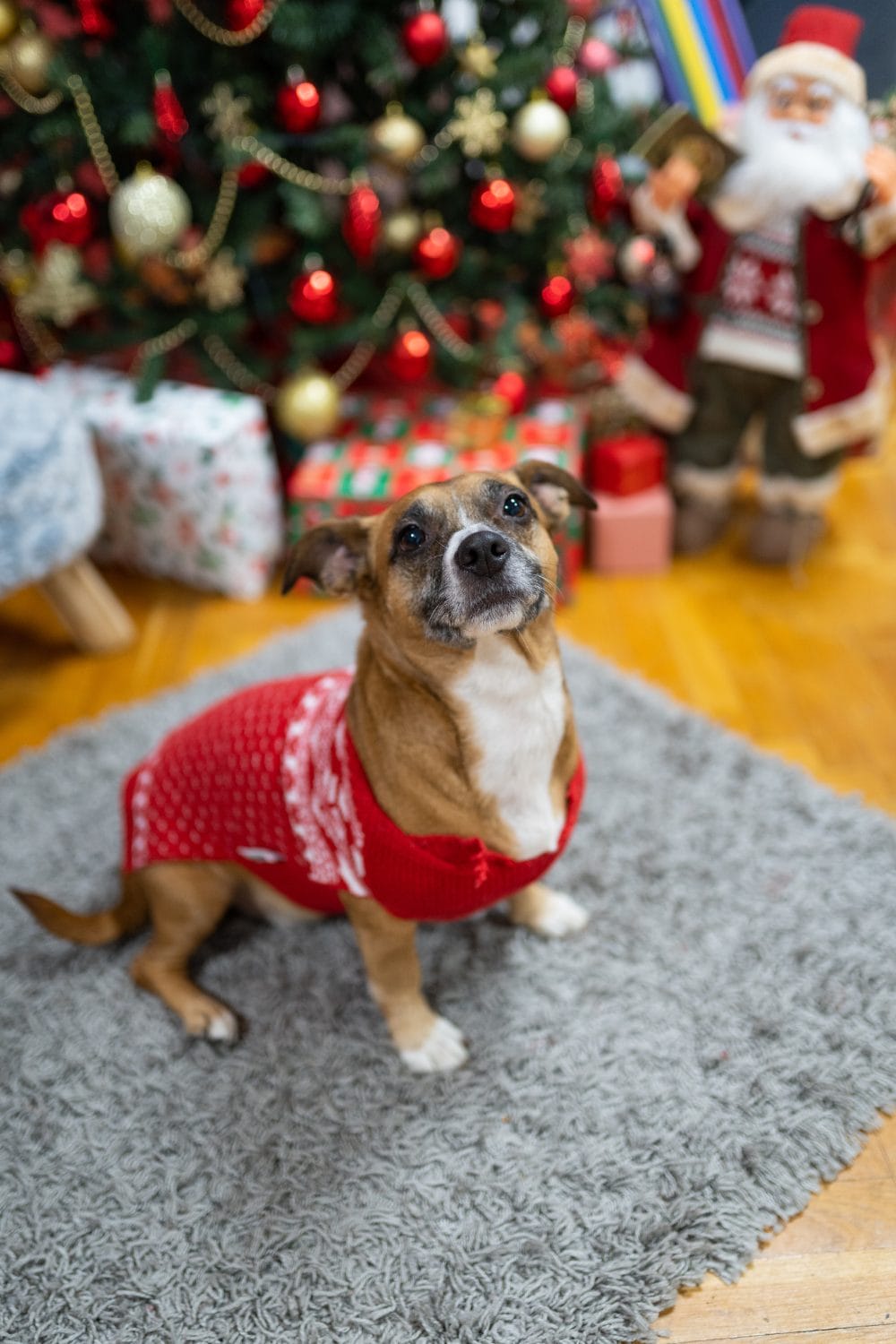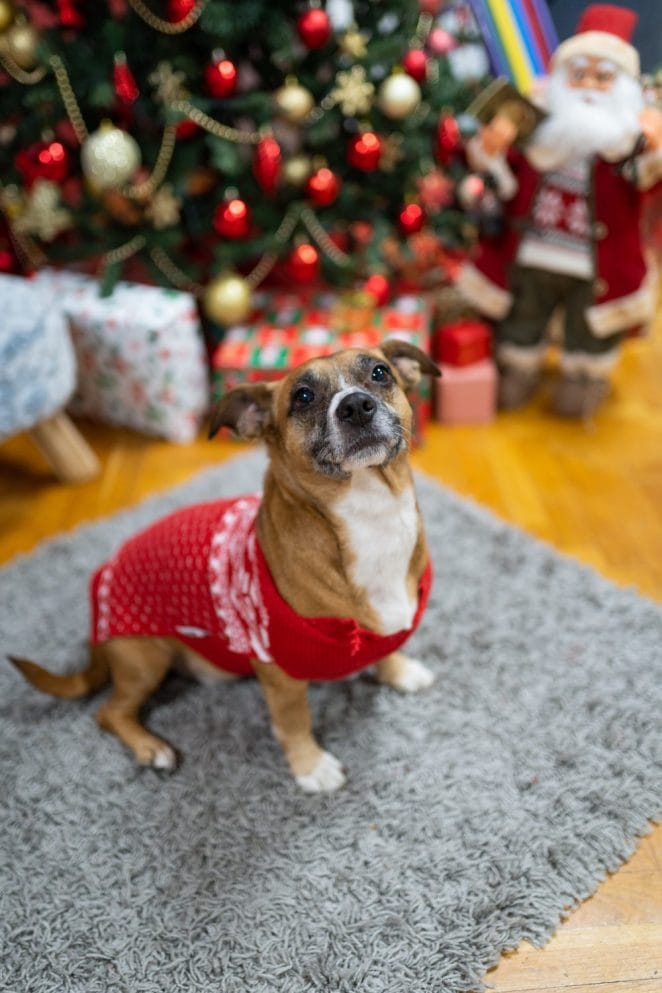 DIY vs. Professional Photography: What's Best for You?
Choosing between DIY and professional photography for your dog's Christmas card photo shoot ultimately depends on individual circumstances, preferences, and budget.
DIY photography gives you freedom and flexibility. You can choose the setting, props, and time that suit your dog's mood and schedule. It also adds a personal touch to the photos. However, it requires time commitment, creativity, and basic photography skills. Also, you'll need a good camera to ensure high-quality images.
Professional photography, on the other hand, guarantees high-quality, professional images with perfect light and setting. A professional photographer knows how to capture the best angles and moments. However, this comes at a cost and may require scheduling in advance. Some dogs might also feel uneasy in a new environment or around strangers.
In conclusion, if you enjoy photography and have the time, DIY is a great way to go. But if you prefer convenience and professional results, hiring a photographer might be the right choice. Consider your situation and needs before you decide.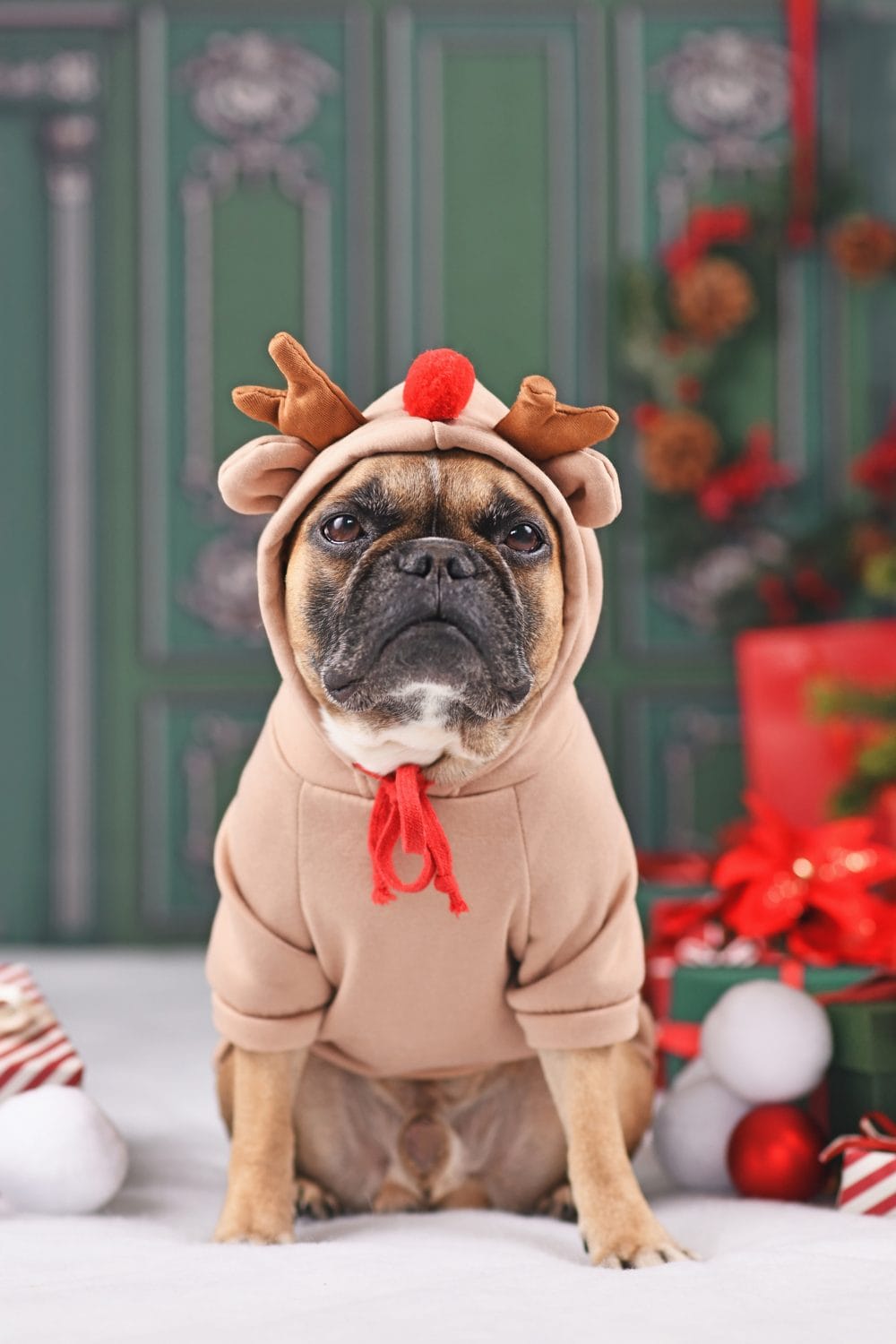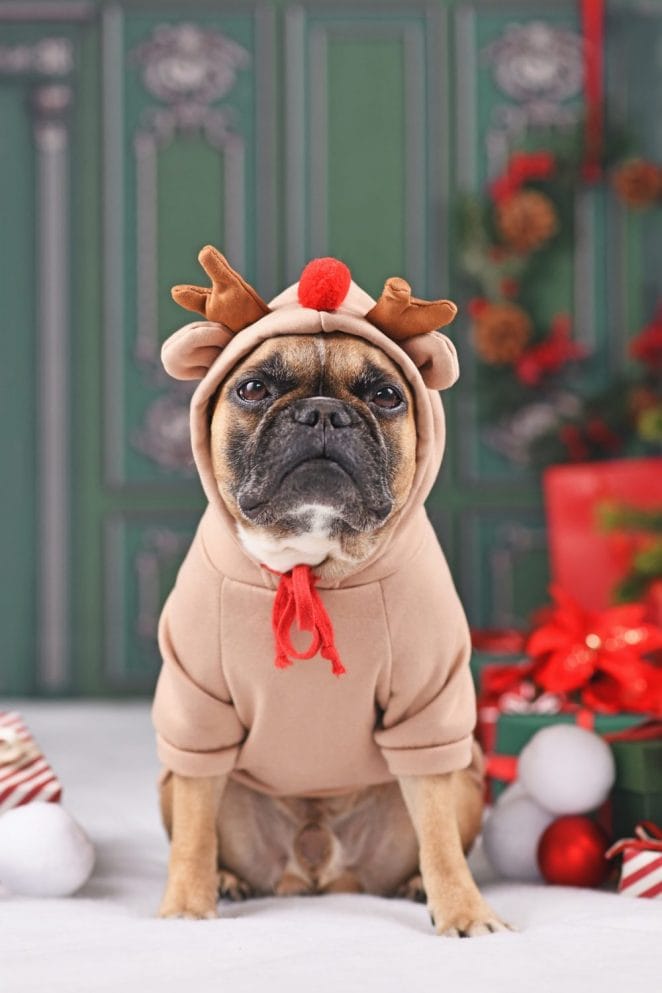 How to Choose the Right Christmas Card Design
Choosing the right Christmas card design is crucial to properly showcasing your charming dog photo. The design should complement the photo without overshadowing it.
Consider a design that matches the mood and theme of your photo. If your picture is vibrant and lively, a colorful and playful design could work well. If the picture is more serene, a minimalist design might be best.
Remember, the star of the card is your dog, so pick a design that highlights them!
Conclusion
This holiday season is the perfect opportunity to make your pet the star of your Christmas card. From preparing your dog for a photo shoot to exploring 20 different, unique, and adorable dog Christmas card photo ideas, we've covered everything you need to create the perfect memento. Whatever you choose—DIY or professional photography—make sure it is a joyful and comfortable experience for your dog.
Is this blog post helpful? Don't forget to share it with your fellow pet lovers on all your social media platforms! Your share might inspire someone to create a delightful dog Christmas card that spreads joy and warmth this festive season.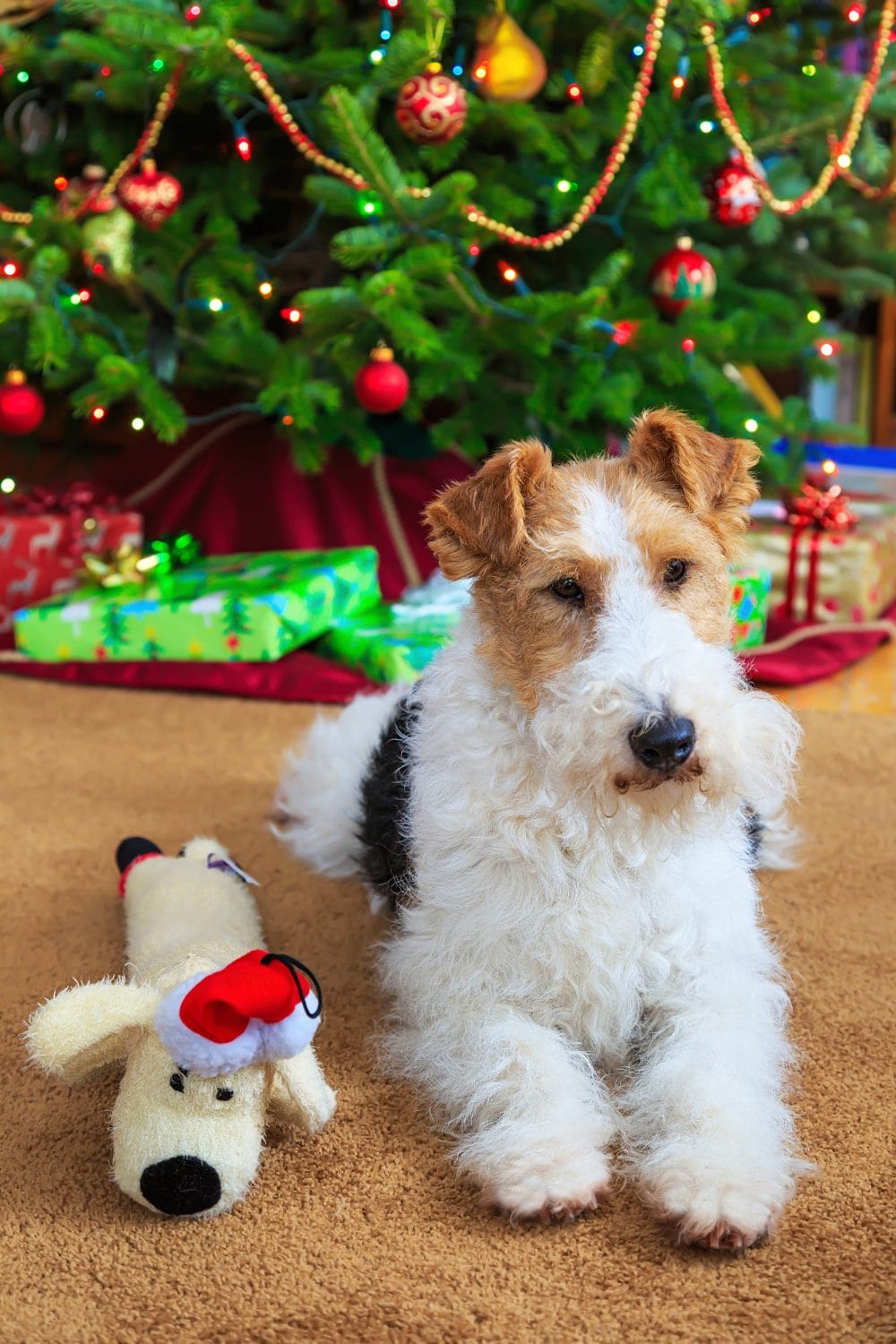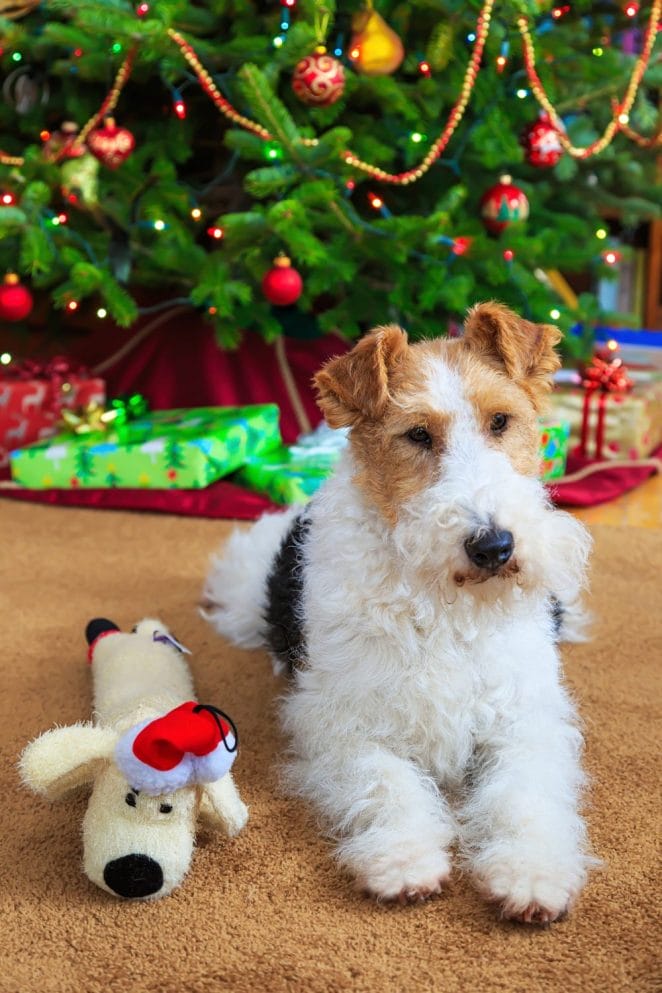 Don't Stop Here: Explore More on Our Blog!
There's so much more to discover! Don't forget to share your favorite articles with your social circle. Keep exploring, keep sharing, and, above all, keep loving your pets!
20 Dog Christmas Costumes to Make You Howl with Laughter!
Santa's Little Helper: 20 Hilarious Dog Christmas Elf Outfits
10 DIY Festive Dog Christmas Cookies to Get the Pups Wagging