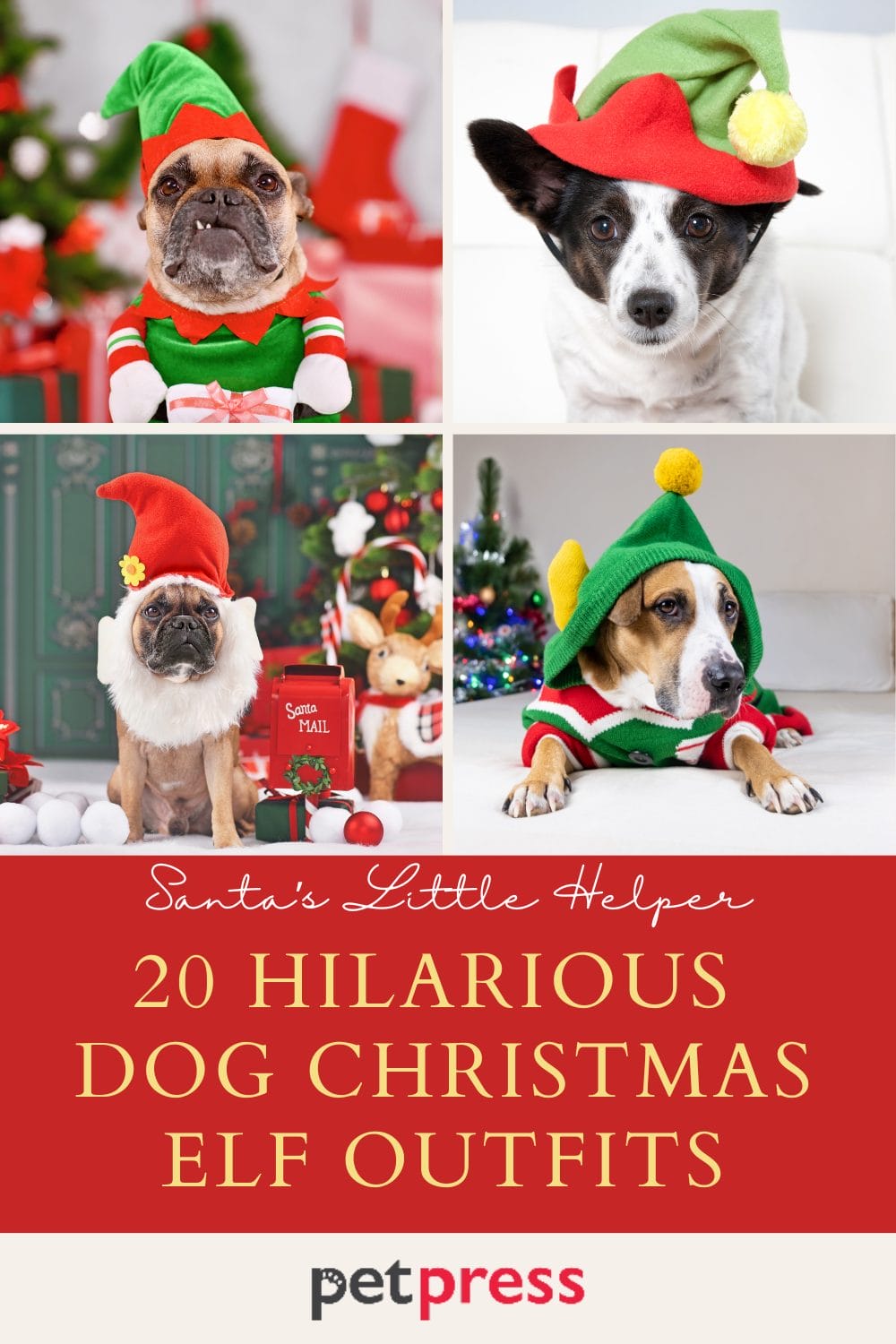 The festive season is synonymous with joy, laughter, and creating unforgettable memories with our loved ones. And who could be more loved than our loyal, furry companions? This Christmas, why not spread the cheer and laughter by turning your beloved dog into Santa's little helper with these dog Christmas elf outfits?
So, prepare for your pet to steal the show and be the star of your family's Christmas eve!
Why Dress Your Dog in an Elf Outfit
We all have our reasons for wanting to doll up our pets, but here are a few universal ones that may resonate with you.
Dressing your dog in a Christmas elf outfit can be a fun family bonding experience, as it often involves everyone in the family running around, laughing, and trying to get the outfit on. Additionally, it's a terrific opportunity for some light-hearted social media photo ops. Just imagine the likes and comments you'll garner when your followers see your pet decked out in festive attire!
Finally, and perhaps most importantly, dressing your dog in an elf outfit brings immeasurable joy and laughter, not just to your family but to everyone who sees them. Their adorable and hilarious dog Christmas elf outfits can brighten anyone's day and spread the holiday cheer.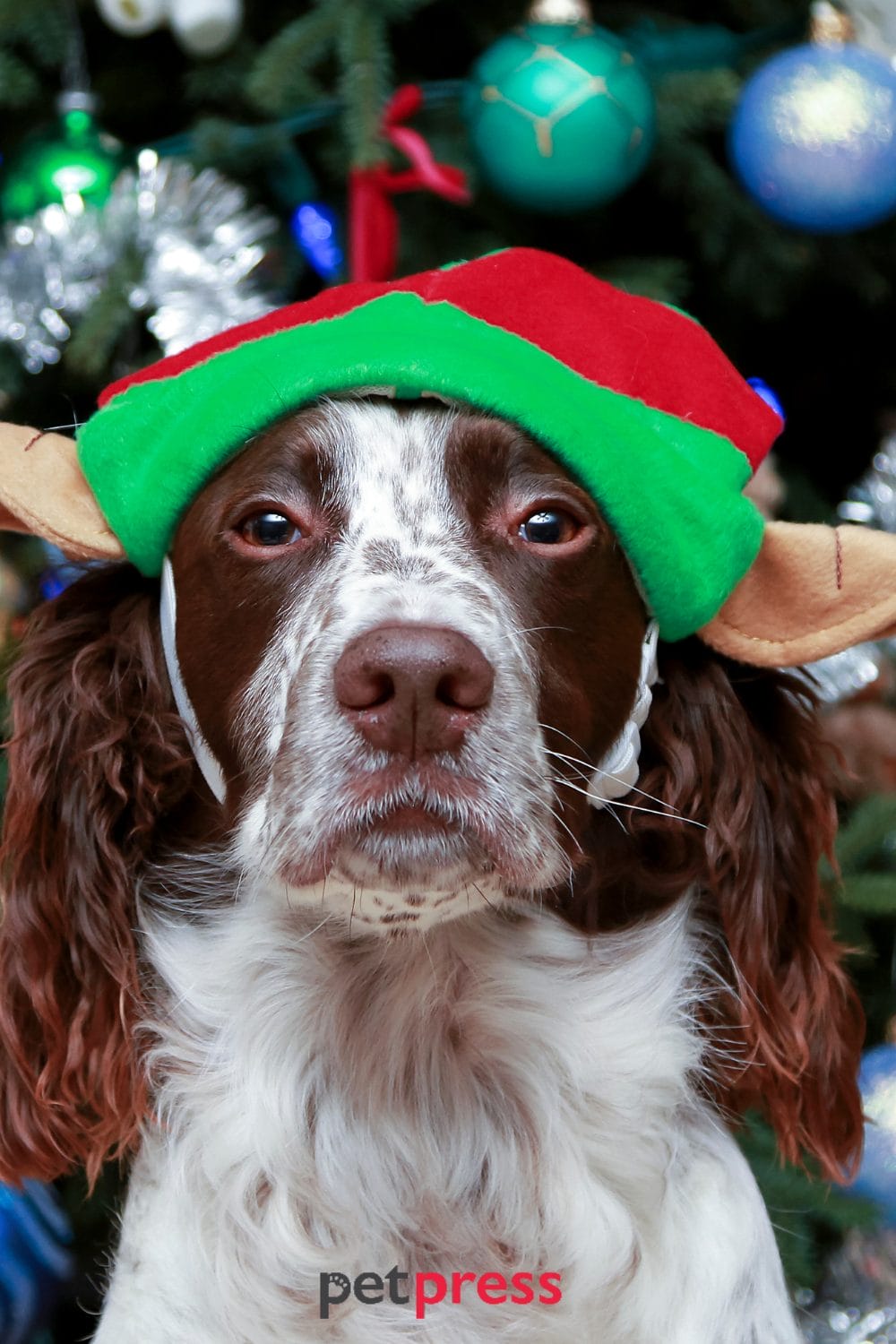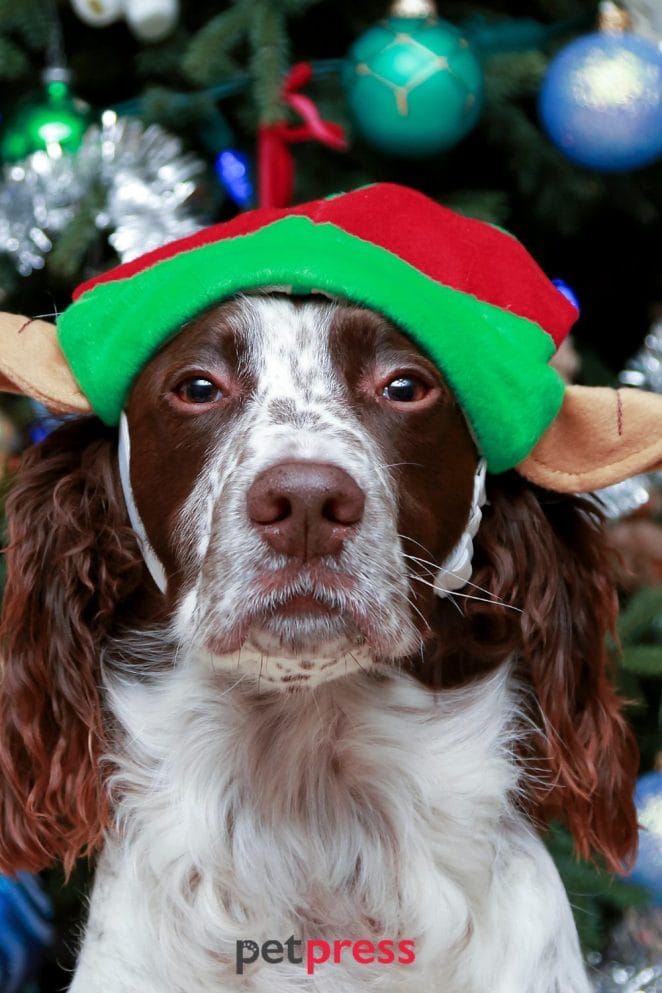 The Importance of Comfort and Safety
While it's all fun and games, your pet's comfort and safety should never be compromised in the process. Before we dive into our top picks for hilarious dog Christmas outfits, it's crucial to consider some factors.
Firstly, always choose the right size – an outfit too tight could be uncomfortable and restrict movement, while a too-loose one could trip them up.
Secondly, take note of the outfit material. Ensure it's not itchy or too hot for your pet. Check if there are any small, chewable parts that your dog could accidentally swallow.
Lastly, observe your pet's behavior in the outfit. Some dogs love getting dressed up, while others might get stressed. Always prioritize their comfort and well-being. If they show any signs of discomfort, take the outfit off immediately.
With comfort and safety in mind, let's get ready to explore some of the most fabulous dog Christmas elf outfits you can get your paws on this holiday season!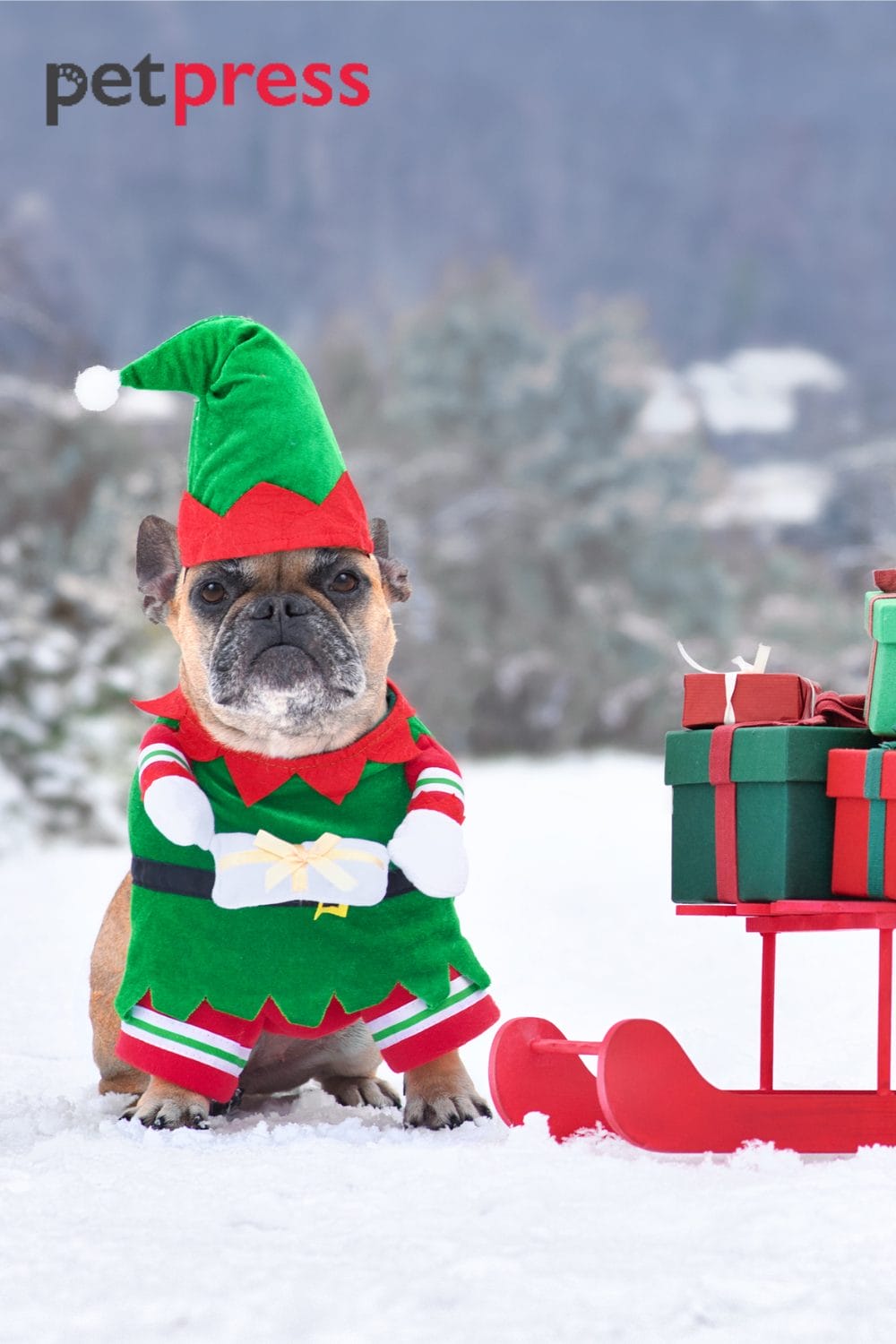 Top 20 Hilarious Dog Christmas Elf Outfits
1. Candy Cane Stripes Elf Outfit
Nothing screams Christmas like the iconic candy cane stripes. These adorable dog Christmas elf outfits are designed with the traditional red-and-white stripes, complete with green accents for an extra festive touch. It comes in various sizes and the quality fabric ensures your pet's comfort.
Purchase it from your favorite online pet store or design your own with the countless DIY tutorials available on YouTube and Pinterest.
2. Classic Green and Red Elf Outfit
For those who prefer timeless traditions, this classic green and red elf outfit will never go out of style. Fully equipped with a cute elf hat, this costume is perfect for both small and large breeds. It's easy to put on and the comfortable material ensures a happy, festive pup.
This can be purchased online or made at home, and it's guaranteed to be a hit at any Christmas gathering.
3. Elf Outfit With Jingle Bells
Add a little jingle to your pet's step with this elf outfit adorned with tiny bells. With every movement, your pup will sound like Santa's sleigh, spreading Christmas cheer throughout your home. Comfortable yet festive, this outfit can be bought in pet stores or created at home using a basic elf costume and some craft store bells.
4. Elf Outfit with Detachable Hood
Perfect for pets who aren't fans of headgear, this elf outfit includes a detachable hood. Its bright colors and comfortable design make it a perfect choice for Christmas photos. Available online or as a fun and easy DIY project.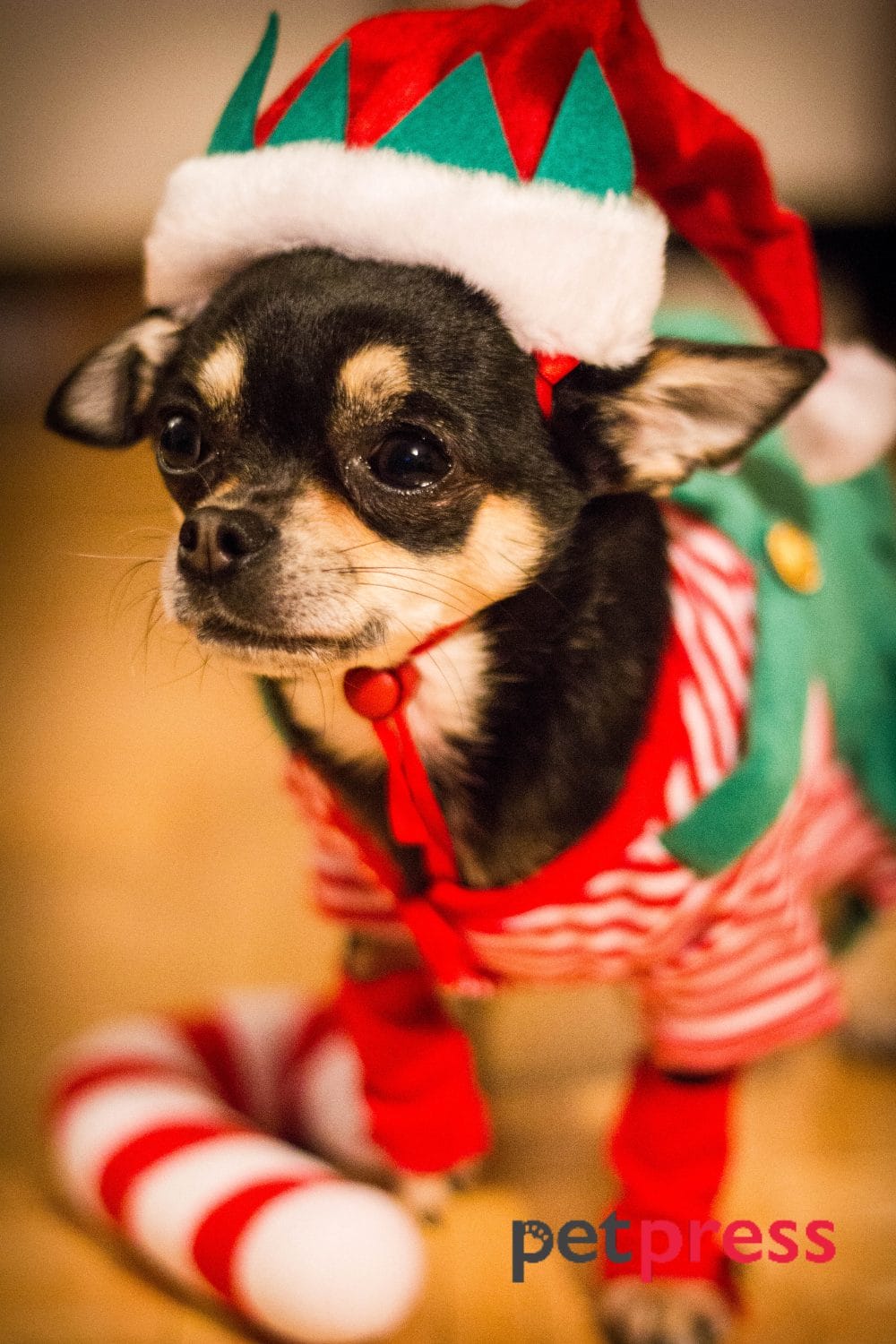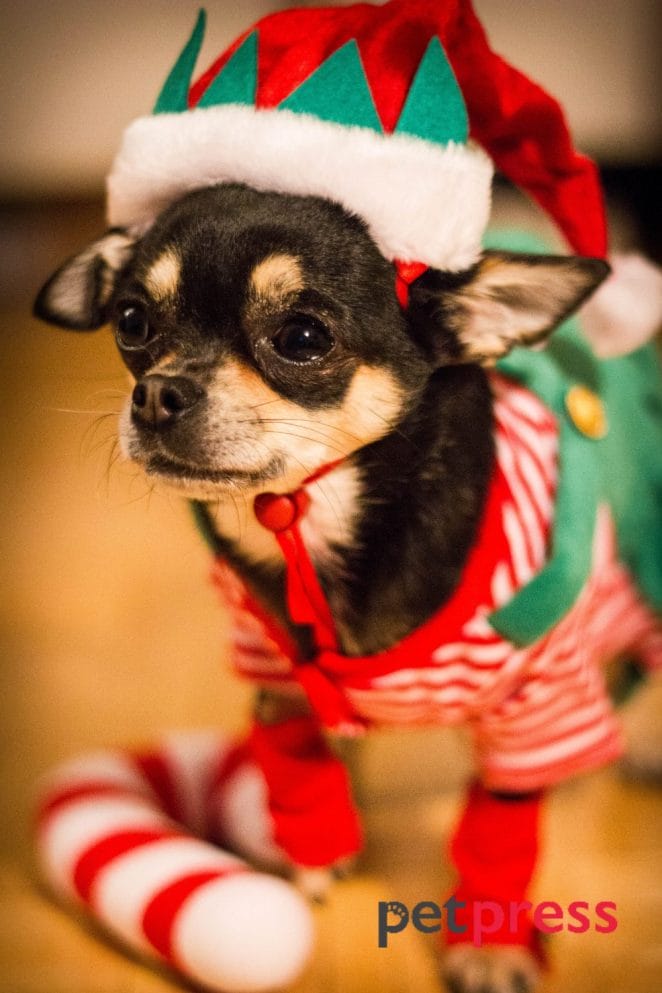 5. Velvet Elf Outfit
Give your pet a touch of luxury with this velvet elf outfit. Its soft material ensures your dog's comfort while adding an element of elegance to the hilarity. Available at high-end pet stores or as a DIY for crafty pet owners.
6. Elf Princess Outfit
Why should boys have all the fun? This elf princess outfit, with its tulle skirt and tiara, is perfect for your furry queen. Make it the star of your Christmas photoshoot, and buy it online or DIY it with some festive fabric and a lot of love.
7. Light-Up Elf Outfit
Light up the room, literally, with this light-up elf outfit. With LED lights sewn into the fabric, your dog will be the most radiant at any holiday gathering. Available online, or DIY by attaching Christmas lights to a traditional elf outfit.
8. Turtleneck Elf Outfit
For chillier climates, this turtleneck elf outfit is both festive and functional. The cozy knit will keep your dog warm and stylish. Purchase this online, or knit your own for a personal touch.
9. Pajama Elf Outfit
Perfect for a cozy Christmas at home, this pajama elf outfit will keep your pet comfortable and cute. Available online, or if you're feeling crafty, repurpose an old pair of Christmas-themed pajamas.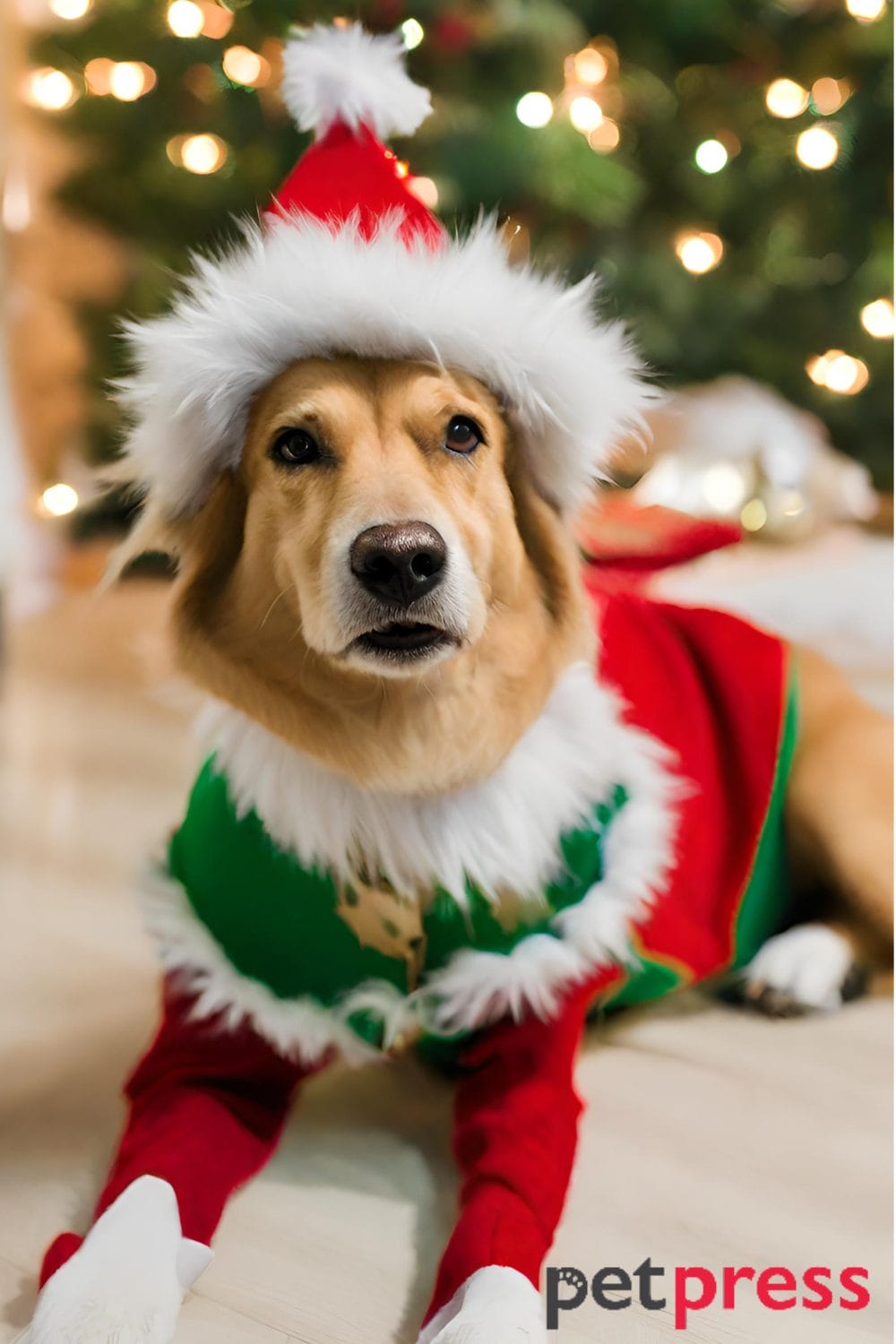 10. Furry Elf Outfit
This furry elf outfit, with its faux fur trimming, adds a touch of sass and warmth to the traditional elf attire. This can be easily found online or DIYed with some faux fur fabric and creativity.
11. Santa's Little Helper Outfit
Deployed with a cheeky "Santa's helper" tag, this elf outfit is not only hilarious but also incredibly adorable. Available online or can be custom-made with some sewing skills.
12. Elf Onesie Outfit
An all-in-one suit that your dog can slip into, this outfit is both easy to wear and undeniably cute. It can be bought online or created at home with some festive fabric and a simple pattern.
13. Sweater Elf Outfit
Perfect for dogs who prefer more casual attire, this elf-themed Christmas sweater is fun, festive, and warm. Purchase it from a pet store or knit your own for a personalized touch.
14. Elf Outfit with Oversized Hat
This outfit features a comically oversized elf hat. The hat, when paired with the matching outfit, makes for hilarious holiday photos. Available online, or as a DIY project.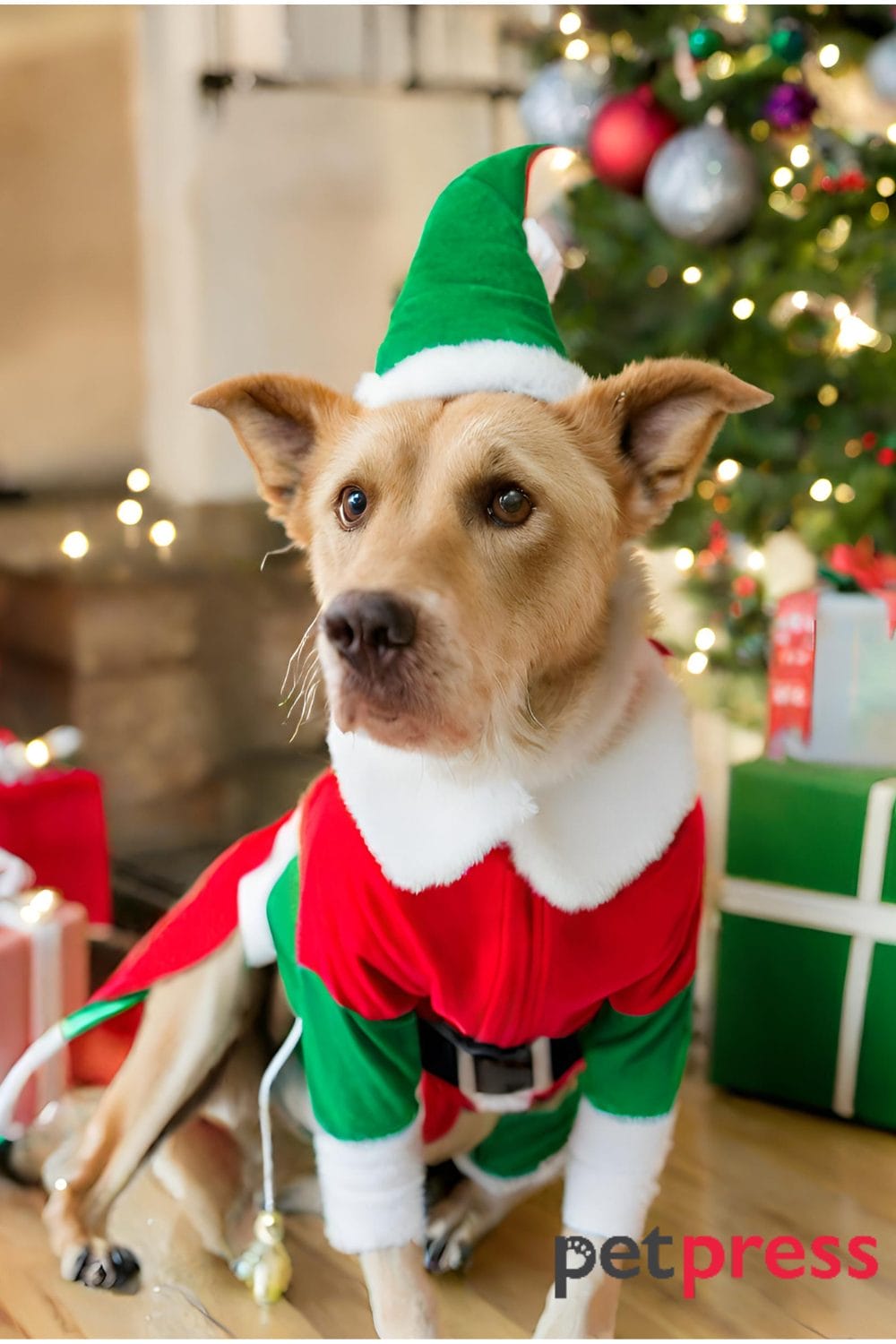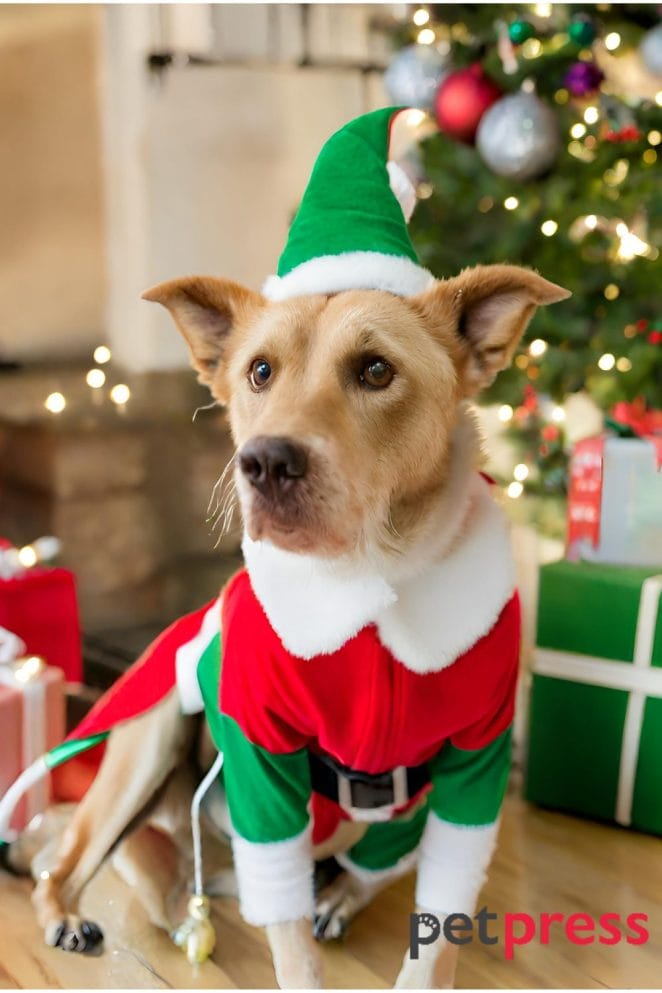 15. Sporty Elf Outfit
Your athletic dog will love this sporty take on the traditional elf outfit, which features a loose fit for active pups. This can be found online or crafted at home with some elf-like fabric.
16. Glam Elf Outfit
Add some sparkles to the mix with this glam elf outfit. Embellished with sequins, it's perfect for the diva dogs out there. Available at specialist pet stores for the most glamorous pups.
17. Vintage Elf Outfit
This outfit, inspired by vintage drawings of elves, will give your dog a classic Christmas look. It can be bought online or DIYed with some fabric and vintage patterns.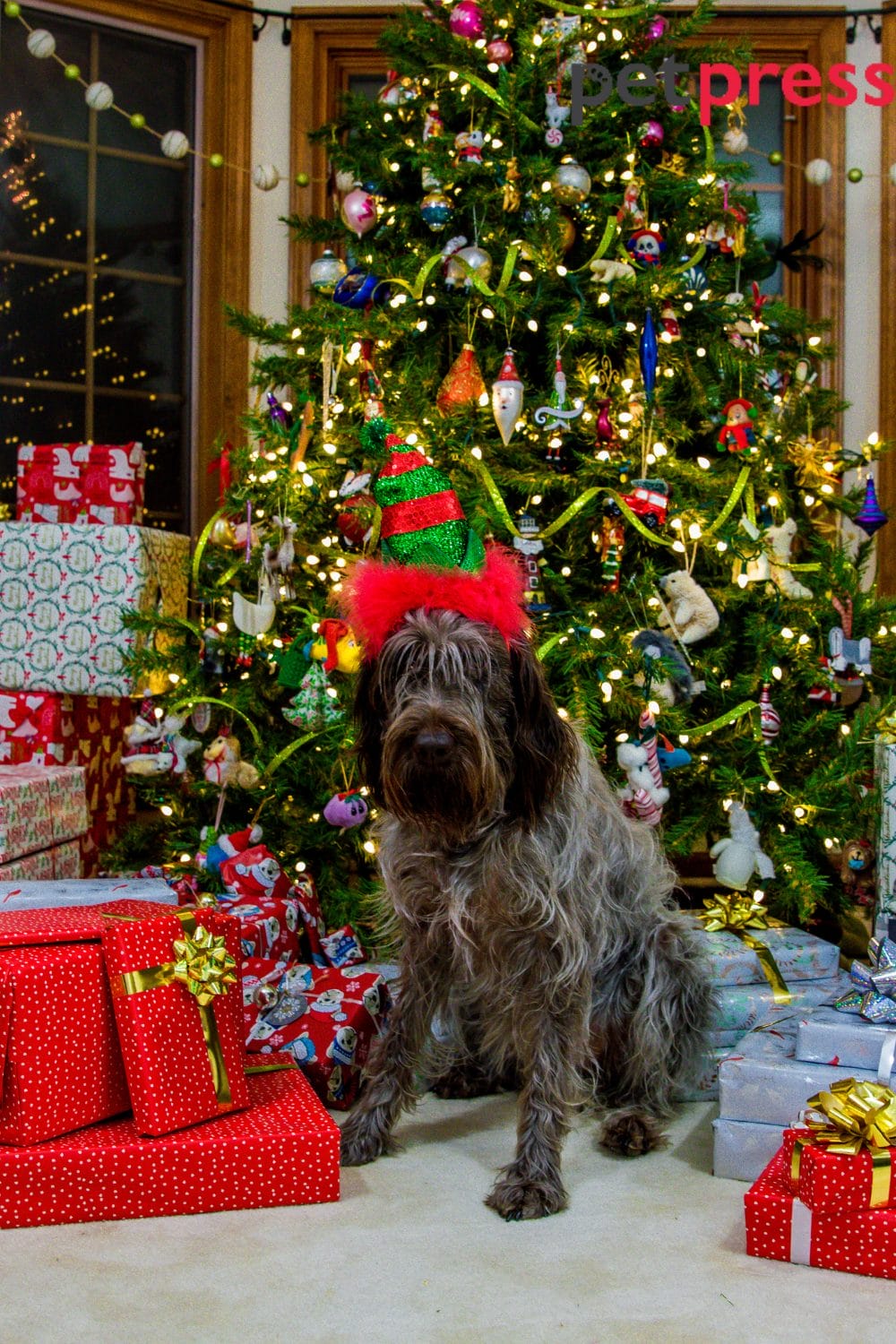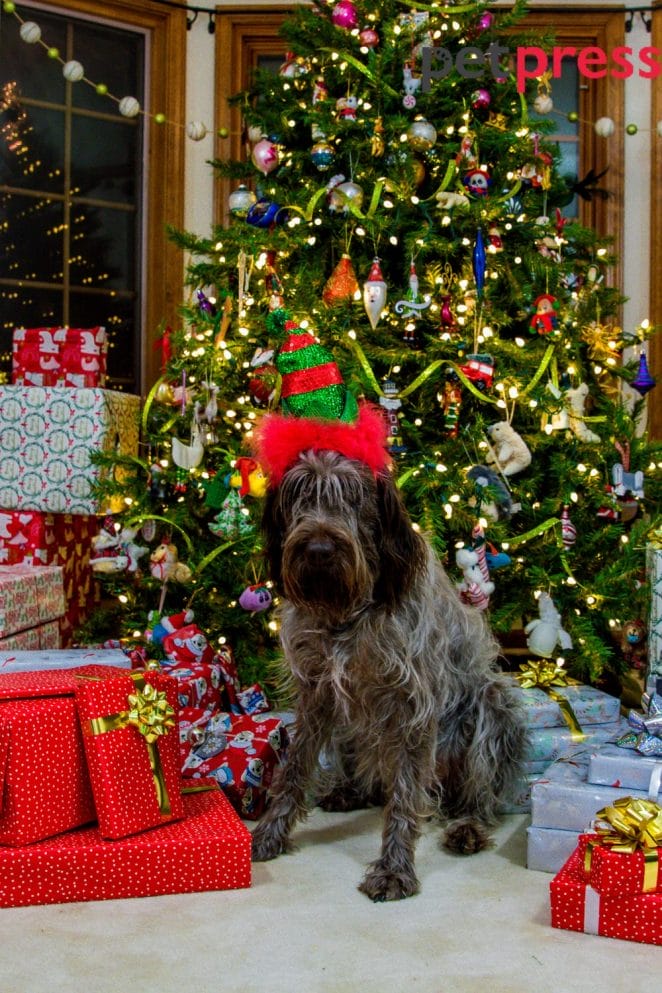 18. Elf Coat Outfit
This is an elf-themed coat to keep your dog warm during outside walks. It's practical yet festive. Available online or can be knitted at home if you're handy with a needle.
19. Flannel Elf Outfit
This cozy flannel outfit will keep your pup warm and stylish during the holiday season. It's also perfect for a holiday-themed family photo. Available online or can be crafted from an old flannel shirt.
20. Tutu Elf Outfit
This adorable outfit concludes our list with a flourish. The tutu elf outfit adds a playful spin to the classic elf outfit and is perfect for small to medium dog breeds. Available online, or can be DIYed by adding a festive tutu to a regular elf outfit.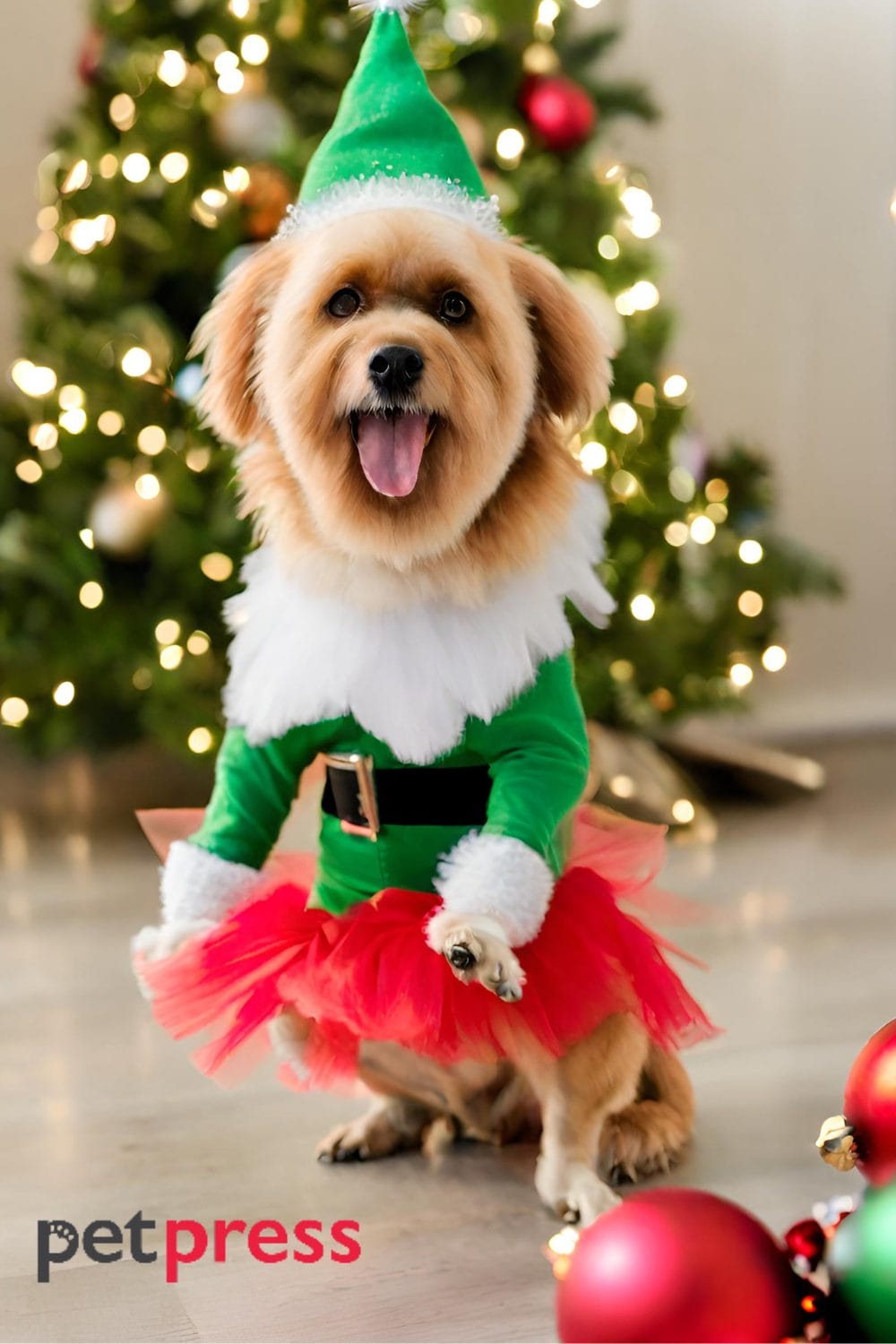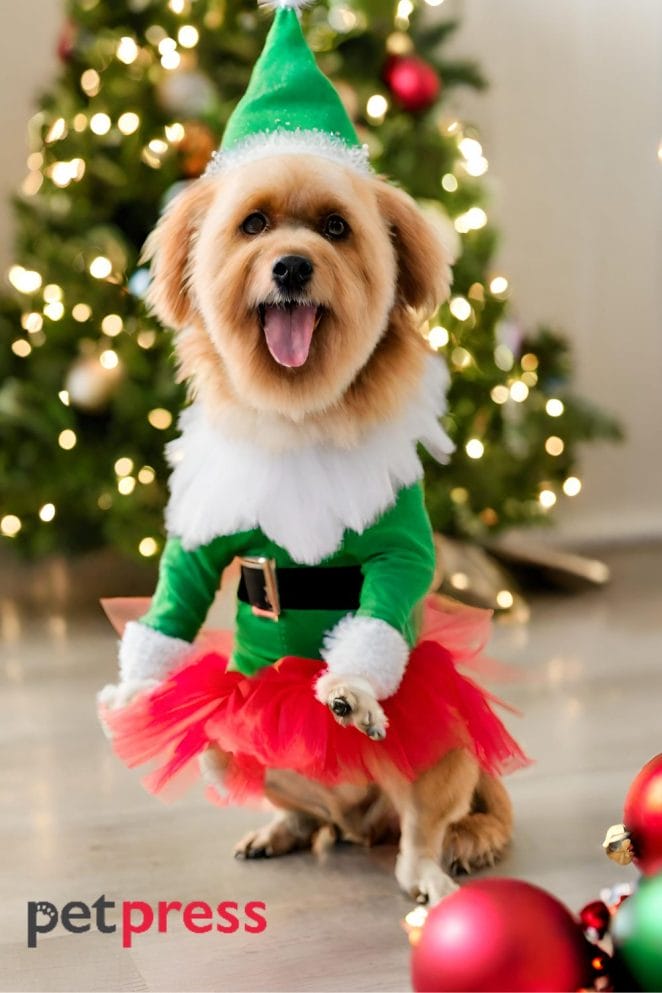 Choosing the Perfect Dog Christmas Elf Outfit for Your Dog
Selecting the right Christmas elf outfit for your dog requires a careful balance of fashion and function. You want your dog to look adorable, but comfort and safety should be your primary concern.
Size: Pay close attention to sizing; an ill-fitting costume can cause discomfort or harm. Measure your dog's length, neck girth, and chest girth accurately, and always check the size chart if purchasing online.
Behavior: Consider your pet's behavior. Some dogs love the attention that comes from wearing a costume, while others might feel uncomfortable. Start with simple, non-restrictive outfits if your dog isn't used to wearing clothes.
Fur Type: Dogs with thicker fur might get too hot in a heavy costume, while dogs with thin fur may get too cold in a lighter one. Choose the outfit material according to your dog's fur type and the local weather.
Safety: Be wary of small parts like buttons that can be choking hazards. Also, ensure the outfit doesn't restrict your dog's movement, hearing, or ability to breathe.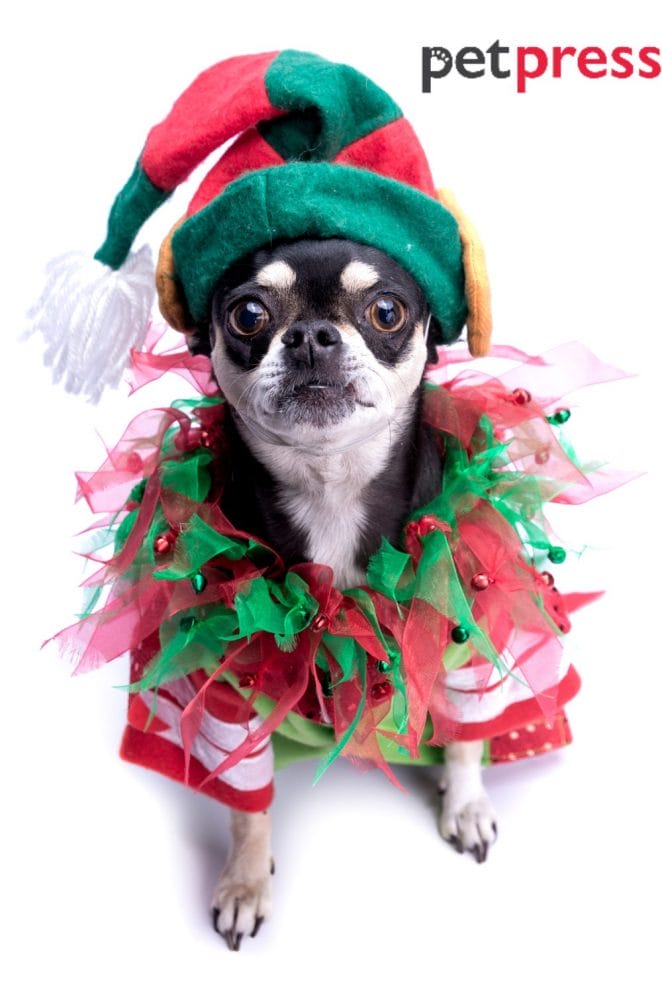 How to Get Your Dog Comfortable in Their New Elf Outfit
Introducing a new outfit, especially a festive one, should be a fun experience for your dog. Start by letting them sniff the outfit. Offer plenty of praise and treats to associate the outfit with positive emotions.
Initially, let your dog wear the outfit for short periods. Gradually increase this period over time. Never force your dog into the outfit, and if they seem distressed, remove it immediately. Remember, their comfort should always come first.
Spread the Holiday Cheer with a Dog Christmas Elf Outfit
Transforming your dog into Santa's little helperwith these dog Christmas elf outfit isn't just about the laughs and adorable photos, although those are surely benefits! It's about sharing the holiday spirit with every family member, including our four-legged friends. Their happiness, comfort, and safety are critical.
When your dog parades around in their hilarious elf outfit, it will bring joy and warmth to everyone who sees it—a priceless gift in these challenging times. So go ahead, choose the perfect ensemble, and let your dog bring the Christmas cheer!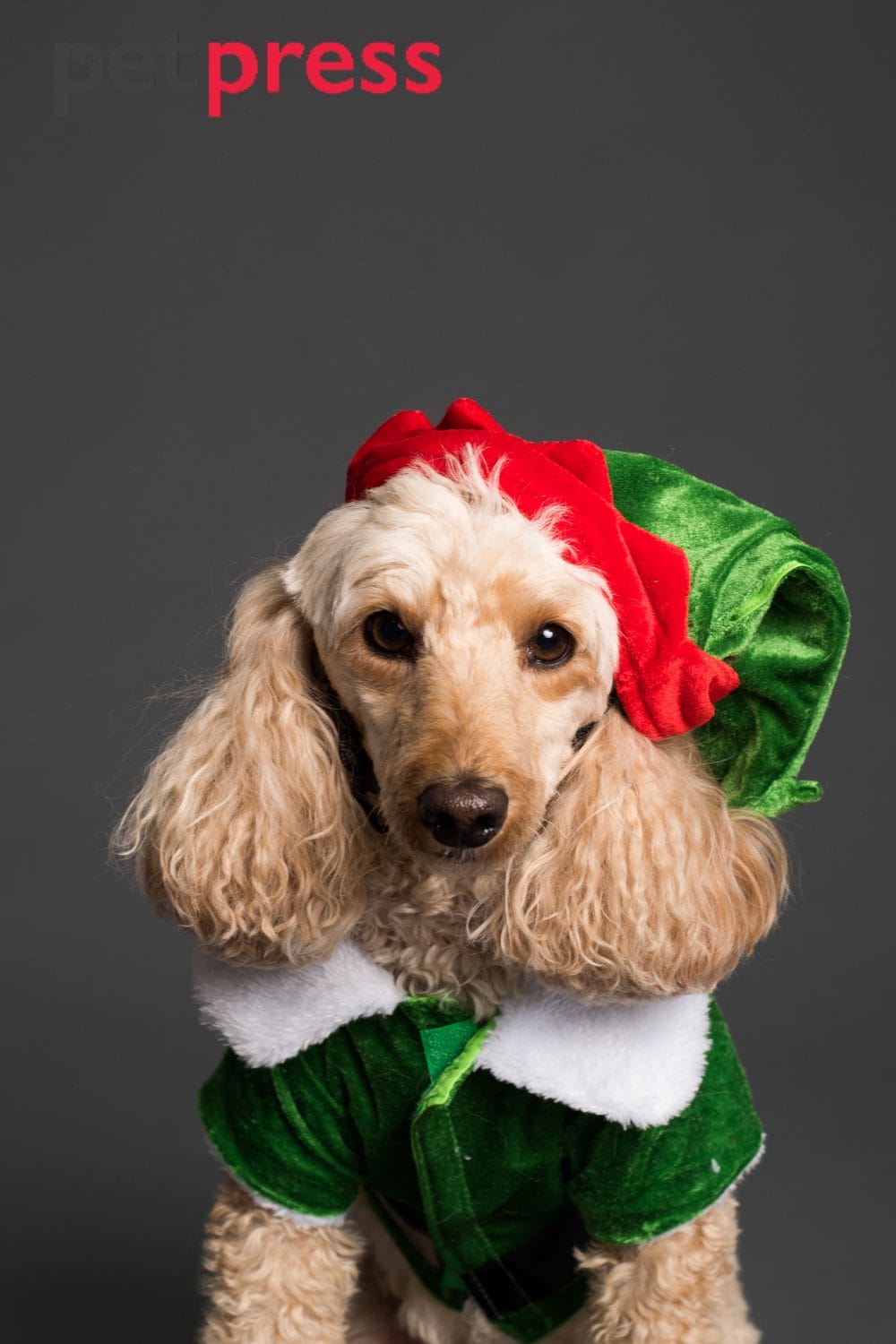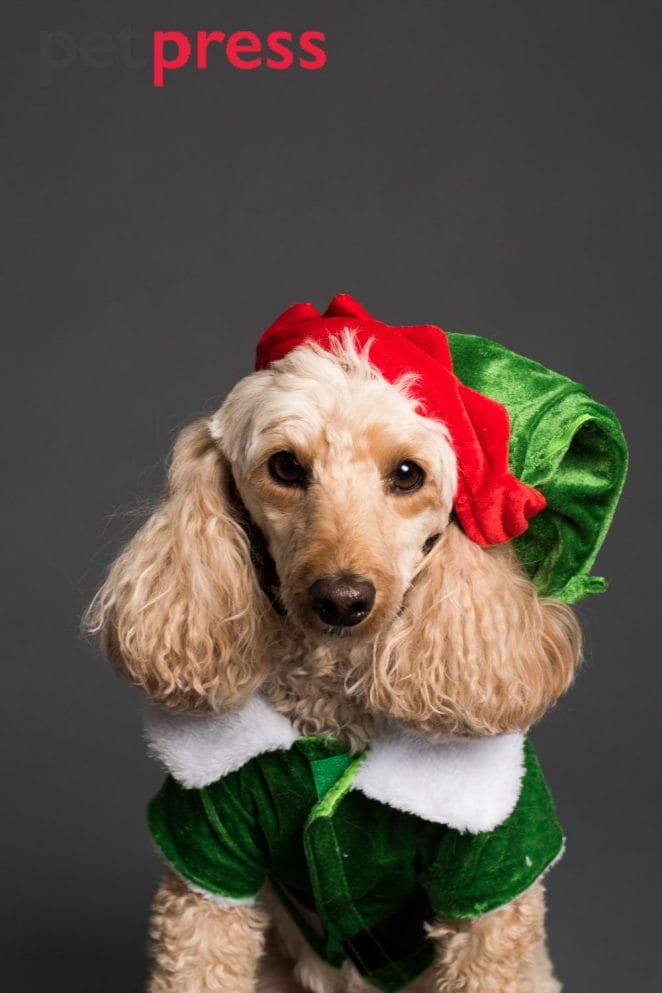 Want more pet-friendly content? Explore our other articles!
Surprise Your Pup with These 15 Cozy Dog Christmas Blanket
85 Funny Christmas Cat Quotes to Crack You Up This Holiday
Dog Christmas Bow Tie – The Festive Styles Fido Can Rock!