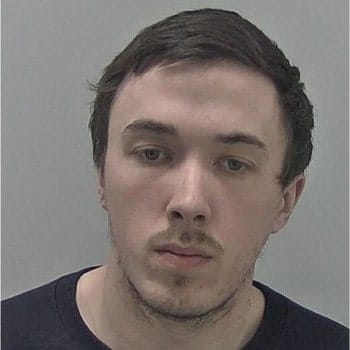 The Shropshire Police have issued a warrant for the arrest of a man who has been convicted in his absence following animal welfare offenses committed at puppy farms.
Gillman was found guilty by a jury of five charges under the Animal Welfare Act.
Because he had fled, magistrates sat in his absence and sentenced him to five terms under the Animal Welfare Act.
He was arrested and taken before the court to be sentenced after a warrant for his arrest was issued so that he might be brought before the court.
Following an investigation by our Special Operations Unit, two of his co-accused were sentenced last month for fraud and animal cruelty offenses.
One was sentenced to two years in jail, suspended for two years, while the other received six months imprisonment, also suspended for 12 months.
Both were permanently banned from keeping dogs and given custodial sentences of six months, suspended for 12 months.
The RSPCA said that conditions at the three farms were the worst they had ever seen.
Many of the animals had health problems and were suffering from untreated injuries and infections, including severe conjunctivitis, ear infections and dermatitis.
The case drew national attention as it highlighted the plight of many dogs waiting in rescue shelters from puppy mills throughout the country.
The investigation, which was led by Investigator Kirsty Withnall, discovered 55 dogs and puppies living in poor conditions after police executed multiple searches.
She said: "We believe that the dogs were being carried from Wales and Ireland to be sold to unsuspecting members of the public as pedigree dogs".
Dogs were discovered in dark, cold, filthy shelters that were little more than cages and chained outside with rickety old wooden kennels as their only protection.

These dogs were not well cared for or loved, and many of their basic requirements weren't being met.

Some had an undernourished appearance and had untreated skin issues or ear infections and some had old and new injuries, such as a missing tail or breed alterations that were not carried out by a vet.
The dogs were taken into our care and many were placed in foster homes.
They were transferred to the RSPCA, and they have all been rehomed since then.
The RSPCA is now requesting the public's assistance in locating Gillman so that he can be sentenced.
The RSPCA is also warning that Gillman may be operating under another alias.
They said that Glyn Eugene Williams, 56, of Mirrygreen Park Farm, Cefn Mawr, Wrexham could be using the name 'John' to mislead people.
This case should be considered by all dog lovers, as it highlights the need to prioritize this issue and take appropriate action against those who commit these crimes.
It is important that people are aware of their responsibility when they purchase an animal from any source so that they can make informed decisions about where their money goes.
Source: RSPCA