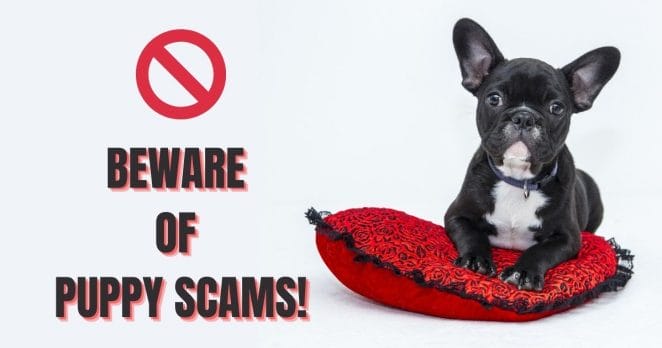 With the pandemic happening and holidays coming up, there are many different fake puppy sellers and rehoming scams.
It is one thing to have been scammed out of money, but the feeling and sadness from realizing you are not getting your own pup are worse. We don't want you to get scammed or experience this heartbreak.
We all know that registered pups (not backyard breeders) are not cheap. This is why it is in such demand as not many pups are available with the complete requirements. So sometimes we see deals that may be too good to be true, or we're lucky enough to get one without a waiting list. People tend to buy a puppy at a higher price these days and this is the perfect time for scammers to take advantage.
Before you buy a puppy, make sure to do some research and check on the red flags to be safe.
A. How does an Online Pet Scam happen?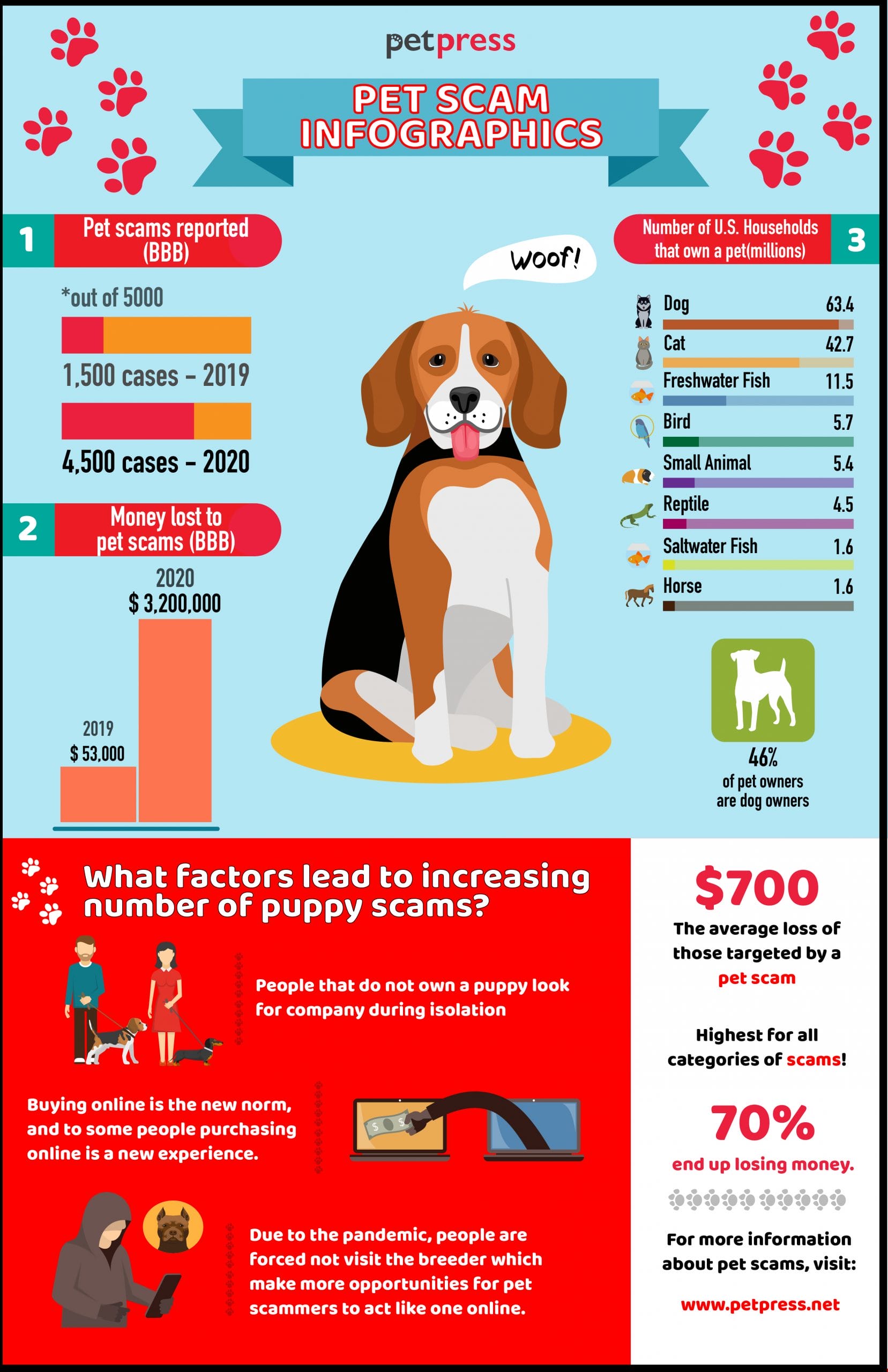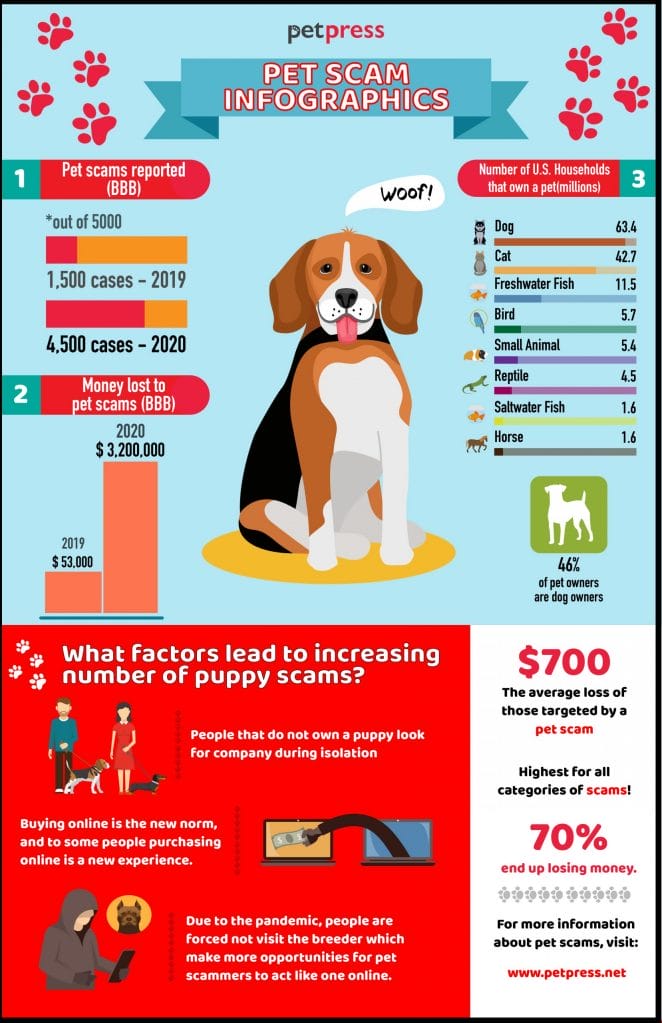 Pet sellers asking for money upfront via online transfer for reservation, transportation fees, and even "insurance" policy payment could possibly be a SCAM.
"Pet scams have had the biggest increase in online shopping fraud and have tripled compared to previous years"

— BBB's (Better Business Bureau) report
The average loss of those targeted by a pet scam is around $700 which is one of the highest for all categories of scams and 70% end up losing money. Ever since the pandemic and also Christmas holidays coming up, most people spend their time indoors and consider adopting puppies as a companion at home.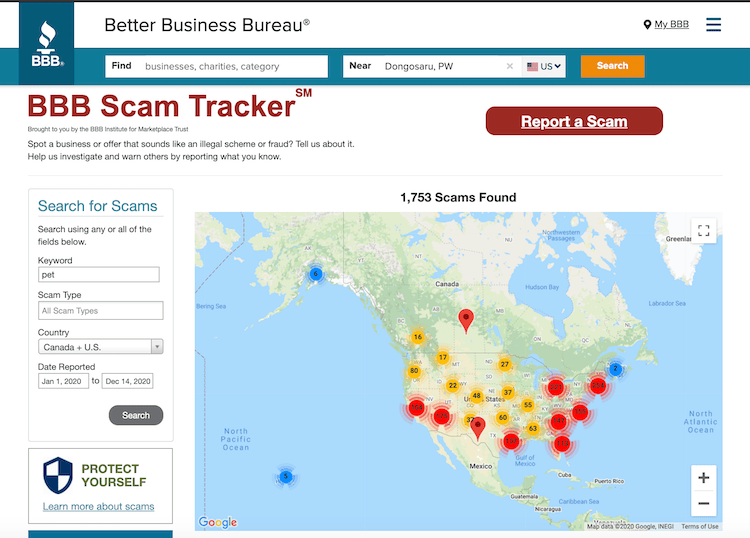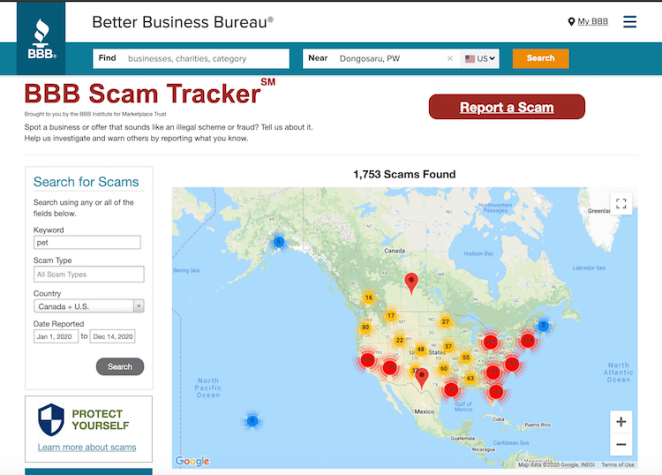 If you're looking to adopt a puppy, you may want to check out BBB's scam tracker to check the data on how many scams have happened in your area for awareness.
---
B. Where do Scammers Spread the News?
The truth is, you can find them everywhere online – social media pages, groups, websites, or online ads about puppies for sale. They mostly comment and used non-credible links to direct you to their page and show you illegitimate photos or videos taken from any sources.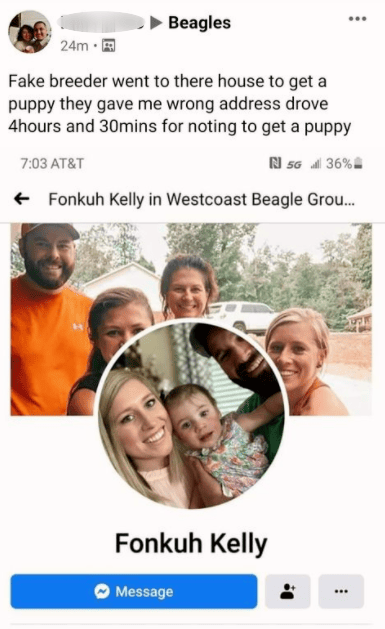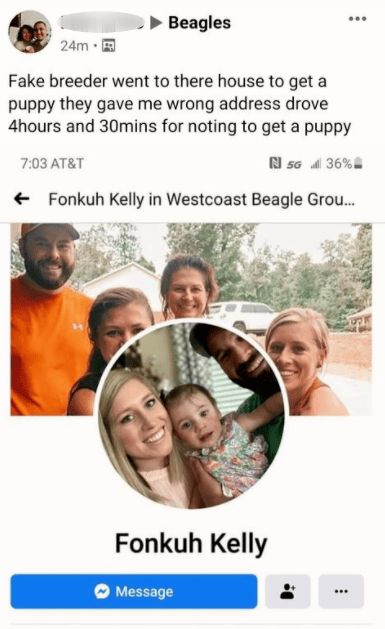 Be aware that pet scams make use of other people's images and videos that is a violation of copyright. Of course, not everyone will know which is which, so it is better to ask for more photos or real-time videos for proof.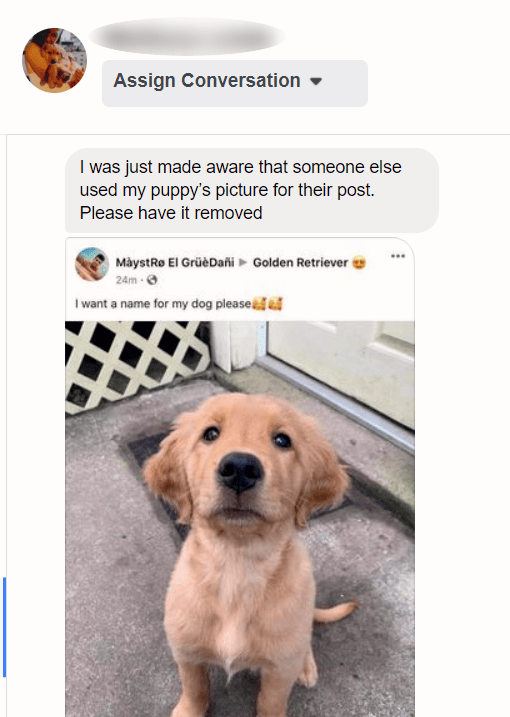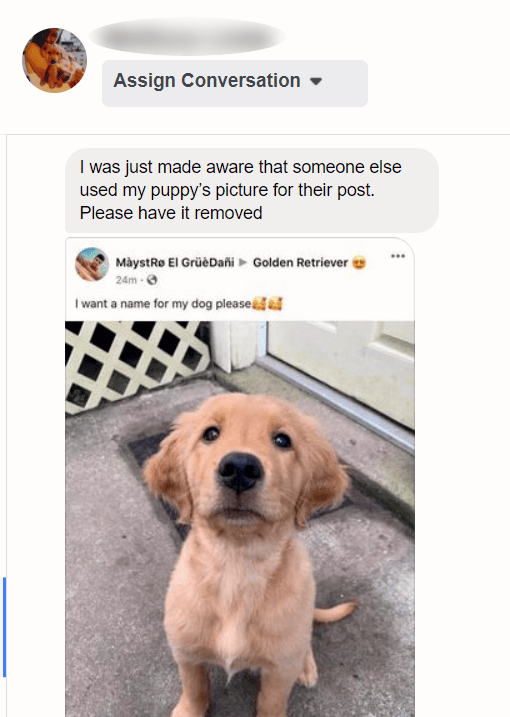 Scams could also be LINKS directing to the scammer's page or marketplace itself wherein the scammer could possibly trick the person interested and ask for an upfront online payment.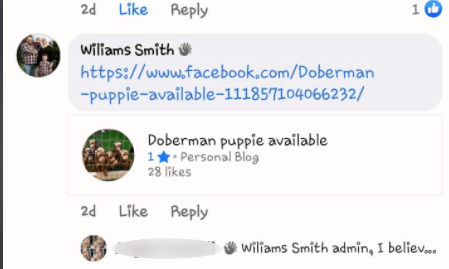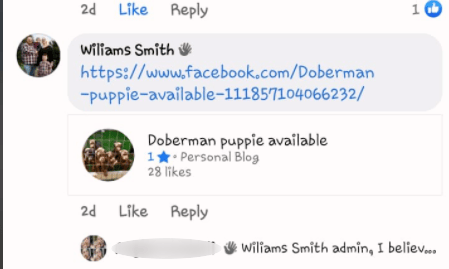 C. How To Detect a Scammer?
Unfortunately, it's hard to detect if someone is a scammer or not. As mentioned earlier, scams happen in social media pages, groups, websites, or online ads about puppies for sale.
In this example, we can show you how to check if the website of the puppy seller is legitimate. Let's try out 'jakegoldenretrievers.com'.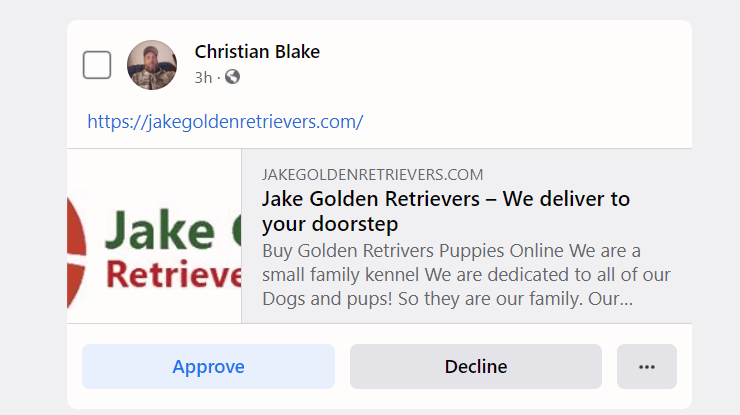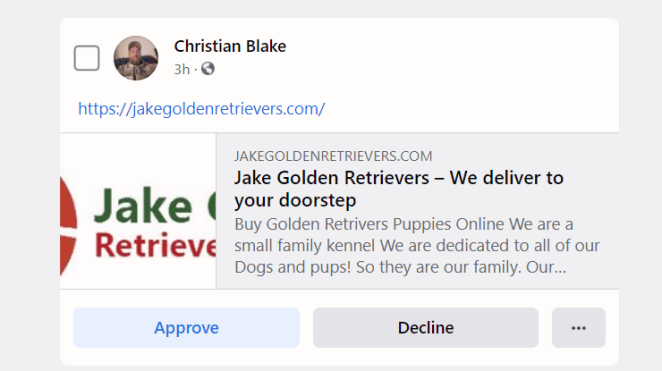 Next, you can search the website on Petscam's search feature for pet scam websites and write down the domain name or the person that is selling you puppies.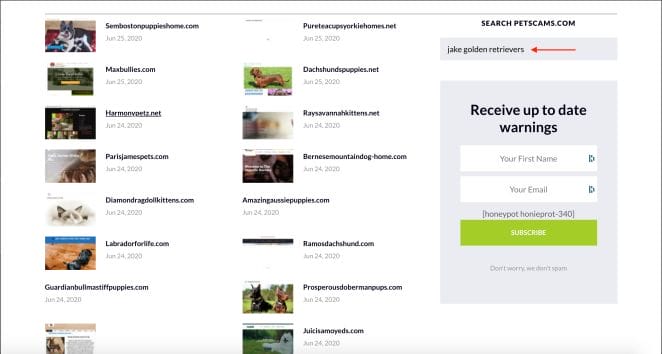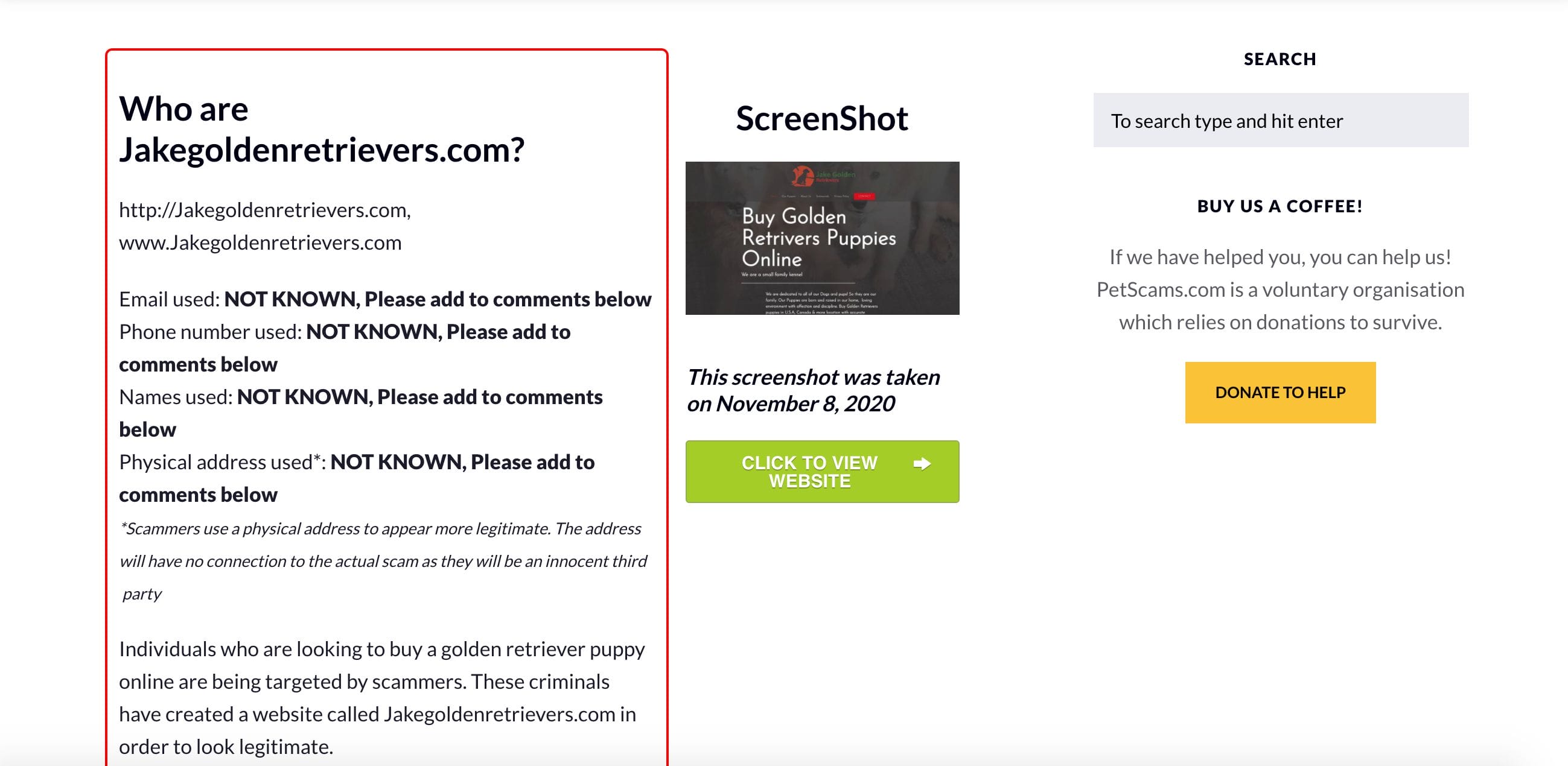 You'll have to dig through their website or personal profile and ask them to get more information. If their transaction method is in any way suspicious wherein they are hard to contact directly, and images/videos are from any sources on the internet, then you would know that they are scammers.
---
D. Here are 8 things you need to know to avoid getting scammed
1. Real-time Video for Proof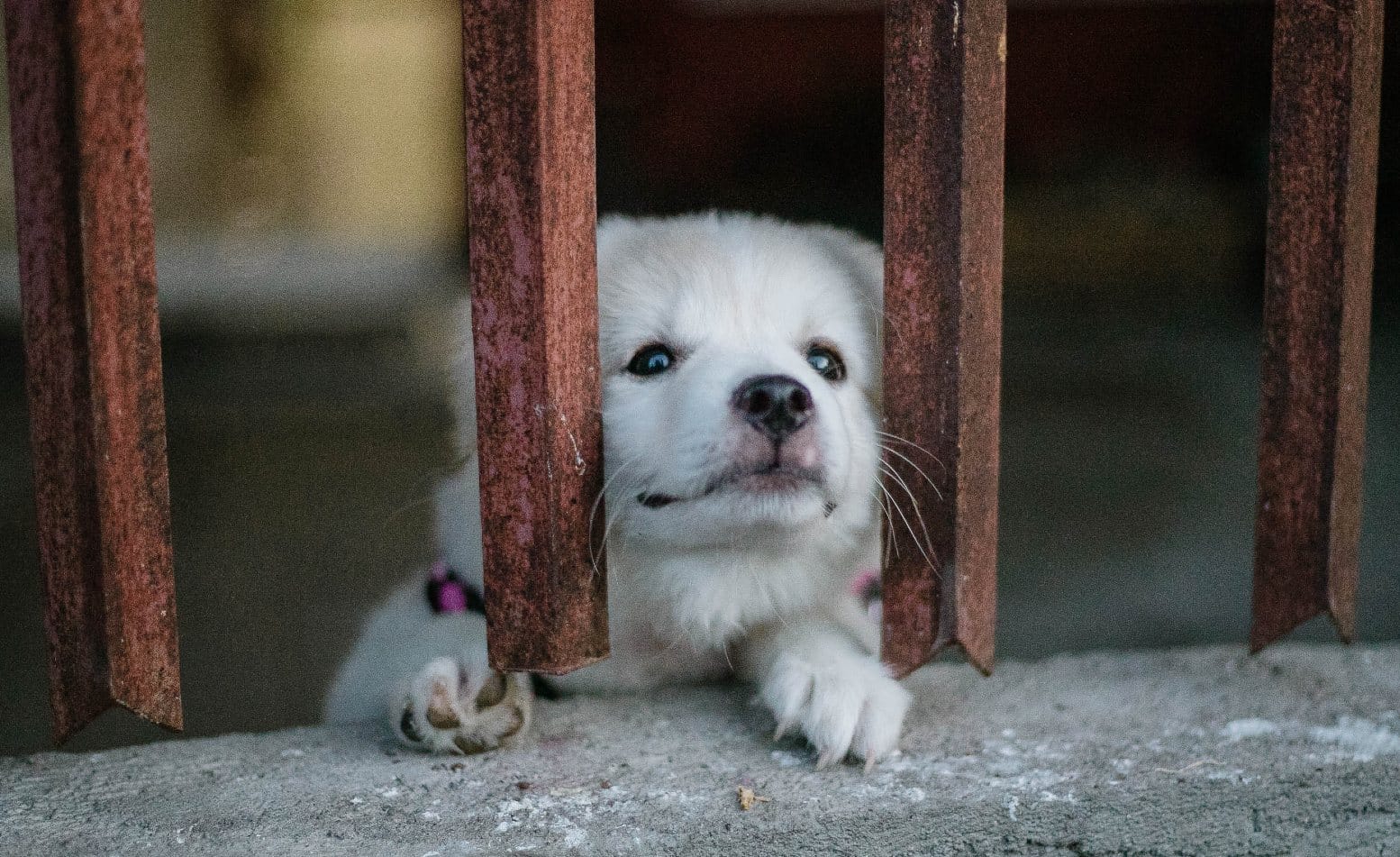 Don't get engaged by photos. Make sure they include a special video for you, and the video is not taken from someone else, YouTube or social media. If you find out that the video they sent you is from any other source, it's probably a fake and they probably want to scam you.
2. Verification of Website


Real puppy sellers usually have their own website so they can give you more information you need about the puppy. To check whether the website is legit or not, you can use a service like (Who owns this domain) to see the country and sometimes the name of the person who purchased it. You can also see how long it has been in existence.
3. In-person meet up
Considering how risky it is to go out with the global pandemic, try to schedule a meet up with the real puppy sellers so you can have a good look at the pup. Of course, follow all protocols like wearing your face mask and maintaining social distance.
4. Use of Paypal as a safe method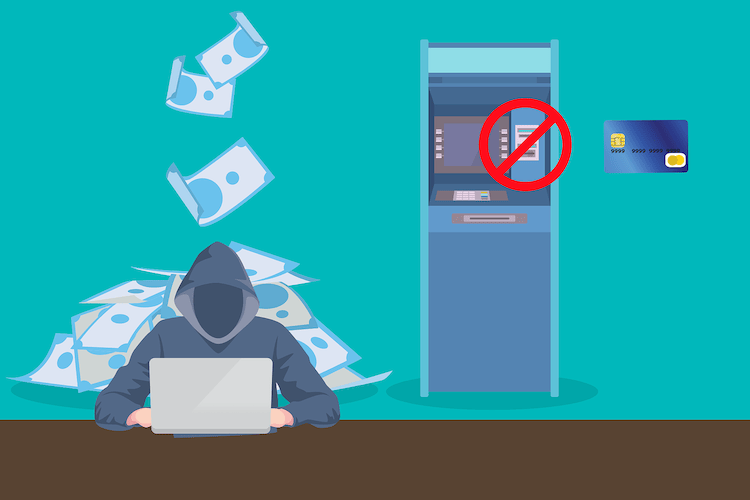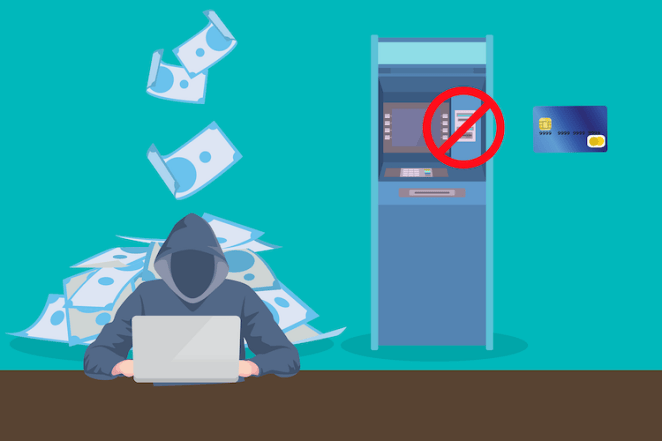 Scammers mostly use sketchy and unsecured payment methods such as wiring of money or gift cards. You should avoid that kind of transaction or you'll lose your money. If you do send a deposit, make sure it is through Paypal invoice versus sending your credit card details. It is very easy to get a payment refunded with PayPal and one way to avoid fraud.
5. Verify Phone number
Fraudulent sellers prefer to handle communication by email and not the phone. On the other hand, a reputable breeder will always communicate with you via phone or video chat (if they are not in the U.S). We all know how easy it is to get a phone number, but by calling or checking their Google Reviews (on google map) is a good start.
6. Additional Fees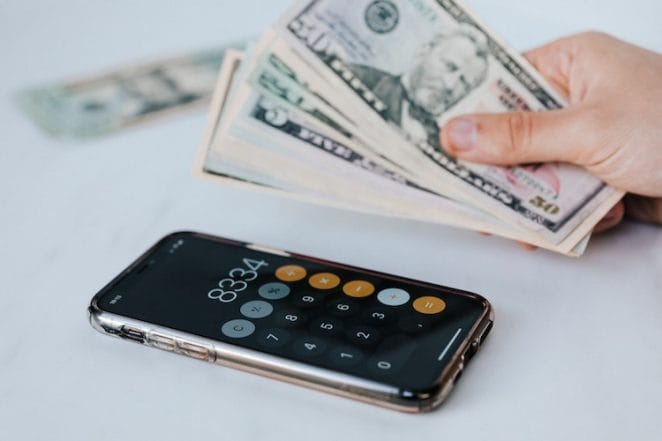 Make sure to ask for every payment detail including shipping fees, paperwork, and vaccination. You may also research the typical prices of the breed you are interested in. Because scammers sometimes will ask you for more money for so many irrelevant reasons such as hipping insurance, additional insurance paperwork, shots, etc. The worst part is, they even convince and warn you if you don't send the additional fee, they will report you for animal abandonment to the authorities.
7. Testimonials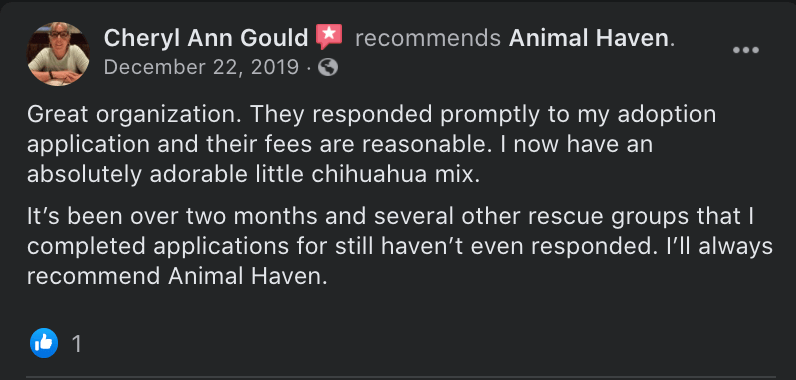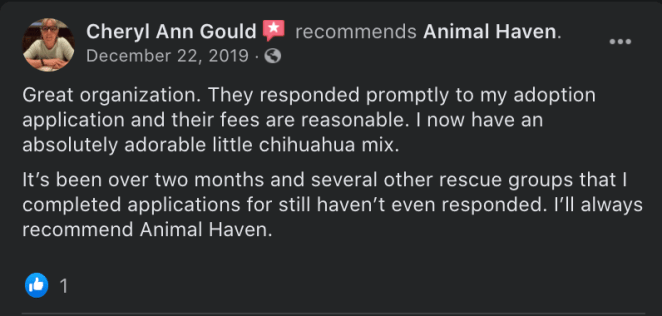 View their page or profile on social media and see who has left reviews. You can then do a little more research (creeping) on those who left the reviews to see if they have any dogs.
8. Reach out to a local animal shelter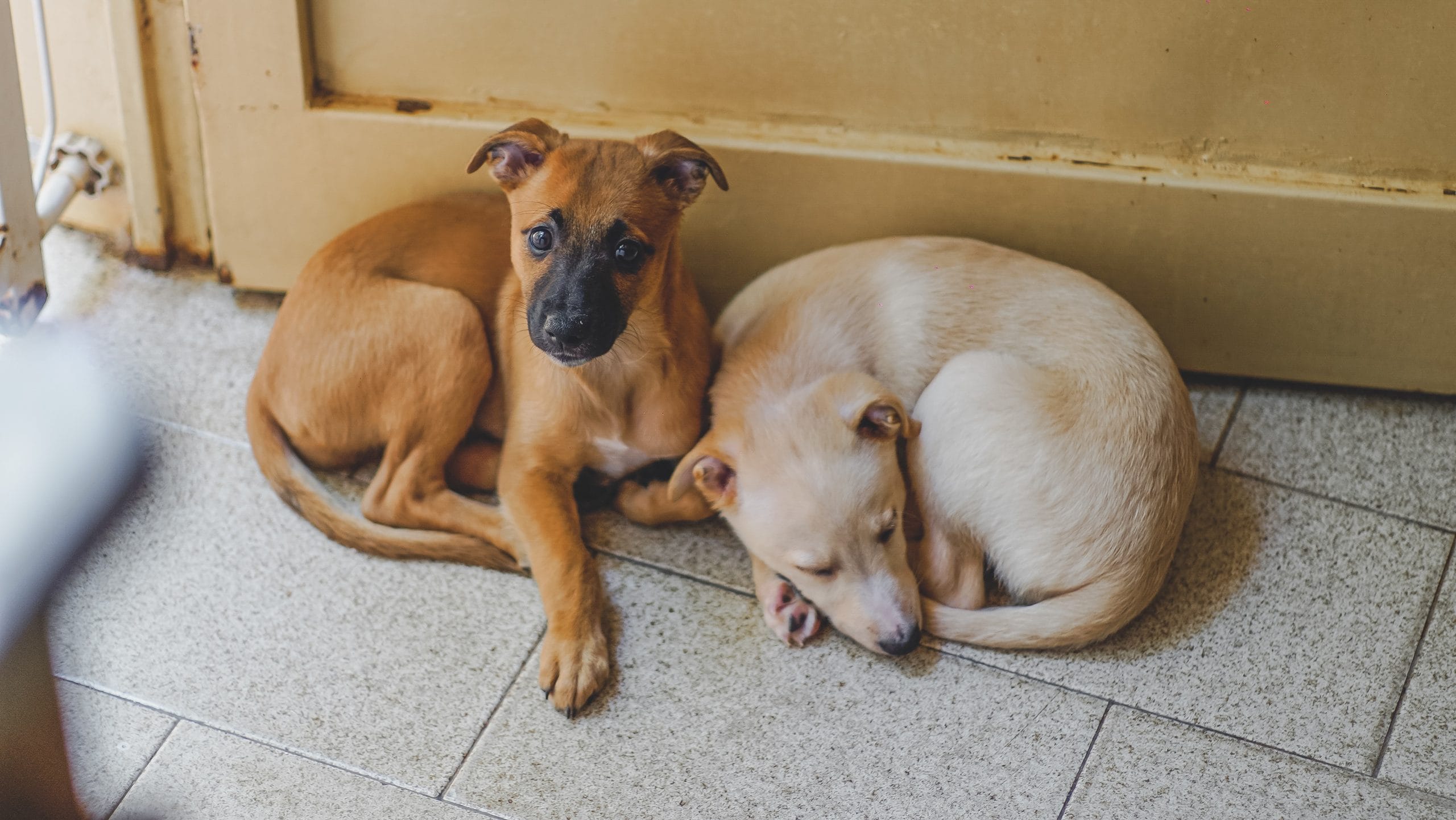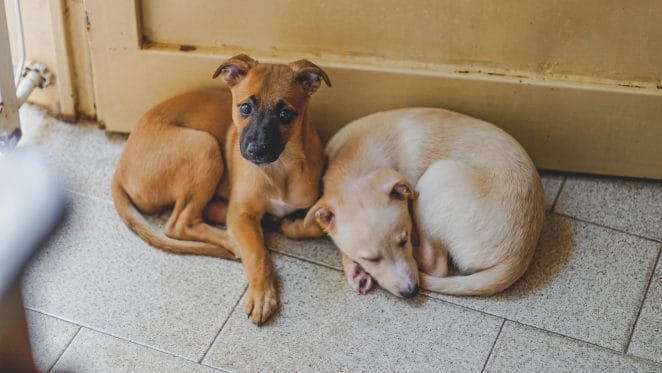 For a clean and legitimate adoption, consider contacting a local animal shelter as there are many abandoned pet dogs in need of foster parents. Local shelters are also in need of help to reduce the overcrowding of pets at their facilities. Some local animal shelters provide virtual pet adoptions with prospective foster families. You can also easily reach out to them for any queries.
E. Are there scammers in PetPress groups?
At PetPress, we also have a big community of Facebook groups of specific dog breeds that people own or are interested in. Members of these groups have the freedom to share images or videos of their pups and even ask specific questions that may help in the well-being and training of their pup. And yes, we also come across several scammers here and there.
We instantly block them if we find anything suspicious to the information they provide.
In the above example, it is evident that the link provided by a clone profile is quite suspicious and with the help of a member who has reported this comment, we have confirmed that this is all part of a scam.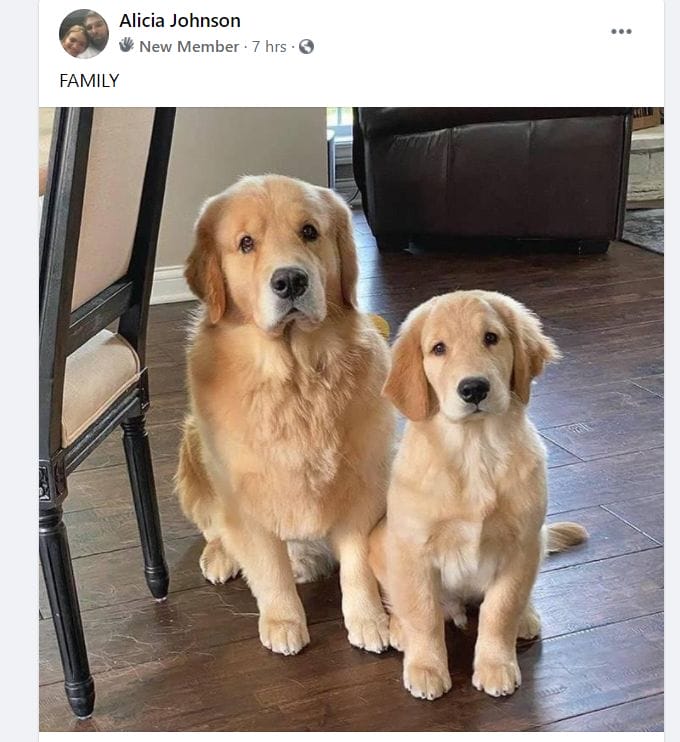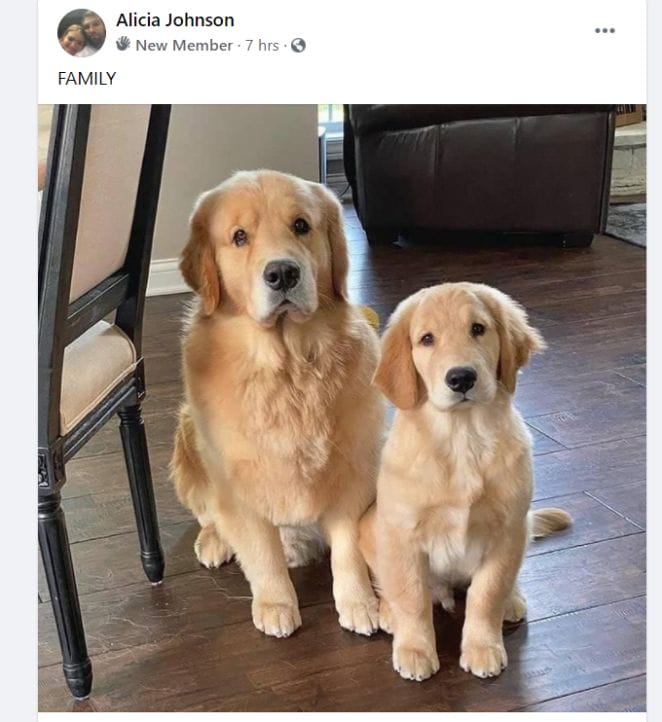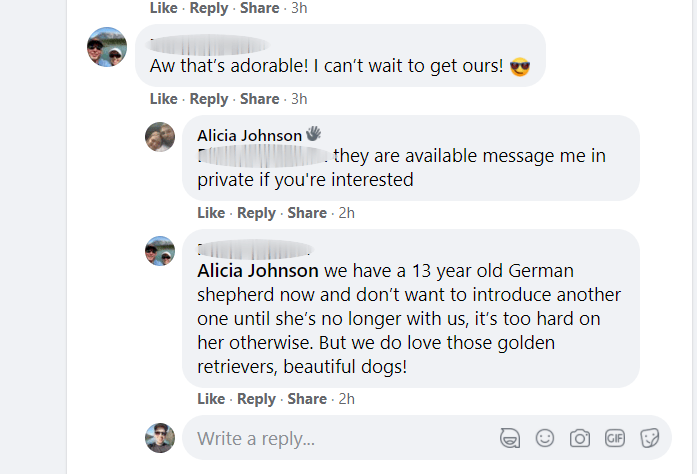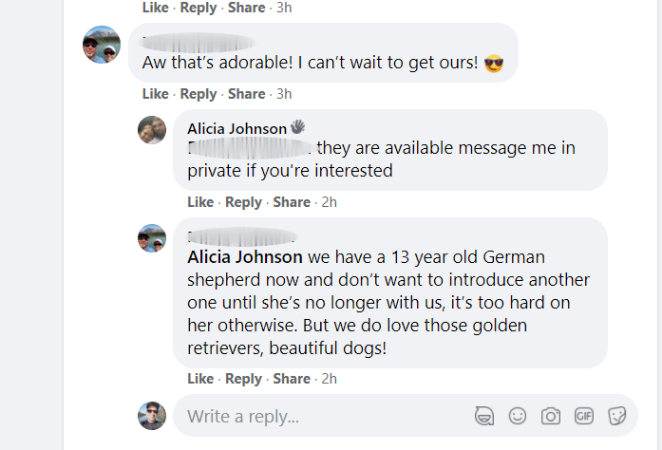 Another example is a member who pretends to be a legitimate member of the group posting stolen photos to exploit other members' comments. This could be in a form of clickbait to a link source or engaging in private conversations.
CONCLUSION
It's important to watch out for these types of comments and do a quick profile check on the person offering. Do your own due diligence and "know before you go". Make sure you do negotiate as much upfront (not prepayment) as possible and ask your family members or friends for advice. Do not transfer internationally and ask about flexible payment methods. Most importantly, make sure the dogs are from reputable breeders and not backyard puppy mills.
Also, I always try to buy from a shelter personally to give me peace of mind.
Stay safe out there, both in person and online. If you suspect a puppy scam, you can report it to us at https://petpress.net/pet-scams/report-a-scam/.