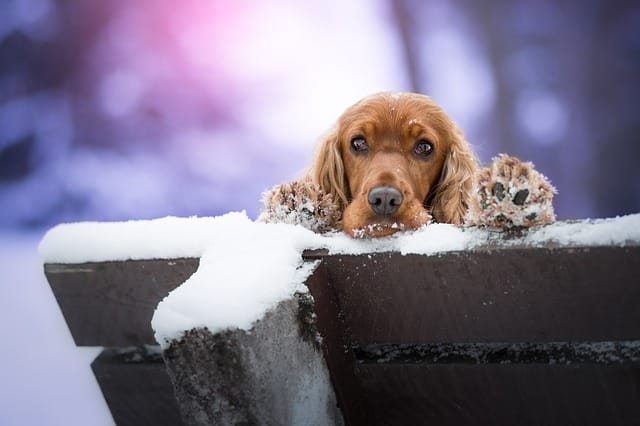 Victor is a Cocker spaniel that looks average, but once he walks his birth defect is hard to miss.
Marcy Benner of Haven to Home Canine Rescue said " He has no hip sockets. His right knee is basically on backward, and his left leg is pretty much useless".
For Victor to be healthy like average dogs he needs to have at least three surgeries to fix his legs.
But Victor isn't average, he has the ability to bring smiles wherever he goes!
And that smile is worth every penny in veterinary bills and surgeries.
Unfortunately for Victor, this smile won't be sold on eBay…
Ron Pratt lives in Sunbury and has been raising money for Victor's upcoming surgeries, which are estimated to cost $12,000.
Pratt said, " he will need at least three surgeries. His left leg will eventually be amputated. His first surgery is next Tuesday. And he will also need physical therapy".
Victor needs to make it through these surgeries in order to live a pain free life.
But Pratt says there's more than just medical expenses that are needed, Victor is being provided with food and shelter from Haven to Home Canine Rescue until the bills can be paid off.
This becomes an issue for animal rescues like Haven to Home because many of the puppy mill dogs are brought to rescues when their medical needs become too expensive.
Benner said, "He's a puppy mill dog. He was thrown away because of his disability, and when we got him he couldn't walk".
Haven to Home hasn't had any luck finding Victor a home, mainly because of the cost of his upcoming surgeries.
Victor still needs to be adopted into a forever home that will care for him throughout his life.
And so far Haven to Home Canine Rescue has raised $4,000 towards Victor's medical bills which is amazing!
Ron Pratt said, " it's an ongoing issue, and we would like to raise enough money so that we can at least cover the medical expenses of these dogs".
Melody Martzen, Victor's foster parent said " most rescues don't have that kind of funding. And a lot of them are out there saving lives and whatnot".
And thanks to people like Ron Pratt…Victor will get his shot at a better life.
Pratt said " It's money worth spending because he doesn't deserve this. He doesn't deserve any of it."
Victor will be having his first surgery on Tuesday. If you would like to help with donations for him, please call Haven to Home Canine Rescue