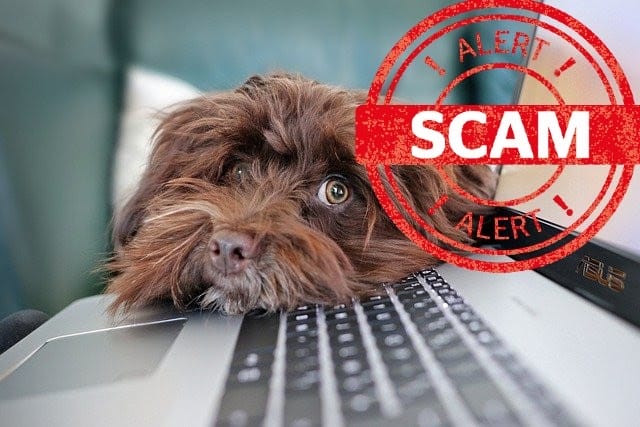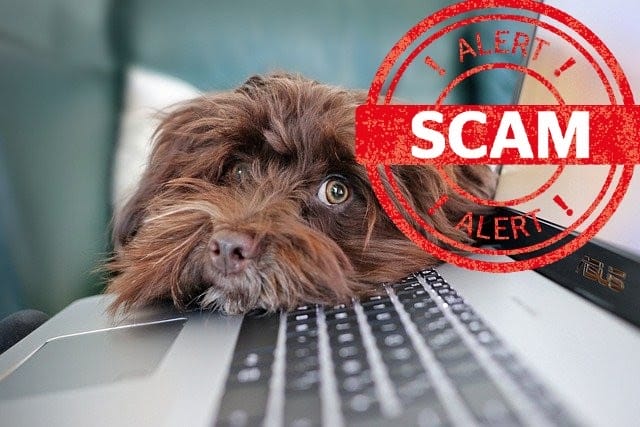 There are lots of people that decide to add an adorable puppy as their companion into their house, and this number has hugely increased every year, especially during a pandemic. But, the bad news is there are still hundreds of people who get scammed when they are trying to buy a puppy.
The scammer took this opportunity to take people's money with the puppy that never existed. And the number of people getting scammed also increased as the puppy demand.
And here are some frequently asked questions about statistics of the puppy scam industry.
---
FAQ
How many people have been scammed on puppy selling?
According to the Better Business Bureau (BBB) there were more than 1,500 reports of puppy scams in 2019, and it was almost tripled in 2020 with 4,500 case reports.
How much money did people lose to the puppy scammer?
According to the Better Business Bureau (BBB) they tracked consumer losses on puppy scams around $ 53,000 in 2019, and it was hugely increased in 2020 to around $3.2 million.
Why is the number of people getting scammed increasing every year?
Almost everyone loves puppies and wants to take this furry four legged puppy into their home. And due to the pandemic, most people spend their time in their homes, that's why the puppy scammers are taking advantage of people's self isolation by selling adorable fake puppies.

---
The pet scam industry is no joke, especially puppy scams.
But it doesn't mean there are no other animal scams running these days. Most animals have been used for a scam operation, but since puppies have the highest demand, the puppy scam industry also becomes the largest animal scam operation.
That's why you need to be extra careful when you decide to buy a puppy from someone on the internet. 
Why has the puppy scam industry increased over the years?
There are so many reasons why some industries succeed and others don't, but one of the factors in choosing the right business at the right time.
According to the APPA (American Pet Products Association), Americans spend thousands of dollars every year on pets. And, amongst all the pets, the puppy is the popular pet since most people love this adorable furry and loyal creature.


And here are also some factors why pet industries keep increasing over the years.
Growing market
The Pet industry is a promising new business due to high demand and it keeps growing. While the other businesses are crashing due to the pandemic, the pet industry keeps growing, and can even hugely profit during the pandemic.
You can see below how the pet industry, especially puppy, keeps growing over the years.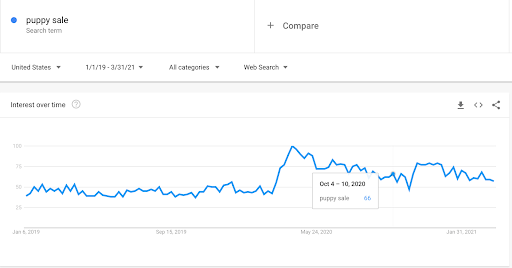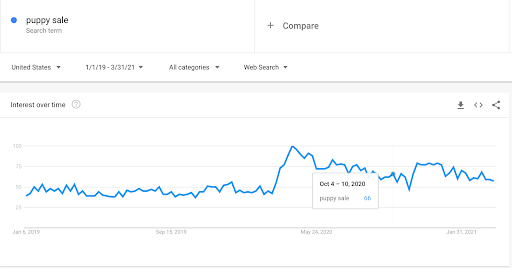 According to the data above, people keep searching for a puppy for sale. Even though it slightly decreased, the market is stable. People adore puppies more than other animals, that's why the scammers are using this opportunity, by promising an adorable puppy to grab people's emotions then take their money out of nothing.
No market education
While some businesses need to educate the market about the product they have, explaining to the market why they need the product and how the product can solve their problem, the pet industry doesn't need to educate the market.
People are aware of why they need a pet, and most people buy pets, especially puppies based on emotion.
Whether the reason is their children ask for a puppy, or during self-isolation period people need companions to play around in their house. Whatever the reason is, as the consumer you don't need to be educated on why you should buy a puppy.
That's why it's easy for a scammer to sell a puppy, only by taking some puppy images on the internet, posting them to the website and social media, and BOOOM, there are so many people asking about the price, location, etc.
What are the factors that lead to the increasing number of puppy scams?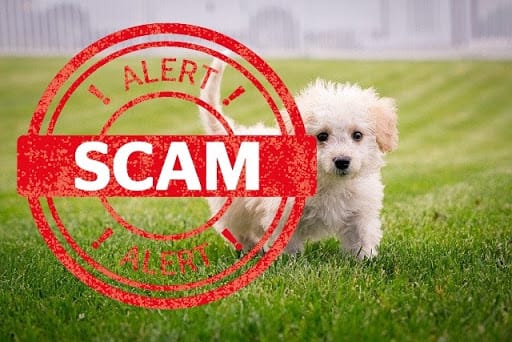 As the statistic above shows that the puppy's demand hugely increases in 2020, and we know it's during the pandemic, where we are not supposed to go anywhere and are asked to be self isolating in our house.
With this fact, we know staying at home alone can be so stressful, that's why most people and animal lovers decide to keep a pet as a companion. And the puppy is the man's best companion ever due to their loyal characters.
But this condition is giving the scammers an advantage to takes people money, because:
People do not own a puppy and looking for a company during isolation
Buying online is the new norm, and to some people purchasing online is the new experience.
Due to the pandemic, people convinced to not visit the breeder even if the breeder in the same state
Due to these factors above, the scammer easily takes someone's money. That's why millions of dollars have been lost during the pandemic.
Conclusion
The pet scam industry has grown over the years especially on puppy fraud. It's like a scammer playing on a pet lover's emotion by selling a puppy that never existed.
One way to detect a scammer is by doing more research on the seller, by checking their social media, website, payment methods and more. 
And if you lost your money to a pet scam, make sure to report to the BBB Scam Tracker and Federal Trade Commission. Also, you can report to us since we've compiled the scammer list, so there won't be any people that will get scammed and you might save people from losing their money.