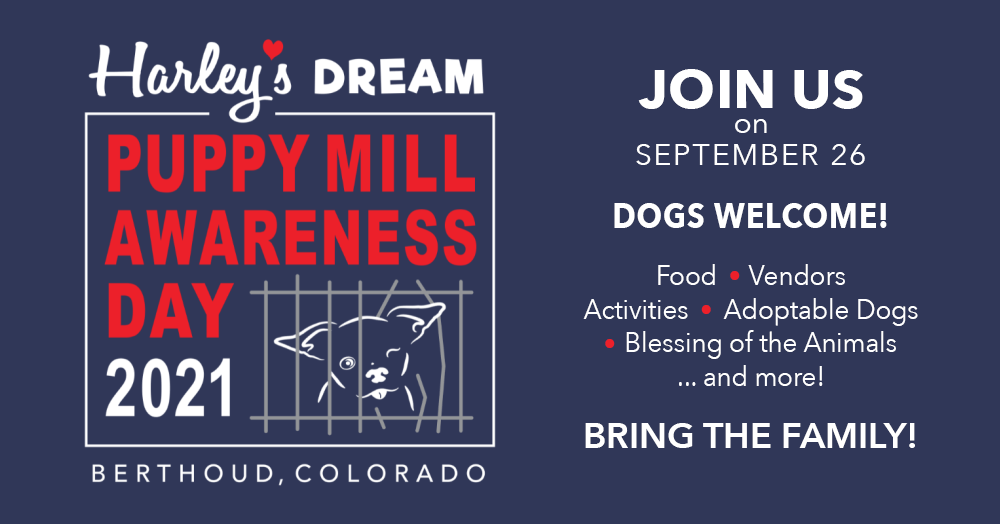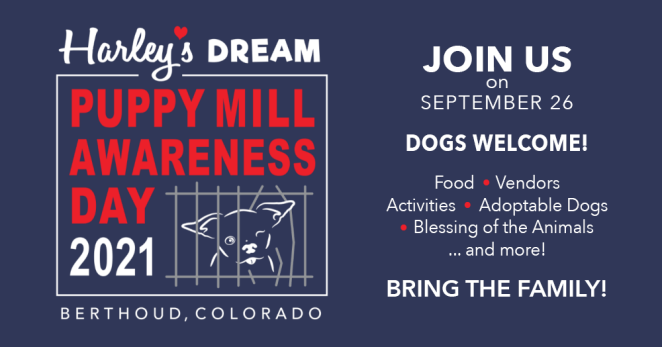 The Puppy Mill Awareness Day celebration in Berthoud, CO is expected to draw thousands of visitors from all across the state and around the country for its main event.
The annual Puppy Mill Awareness Day Dog Friendly Event, sponsored by Harley's Dream, will have food trucks, music, merchants, a doggie flea market, contests, and a Blessing and of the Animals.
Colorado First Gentleman Marlon Reis and Berthoud Mayor Will Karspeck will speak during the event.
Berthoud Animal Hospital, NomNomNow, Four Seasons Veterinary Specialists, and Petcardia Veterinary Cardiology are the main sponsors of Puppy Mill Awareness Day for 2021.
Harley's Dream has amazing sponsors and worldwide support. It will take place in Fickel Park in downtown Berthoud from 11 am to 5 pm.
The festival will be organized by a Colorado-based nonprofit organization, Harley's Dream, which was formed in 2016 to raise awareness and educate the public about the commercial dog breeding industry, also known as puppy mills.
This event was inspired by Harley, a tiny Chihuahua who became known as "the little Dog with a big dream."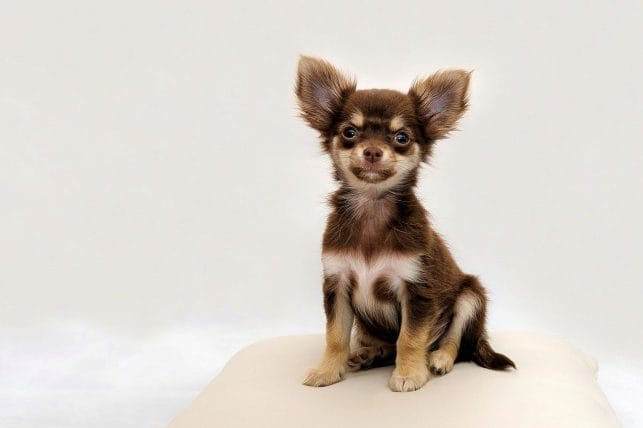 Harley's Dream was started by friends of Harley after she told them her dream of stopping puppy mills.
"Berthoud is one of the most pet-friendly towns in Colorado," Richard Hargarten, president and CEO of Berthoud Animal Hospital, added.
"Dogs are family members who deserve nothing less than the best treatment."
After 10 years in a tiny cage, he was set free and found a loving home where he began his illustrious career.
Harley's efforts as a "spokes-dog" for puppy mills earned him the top award from American Humane as "Hero Dog of the Year."
He had appeared on The Today Show, HuffpostLIVE, Hallmark Channel, and in many other publications.
His little heart touched so many.
While Harley brought attention to the cruel puppy mill industry, his dream came true when he passed away at age ten on March 7th, 2018.
He lived a great life until it was time to make the transition to Second Life where he will be back for eternity
He also had the opportunity to testify during a congressional caucus on Capitol Hill in Washington, DC.
Sadly, Harley passed away in 2016, but his legacy lives on.
He inspired so many people to do great things, and he continues to be the voice for the hundreds of thousands of dogs suffering in puppy mills today.
Learn more about Puppy Mill Awareness Day at www.harleysdream.org/puppy-mill-awareness-day