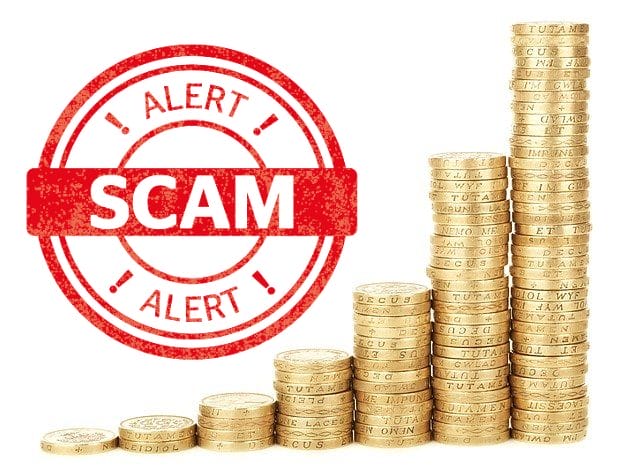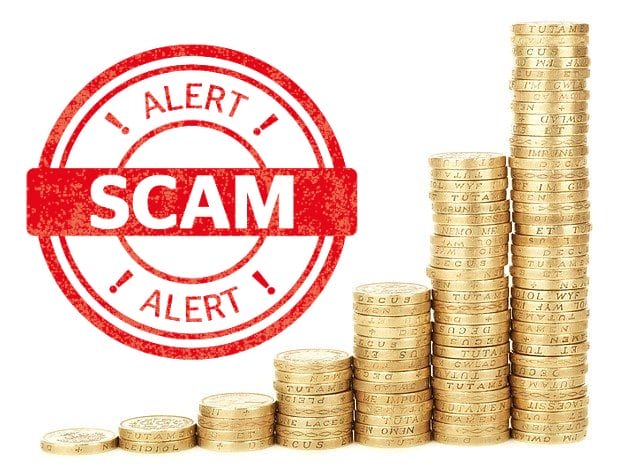 Puppy scams are no joke! In 2020 alone people have lost $3.2 million. It's estimated to be even more since some people don't report due to the embarrassment.
The pet scam industry statistically increased due to the high demands of pets during the self-isolation of pandemics. This situation gave the pet scammers a huge opportunity to take animal lovers' money from pets that never existed.
It's beyond imagination, during the rough period full of loneliness, people were losing hundreds of dollars. Puppy scammers play with the dog lover's warm heart by posting an adorable pet to grab their attention and offer fantastic offers.
People can easily be scammed during pandemic
The pandemic forced on us self isolation and changed our behaviors and created new norms.
Online purchasing is one of the behaviors that became the new norm. No matter if you are young or old or technically challenged, the pandemic forced us to get used to online shopping.
Because of this newfound online purchasing comfort, the scammers didn't need to worry about people asking to meet the puppy directly.
Within a few months of the beginning of the pandemic, there were huge surges of people reporting scams while trying to adopt a puppy. I know it was a desperate time because of loneliness, and having a puppy would be a great idea.
In the end, not only were people losing their money, but they were also never getting the puppy they've dreamt of.
How do Scammers drain your bank account?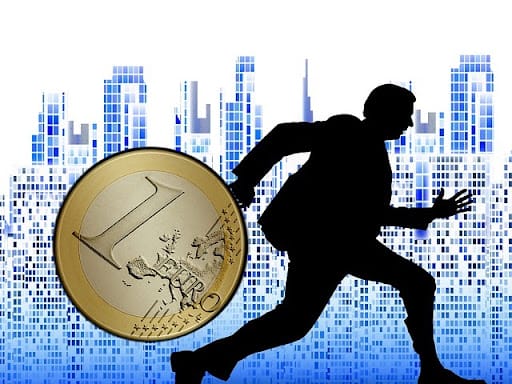 When you get your deal with a puppy scammer, you will not pay for the low price that they were offered. You're often going to pay more for additional charges like shots, nurturing, shipping, etc.
Once they have learned of the potential scam and stop paying, the scammer may then threaten further repercussions. They will say that they're going to report you to the police for animal abandonment, especially if you buy a puppy abroad.
Even if the scammers say the pet is cheap or even free, most people end up losing more than the initial pet's price tag.
How scammers use Social Media to Lure you In.
Social media is the best place to promote a product, including pets. We know this fact since we have groups on specific breeds with hundreds of thousands of members where they can share about their pets.
Daily, many scammers post puppies for sale, puppies for rehoming in our groups. That's why we have to block hundreds of scammers every week.
In any of the groups we manage like our golden retriever group, these scammers are often still sneaky. Even though we might not approve the scammer's posts, they edit a post history or leave comments. It can be easy for us to spot comments, so they leave spam messages in replies.
Sometimes our own group members are sharing their own experiences with the scammers and insist the other members not buy a puppy from him/her.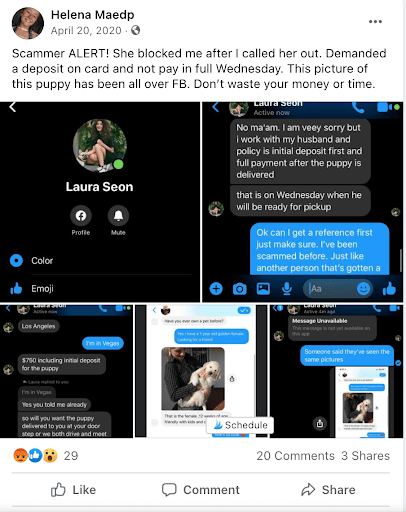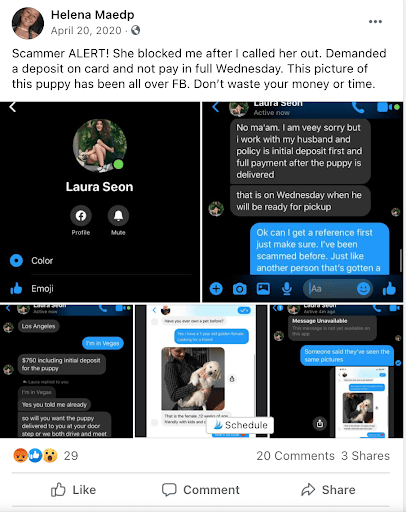 Posting the pet on social media is an effective way to reach a larger audience since millions of users use social media. Then the scammer usually sends an URL to their fake website so it looks like they are legit breeders.
If you read a post on social media about a cute puppy that you want to adopt, make sure to go through detailed information about the seller and track them down if he/she is a scammer.
Summary
The Pet scams industry hugely skyrocketed during the pandemic. During self-isolation, people thought it would be a perfect time to expand their family.
Shelter pets quickly became in short supply everywhere, including shelters. But since people were desperate, they were forced to buy pets online, relying online on images.
The pet scammers used this golden opportunity to take people's money out of pets that never existed.
Even though the self-isolation is over, and people are now able to go anywhere they want, it doesn't mean puppy scammers will go away overnight. They have existed before, during, and after. If anything, the pandemic gave them a new way to scam unsuspecting people.
We can't stress enough the importance of educating yourself about buying a puppy online, so you won't become a victim of an online puppy scam.